Did McConnell Just Dump Three GOP Senate Hopefuls?
@EricBoehlert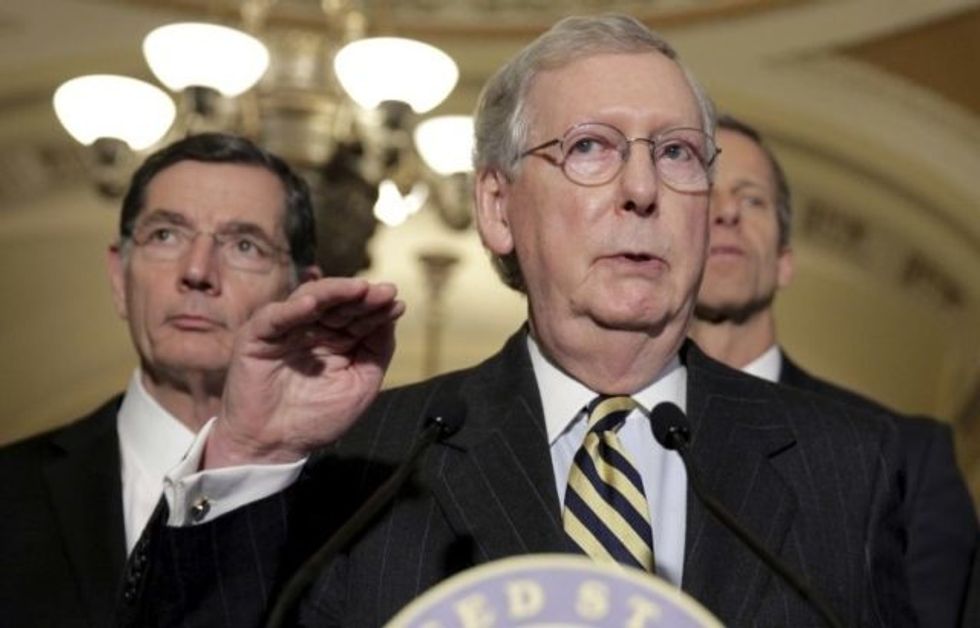 Reprinted with permission from Shareblue.com

Once again ringing the alarm bell for Republicans and warning that their chances of maintaining control of the Senate next year remain slim, Senate Majority Leader Mitch McConnell (R-KY) appears to be writing off the party's prospects in three key swing states.
And they are three states that Trump won in 2016.
Speaking to the Washington Post about the midterm election cycle, McConnell stressed that the battle to control the Senate will revolve around contests in Arizona, Nevada, Tennessee, Montana, North Dakota, Missouri, Indiana, West Virginia and Florida.
"By any objective standard, those are the seats that are likely to be in play," he said.
Missing from that list? Ohio, Pennsylvania, and Wisconsin.
All three states voted for Trump and all three states feature Democratic senators up for re-election. But McConnell doesn't see "credible" Republican candidates in those states who can effectively challenge the incumbents.
And in terms of Pennsylvania, McConnell's not alone in sharing that low opinion of the party's newly elected nominee, Rep. Lou Barletta.
"The sense is, nobody knows what the fuck he's doing. He's not really working it hard … Lou is just like a ghost," one GOP strategist was already complaining this week.
Barletta owes his Senate nomination to Trump, who backed him in the primary. But now he's facing Democratic incumbent Bob Casey, who has never lost a statewide general election, has nearly 10 times as much cash on hand as Barletta, and is beating the Republican by nearly 20 points in the most recent poll.
Much of the midterm focus has shifted to the Senate in part because, the Post reports, "Many have concluded the House — where Republicans are defending suburban and exurban districts where anger with Trump is intense — is all but gone." (Paul Ryan certainly seems to think so.)
McConnell's openly defensive posture stands in stark contrast to the conventional wisdom of one year ago when Republicans were seen as being poised to pick up additional Senate seats to pad their majority — a majority that has shrunk to 51-49 with the election of Alabama Democrat Doug Jones. That's because so many Democrats running for re-election are in states that Trump won by wide margins in 2016, such as West Virginia, Indiana, and Missouri.
Republicans also enjoy a sizable advantage mathematically because the party only has to defend nine seats in November, while Democrats have to defend 26.
Yet since Trump was elected, Republicans have lost statewide elections in New Jersey, Virginia, and Alabama, as well as congressional seats in some of the most pro-Trump districts in America.
That's why the GOP has to focus on winning deep red states in November, if they want to hang onto the Senate.