Diplomat John Tefft Navigates Sticky US-Russia Relations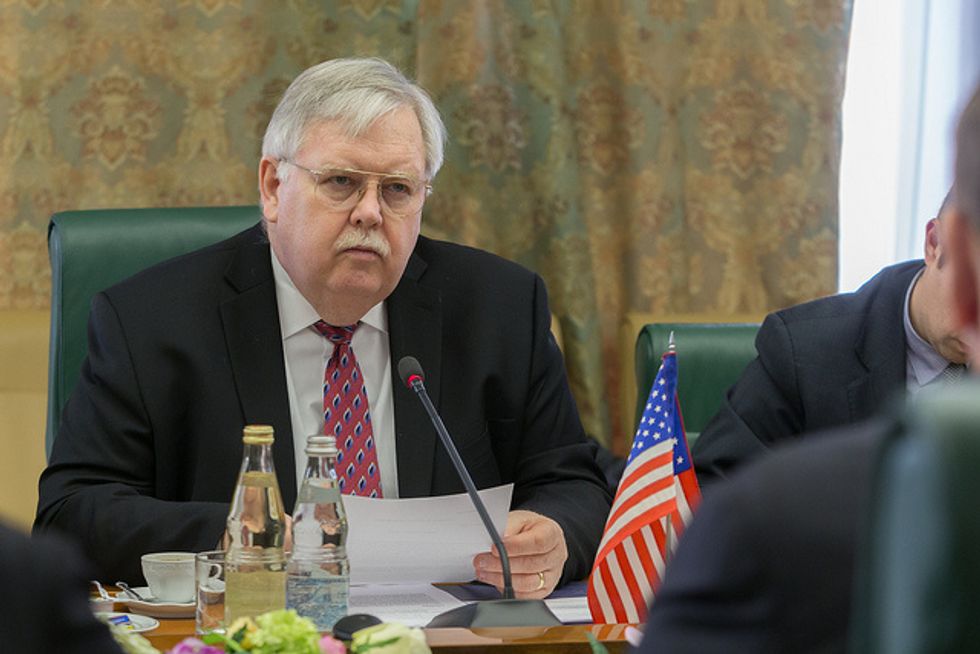 By Bill Glauber, Milwaukee Journal Sentinel (TNS)
So, what exactly is the state of U.S.-Russian relations?
"Difficult," said John Tefft, the Madison Wisconsin-born, Marquette University-educated U.S. ambassador to Russia.
In an interview this week with the Milwaukee Journal Sentinel, Tefft reflected on his Wisconsin roots and diplomatic career and provided some insight into the often testy relationship between the United States and Russia. He is in Washington, D.C., this week for a series of meetings.
Tefft, 65, has been on the job in Moscow since September, when he was pulled out of a brief retirement by President Barack Obama's administration.
A veteran with more than 40 years in the Foreign Service, Tefft is well-versed in the nuances of diplomacy.
Earlier this month, Russian President Vladimir Putin wasn't seen in public for ten days, touching off rumors about his whereabouts. When he finally reappeared last week, Putin downplayed the controversy and told reporters, "It's boring without gossip."
Tefft said that what he had been told was that Putin had the flu.
"It's kind of hard to understand why they don't just say the boss is sick," Tefft said.
Relations between the U.S. and Russia may be chilly, but Tefft presses on. He said he has been well-received by diplomatic pros plus many others he knew from a previous tour in Moscow.
"It's obvious the relationship is not an easy one at this point and I work hard at it every day," he said, adding that he gets out often to represent the United States and bring its message to Russia.
Tefft said the U.S. may get criticized in the Russian press but that "deep down Russians still have affection for Americans."
The diplomat's down-to-earth style is part of his Midwestern roots.
There's still a lot of Wisconsin in him. Tefft collects hats from around the world and displays them in a room at his residence in Moscow. Amid dozens of baseball caps, he has not one but two cheeseheads.
"Most people who know me know what they are," he said. "My reputation as a hat collector has already spread among most of the people I work with."
The oldest of five children, Tefft's father was an attorney and his mother was a social worker. As a child, he recalls his mother reading books and stories aloud, including the Russian folk tale of the witch, Baba Yaga.
At Edgewood High School in Madison, Tefft recalled how he had to choose between taking a course in physics and a course in Russian history.
"That was a no-brainer when it came to my science ability," he said.
Tefft studied history at Marquette University, where he also met his future wife, Mariella Cellitti, a biology major. They married in January 1971 and Tefft graduated later that spring.
Tefft said his career in the Foreign Service, which started in 1972, is very much a shared partnership with his wife, a biostatistician and nurse. All told, they have made around 20 moves, including Tefft's stints as an ambassador in Lithuania, Georgia, and Ukraine, as well as a posting as the chief of mission in Moscow in the late 1990s.
"When you look back on this it all looks like it has been planned," Tefft said of his career. "But in fact it wasn't. I just kind of followed my instincts and what I really liked."
Through his long career, he has seen the ebb and flow of U.S.-Russian relations. Tefft joined the Soviet desk at the State Department in 1983.
"The first week I was there was the week the Korean airliner was shot down," Tefft said, recalling the downing of a Korean Airlines passenger jet that went off its intended route and ventured into Soviet airspace.
"Not long afterward, the Soviets pulled out of arms control talks," Tefft said. "So it was a very difficult period. All you can do is try to work through these periods and hope you can find some common ground to build things back.
"But you know, this is a relationship based on heavy competition as well as, I would argue, some serious cooperation over the years. It's not always easy and the current situation isn't."
The current U.S.-Russia relationship has been on the rocks for more than a year since Russia annexed Crimea, which was part of Ukraine. Russia hasn't backed down, despite facing economic sanctions from the West. The crisis has continued with fighting between pro-Russian separatists and Ukraine government forces.
In late February, Russia was rocked by the murder of a prominent Putin critic, opposition politician Boris Y. Nemtsov. Russian authorities arrested five ethnic Chechens. The larger question looms: Who ordered the murder?
Tefft, who met with Nemtsov's mother, wife, and children, called the murder "such a terrible tragedy for Russia….He has done so many good things over his life for Russia and the Russian people. Those of us who knew him, I knew him in the 1990s, it just breaks your heart to see talented guys like this cut down."
Photo: Federation Council via Flickr