Director, Star Talk About Revisiting 'The Troubles' In The Irish Civil War Film '71'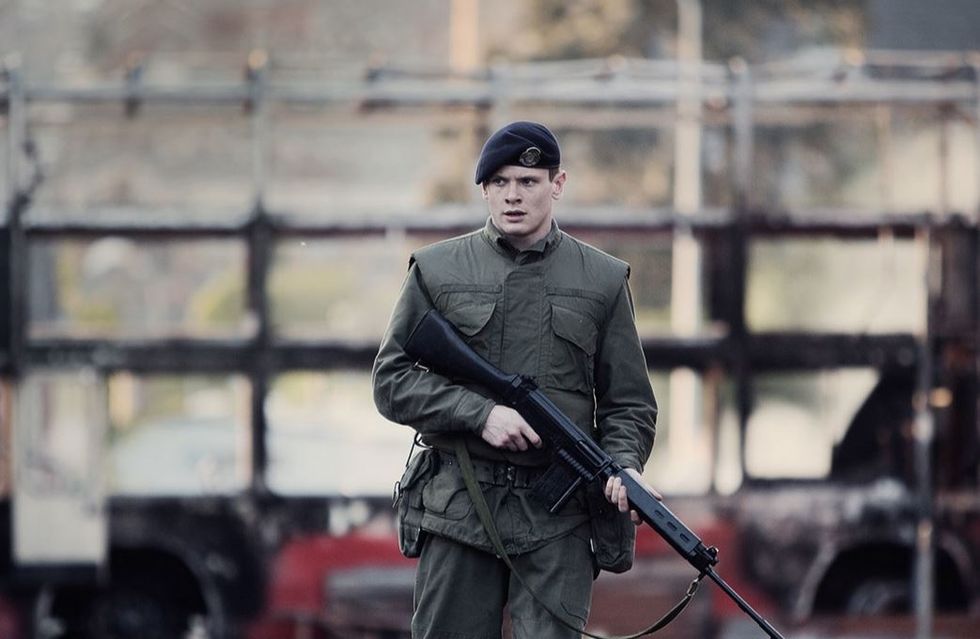 By Roger Moore, Tribune News Service (TNS)
Director Yann Demange doesn't want people to pigeon-hole his pulse-pounding Northern Ireland chase picture '71 as, well, "a chase picture," or simply another tale set amid "The Troubles," the decades-long civil war in Northern Ireland.
"When people call it 'The Troubles,' it feels a bit patronizing," says Demange, a London native. "'Troubles' is like a bit of spin, that we cannot really come to grips with what happened or was happening there. It was a CIVIL WAR, man. And people are still trying to find out what happened, find out what happened to their loved ones."
And the son of a French mother and Algerian father, who calls the classic French army vs. insurgents thriller The Battle of Algiers his chief inspiration in making '71, didn't want to make "just a genre" picture — a young British soldier, separated from his unit, hunted by IRA gunmen, by more peaceable IRA members, unionist paramilitaries, the British army, and British intelligence.
"You have a certain responsibility, treating a subject from recent history as divisive as this," he says. "You can't just exploit it and make it into a simple-minded chase movie that ignores the context that all this is happening in."
The main sensibilities that Demange, working with a Gregory Burke screenplay, wanted to avoid offending were those of his star. Derbyshire native Jack O'Connell is Irish Catholic. He says he had to rethink his dogmatic attitudes about the conflict to play Private Gary Hook.
"I had to make myself know LESS about the situation, the context," says O'Connell. "In Gary Hook's generation, he wouldn't have known a lot. He was a recruit being stationed on what he was told was a peace-keeping mission. If anything, working on this film helped me take a more impartial view. I won't be as quick to point fingers, because the film doesn't allow anybody to point fingers. It was a warlike situation, with heinous wrongdoings on either side. And there were innocents on both sides, which is true of any war and it's what makes this film universal."
Demange met with veterans of all sides of the conflict and has taken great care to show the film where it was set. He says that when you tell someone you meet in Belfast that you've made a movie about 'The Troubles,' "they just roll their eyes. There's a long legacy of films, from The Wind that Shakes the Barley, to Bloody Sunday, both about Northern Ireland and 'The Troubles' specifically, that I thought about. But those earlier films freed me of the responsibility of giving a history lesson."
He could use that historical legacy as backdrop for a horrific day and night in the life of a green British recruit, on the run and threatened from all sides. The resulting thriller, named after the year the violence truly escalated ('71) is earning the best reviews of the new film year, "a lapel-grabbing, immersive viewing experience likely to shake up audiences" Trevor Johnston said in the film journal Sight & Sound.
Demange may be concerned with the delicate politics and opening of old wounds that his film might lead to. O'Connell, 24, starved and tested star of the POW drama Unbroken, was all about the "freakish heat wave" in part of shooting (he was in full combat gear for the daylight scenes) and "freeezing cold" night sequences, shot later.
In one night sequence, he overran his mark and "careered, right into the camera. Knocked myself out. Cold. I felt fairly hard done by," says a chuckling O'Connell, who as a teen trained as a military cadet and gave some thought to a military career. But does he, like Demange, worry about opening "old wounds" with a film about the conflict?
"I hope people see that the blame goes all around," O'Connell says. "I hope we've moved on. Yann may say he's worried about that. But I think he's got an Algerian passport, so he's not THAT worried. If 'Troubles' start up again, he"ll be LONG gone!"
Distributed by Tribune Content Agency, LLC

Image via Roadside Attractions