Rubio, Scott And DeSantis Want Disaster Aid They Voted Against For Other States
@jeisrael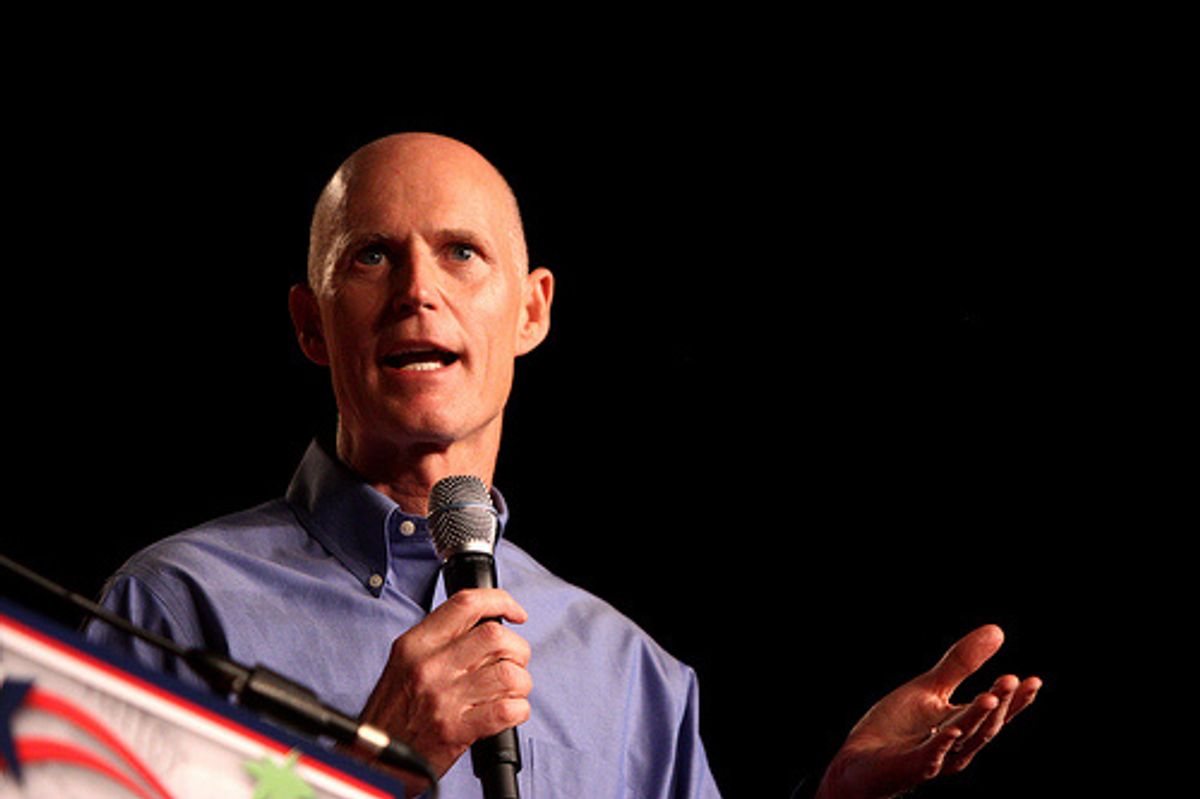 As their state prepared for Hurricane Idalia this week, Florida Republican Sens. Marco Rubio and Rick Scott called for immediate disaster relief and an $11.5 billion increase in funding for the Federal Emergency Management Agency. Both have previously voted against FEMA funding after emergencies in other states.
At the request of Republican Florida Gov. Ron DeSantis , Rubio, and Scott, President Joe Biden approved an emergency declaration for the state on August 28. "Florida has my full support as they prepare for Idalia and its aftermath," the president tweeted .
But with FEMA's Disaster Relief Fund about to run out of funding, Biden asked Congress on August 10 to approve $12 billion in additional disaster relief, $3.9 billion to address immigration, and $24 billion to support Ukraine's defense against Russia's invasion.
Scott and Rubio opposed the idea of considering the requests together and demanded the FEMA aid funds be passed separately.
Scott said in a press release on Monday:
Unfortunately, while I've spent the months leading up to this storm fighting to make sure the federal government shows up, President Biden and politicians in Washington have been playing games with FEMA's Disaster Relief Fund and insisting that this critical domestic aid be tied to foreign aid for Ukraine. We've had enough with Washington playing politics and demand that Congress does what's right for American families, starting with ensuring our federal government has all the resources it needs to show up after disasters, now and in the future.

Scott's call for billions in new spending comes just months after he proposed massive across-the-board government spending cuts. "It's simple: If we went back to 2019 spending levels, we'd have a balanced budget," he tweeted on June 5. "Instead, @JoeBiden and Democrats insist on spending more and more money every year."
Less than a year ago, Scott asked his colleagues to approve a special disaster relief package after Hurricane Ian caused significant damage to Florida and other southeastern states. USA Today noted in October 2022 that Scott had been one of just 25 senators who had voted just days before against a continuing resolution to avert a federal government shutdown and to provide $18.8 billion to keep FEMA running. Rubio also voted no .
"This CR failed to fund the federal government until the new Congress begins in 2023, and that is why I could not support it," Scott explained at the time, noting that he had unsuccessfully sought a stand-alone vote on the FEMA money only.
In January 2013, Rubio voted against a $50.5 billion disaster relief package in the aftermath of Hurricane Sandy , which did an estimated $80 billion worth of damage to New York and other mid-Atlantic states.
Rubio called for a much smaller package, misleadingly claiming, "In sum, the current spending bill goes far beyond emergency relief and all efforts to strip the bill of unrelated pork are being blocked."
DeSantis, then a U.S. representative, also voted against the 2013 Sandy relief package. "I sympathize with the victims of Hurricane Sandy and believe that those who purchased flood insurance should have their claims paid," he said after the vote. "At the same time, allowing the program to increase its debt by another $9.7 billion with no plan to offset the spending with cuts elsewhere is not fiscally responsible."
According to The Hill , New Jersey Republican Rep. Frank LoBiondo scolded opponents of Sandy funding during the floor debate, warning:
Florida, good luck with no more hurricanes. California, congratulations, did you get rid of the Andreas Fault? The Mississippi's in a drought. Do you think you're not going to have a flood again? Who are you going to come to when you have these things? We need this, we need it now. Do the right thing, as we have always done for you.
Experts agree that climate change is causing flooding from storms like Idalia to be more severe and damaging. Scott, Rubio, and DeSantis all have long records of opposing efforts to address global warming.
Reprinted with permission from American Independent .