Where Is Disney's Outrage About Pat Robertson?
@AlterNet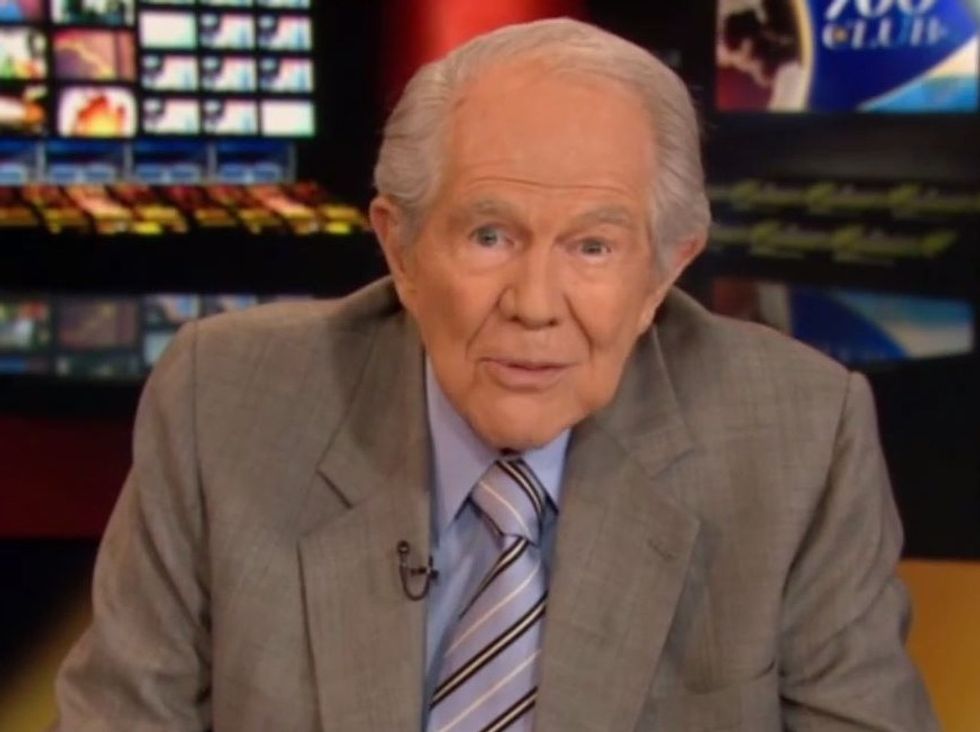 Reprinted with permission from AlterNet.
By Nancy Levine
In the wake of the Las Vegas shooting earlier this month, which killed 59 people and left more than 500 injured, televangelist Pat Robertson blamedthe massacre on Americans' disrespect for Donald Trump.
Robertson said, "Why is it happening? You know, what I'd like to give you is the fact that we have disrespect for authority. There is profound disrespect of our president all across this nation."
Robertson made his comments on his TV show The 700 Club, which airs twice a day on ABC's Freeform Network. The network, formerly known as ABC Family, is part of Disney Television Group/ABC and wholly owned by the Walt Disney Company.
Disney CEO Robert Iger has also been vocal after the Las Vegas shooting. Three Disney employees were killed in the massacre. Iger, speaking out about gun violence at the Vanity Fair New Establishment Summit, said, "In this day and age we get outraged when an athlete doesn't stand for the national anthem. Where is the outrage here?"
But are Disney and Iger outraged by Robertson's comments? They should be.
Michael Gordon, faculty director of the Center for Social Impact, Ross School of Business at the University of Michigan, said, "The kind of violence that Robertson detests is encouraged by the president, from his boast that he could shoot someone in broad daylight and no one would care, to sympathizing with bigots in Charlottesville."
Disney's silence about Robertson's remarks confers the company's tacit approval.
Gordon said, "Condoning Robertson's perspective carries risks for Disney."
Why would Disney choose to remain silent about Robertson's inflammatory comments, aired on its ABC network?
Disney is handcuffed to Robertson and his Christian Broadcast Network, which produces The 700 Club; bound by contractual agreement. According to TV Insider: "When Disney/ABC bought Fox Family Channel for $5.3 billion in 2001, it too was saddled with that agreement. The deal says The 700 Clubcan't be buried in the middle of the night, but must air during certain dayparts."
But Disney's agreement to broadcast Robertson's show does not exempt the company from its moral responsibility to renounce his remarks.
Edward Queen is director of the Program in Ethics and Servant Leadership at Emory University's Center for Ethics. He also serves as director of research for the Institute of Human Rights and co-convener of the Initiative on Religion, Conflict, and Peacebuilding.
Queen said we can "question whether Disney is putting their corporate interests ahead of their moral responsibility to condemn Robertson's inflammatory remarks."
Disney can't overlook Robertson's comments by dismissing him as a fringe dweller. Robertson interviewed President Trump in July. Earlier this month, Los Angeles Dodgers star pitcher Klayton Kershaw appeared on The 700 Club. CBN's reported revenues are more than $307 million a year (tax-exempt).
In his remarks, Robertson cited the need for "biblical authority." What about his adherence to principles of Christianity?
Queen said, "It's a completely absurd claim that the Divine would decide to punish a country with the wanton slaughter of a group of innocents — it's the highest form of blasphemy. It's even more absurd to blame this on the disrespect of authority. Robertson is nothing more than an entertainer and a politician who wraps himself up in the pages of the Bible, and he needs to be called out as such."
What is Disney's commitment to moral responsibility? Disney's statement on "Corporate Citizenship" says:
"Acting responsibly is an integral part of our company. At Disney, we refer to our broad efforts to conduct our business and create our products in an ethical manner as Disney citizenship."
Is Disney acting responsibly by providing Robertson with a platform, while remaining silent about his inflammatory remarks?
Gordon said, "Like any firm that wants to be a good corporate citizen, Disney must attend to its supply chain," referring to Robertson's "poisonous words."
Are investors concerned about reputational damage caused by Robertson's comments, tainting the Disney and ABC brands — the company's most valuable assets?
Shareholder activist James McRitchie holds Disney in his portfolio. He said, "Disney would do well to make a clear statement that Pat Robertson's views do not represent those of Disney," adding, "Iger could make a statement that leaves no doubt about where Disney stands on the issues and could even renounce Robertson's remarks."
The Parnassus Core Equity Fund holds 5,415,101 shares of Disney stock (reported 8/31/17). At today's share price, the fund holds more than a half-billion dollars in value. Parnassus' mission states: "Every investment we make must meet rigorous fundamental and environmental, social and governance (ESG) criteria."
How does Disney's silence about Robertson's comments align with Parnassus' and other ESG fund managers screening criteria? A spokesperson from Parnassus declined to comment.
McRitchie said, "Disney is seen by many as the epitome of American values. They should be standing for the American dream, not the American nightmare. Columbine, Newtown, Las Vegas. At some point Disney will need to use whatever moral authority they have to curb this growing epidemic."
No one from Disney has responded to inquiries.
Queen said, "If Disney fails to come out visibly on Robertson's comments, they open themselves to criticism of hypocrisy at best, and moral cowardice at worst."
Where is Disney's outrage?
Nancy Levine is Author of The Tao of Pug book series (Penguin/Skyhorse). She completed California state certification training as an advocate for victims of domestic violence.