'Disturbing': Capitol Police Slammed For Assaulting Reporters
@juliakconley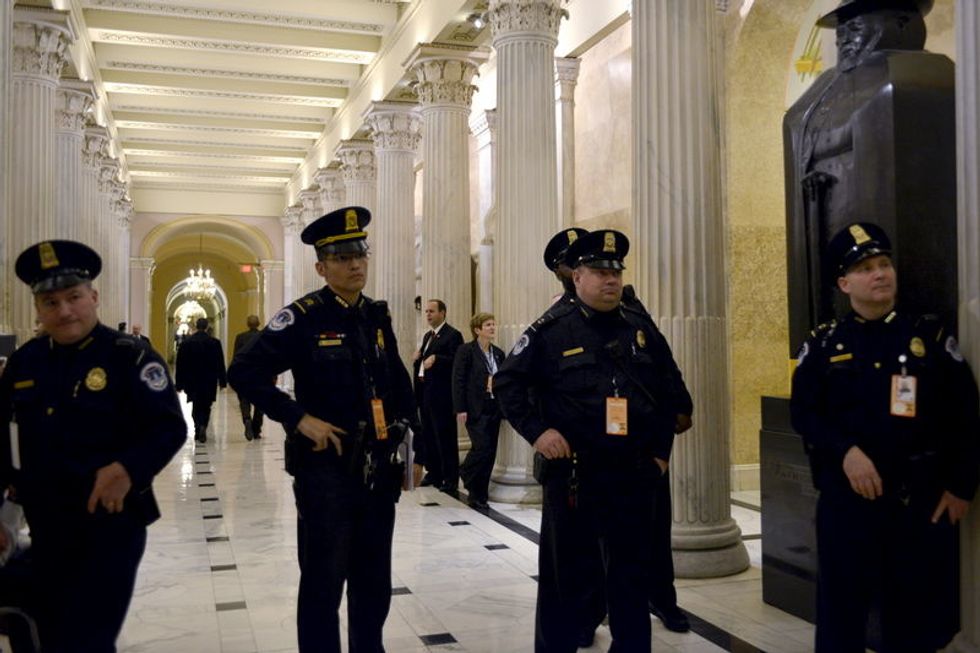 Reprinted with permission from Alternet.
Press freedom advocates and journalists described a published report of Capitol Police manhandling and shoving reporters in the Russell Senate Office Building as "bizarre" and "disturbing" — with some calling the altercation an incident far more likely to take place in a totalitarian regime than in a democracy.
As Roll Call reported Friday, Capitol Police pushed and "slammed into" reporters on Thursday afternoon around the time that senators were voting on the spending bill. The police attempted to prevent reporters from speaking to lawmakers—a practice that is common in the Senate basement, where the incident took place.
Suzanne Nossel, CEO of PEN America, called Roll Call's report a "disturbing account," while the National Press Club said in a statement that Capitol Police's actions "contravened the chamber's long-standing bipartisan practice of supporting journalists' access to lawmakers."
According to Roll Call, some reporters believed the Sergeant-at-Arms had made more Capitol Police available in the Senate building because of the suspected presence of an independent reporter without credentials who had approached senators in the past. But journalists denounced the Capitol Police for handling the situation by assaulting reporters.
"Capitol Police dramatically over-reacted on Thursday and did more harm than good when they prevented accredited reporters from doing their job and further obstructed senators from communicating with the press. There was no call for the police to shove or place their hands on the reporters," said Alison Fitzgerald Kodjak, president of the National Press Club.
According to an audio recording provided to Roll Call, an officer pushed a pregnant reporter and "slammed into" NBC journalist Leigh Anne Caldwell as she was trying to interview Sen. Shelley Moore Capito (R-WV). The Capitol Police also repeatedly told reporters that attempting to speak with senators as they walked down the hallway—a common practice on the Hill—was a "violation" and something people "get locked up" for doing. Washington Post congressional reporter Paul Kane disputed the claim on social media.