Do More Expensive Wines Taste Better? Readers Share Blind Tasting Results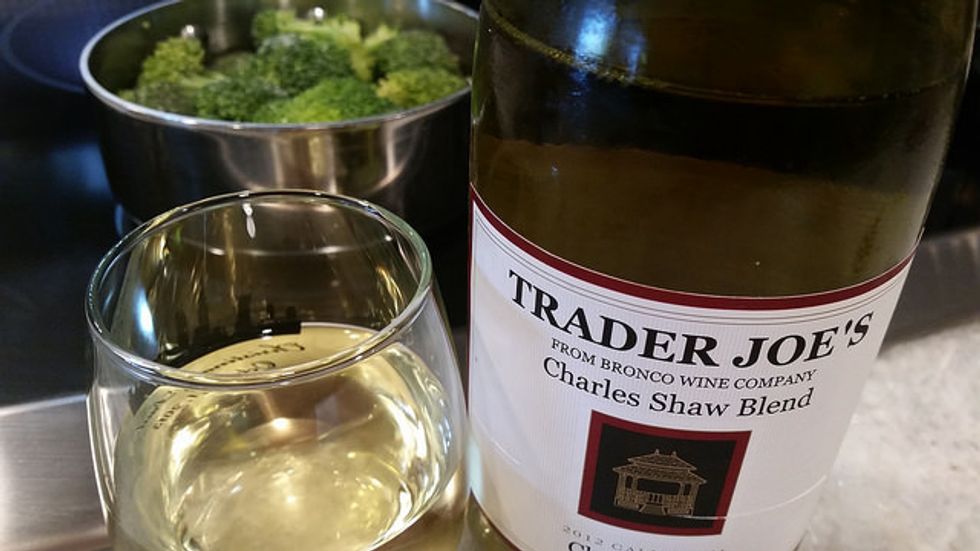 By Fred Tasker, Tribune News Service (TNS)
Could you tell a $40 wine from a $10 one in a blind tasting? This is the challenge I threw out to readers in a recent wine column.
I listed several high-price, low-price wine pairings and asked fans to set up experiments to see if they could tell the difference.
Sid Kaskey, a good sport from South Miami, Fla., took me up on it and invited six friends to a tasting to try it. The wine glasses were numbered, and tasters didn't know what they were sipping _ or the prices.
Sid reports: "The test was a bit sloppy. It was, to use a word, chaos. And we all were eating as well so I am sure that may have been a factor in the results.
"That said, it was an honest and sincere effort to test the ability of a small group to taste differences in differently priced wines. I am happy with the results."
Here's how it came out:
Chardonnay: Four tasters preferred the 2013 Robert Mondavi Central Coast chard at $7.47, one preferred the 2013 Arrowood Sonoma County at $19.99 and two results were thrown out due to errors. (Note: The prices listed are what the tasters paid, and may not reflect the prices in all stores.)
Cabernet sauvignon: Four preferred the 2013 Charles Shaw cab at $2.99 and three preferred the 2013 Carnivor California at $10.99.
Rieslings: Five preferred the 2013 Kendall-Jackson "Vintner's Reserve" at $9.99 and two preferred the 2013 Bonny Doon at $17.99.
What did it prove?
"Not a darn thing," Kaskey says. "Could it be my friends are all wine philistines? (You'll pay for that, Sid.)" Still, he says he learned this lesson: "Cost is not always an indication of the pleasure you get from a wine. Experiment with all wines, not just the expensive ones."
He went on: "I am VERY CURIOUS. Did you get emails from others?"
Sure did, Sid. Reader Ayal Joshua and a couple of friends compared the $42 Grgich Hills Estate Merlot to the $10 Dark Horse Merlot.
His result: "Overall consensus was that the Grgich was by far the tastier wine…although one person could not say which of them was the more expensive one.
"Only thing is that I could not find the 2011 Grgich Hills Estate Merlot so I did it with the 2008 vintage, which may have made a big difference."
I think the lesson there is that it's very difficult to set up precise experiments like these.
Reader Kristina Tinkler of Aventura, Fla., created her own experiment. She tried the 2012 Frei Brothers Reserve Cabernet Sauvignon Alexander Valley at $24.99. "I absolutely loved it." But she went on: "I do not believe price matters. One of my favorite everyday cabernet sauvignons is the Grand Estates Columbia Crest. I buy this at Publix when it is on sale for $7.99."
She concludes: "Wine is a personal preference. There are tasty wines out there under $10."
Reader Barry Bayon sees it this way: "Is there a lot of difference in a $10 and a $50 bottle of wine? I would hope so, or why bother? Will the average drinker taste it? Probably not. Is it worth it to the average drinker to pay $50 for a bottle of wine? No."
Reader David Shaw of Arroyo Grande, Calif., suggests other ways to discover our own palates:
1. Visit wineries for "vertical library" tastings, trying the same wine from several vintages, to see the effects of aging.
2. Try the winery's top wine, but also its less-expensive version of the same wine. See if the price difference is worth it.
3. Visit the winery at harvest time and try the just-pressed juice before it's fermented into wine. Later try the wine made from that juice.
His philosophy: "The very best wine is the one each of us really likes."
For me, these enthusiastic but thoroughly unscientific experiments support what I've gleaned from 50 years of tasting wine. You like what you like. Taste is very personal. Even professional critics disagree with each other.
If you enjoy wine, go to the trouble of discovering your own palate. Taste as many wines as you can. Try every new wine you come across. Keep an open mind. Take notes. Develop a sense of what you like _ and don't like. Use wine critics, wine writers only as very general guides. Don't take them (us) too seriously.
A reader once told me: "I always read your column. When I see what you recommend, I know what NOT to buy."
I'm happy to be so useful.
(Fred Tasker has retired from the Miami Herald but is still writing about wine. He can be reached at fredtaskerwine@gmail.com.)
(c)2015 Tribune Content Agency, LLC. Distributed by Tribune Content Agency, LLC.
Photo: Robert Neff via Flickr