Doctor Testifies Donald Sterling Has Alzheimer's
@AFP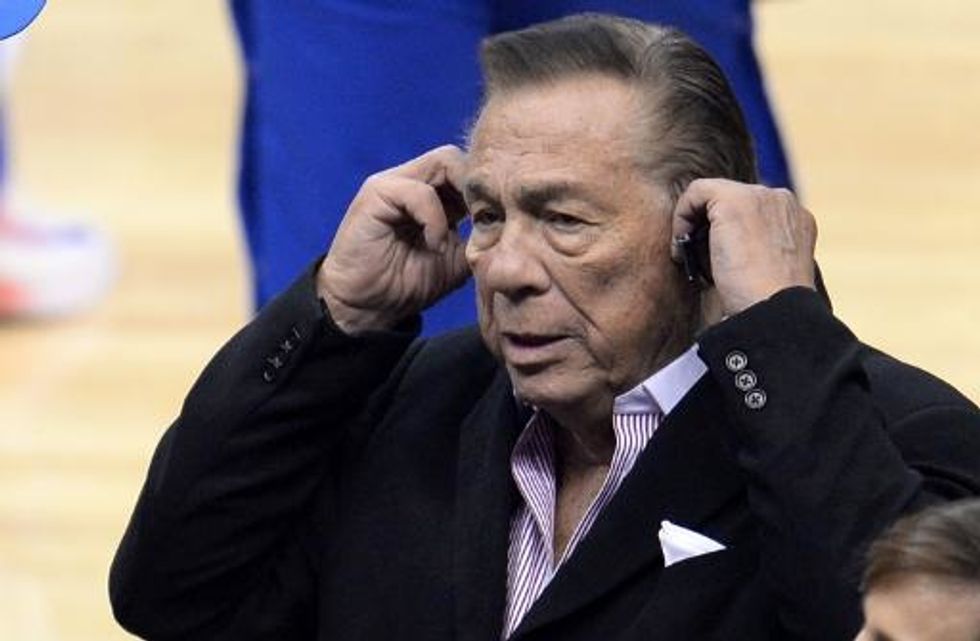 Los Angeles (AFP) – Donald Sterling, who was a no-show in court for the first day of his trial, has been suffering from Alzheimer's for at least three years, a witness told a judge on Monday.
The proceedings are to determine if Sterling's estranged wife Shelly has authority to sell the team, under pressure from the NBA, following racist remarks by Sterling that caused an uproar in America.
Neurologist Dr. Meril Platzer testified that she came to that conclusion after having the disgraced Los Angeles Clippers owner undergo a battery of tests, including a CT (computerized tomography) scan and a PET (positron emission tomography) scan. She also said she went to his home to perform cognitive testing.
Asked how long Donald Sterling had been suffering from "dementia or Alzheimer's", disease Platzer said, "at least for three years, most likely for five years."
Platzer told U.S. judge Michael Levanas that following two hours of testing, she told Donald Sterling that he had Alzheimer's and his reaction was, "I'm hungry. I want to eat."
But Platzer said Donald Sterling's wife, Shelly Sterling, was shocked by the news.
"She was taken aback, shocked. She felt bad for her husband," said Platzer, who testified she is an expert in the field of neurology, having examined over 25,000 patients over the course of her career.
The probate court trial is to decide whether Shelly Sterling has legal authority under the family trust to sell the National Basketball Association team for a record $2 billion to former Microsoft chief executive Steve Ballmer.
Donald Sterling is seeking to halt the sale being conducted by his estranged wife, arguing that his privacy rights were violated by the release of his medical records.
After several delays in the morning session, testimony in the non-jury trial in Los Angeles Superior Court finally got under way. But before that could happen a U.S. federal court judge had to deny Donald Sterling's bid to move his legal fight with his wife over the sale of the Clippers to a federal court. The decision paved the way for the scheduled four-day trial to proceed.
U.S. federal court judge George Wu denied the motion to move the case to federal court, saying that "to the extent that (Sterling's) medical records are relevant to the probate hearings, the probate court is more than capable of evaluating them and rendering a decision."
Pierce O'Donnell, lawyer for Shelly Sterling, then called Donald Sterling as the first witness. O'Donnell explained he had subpoenaed Sterling and when told he wouldn't be available, O'Donnell suggested a bench warrant could be issued.
O'Donnell called his second witness, Platzer, one of two doctors hired by Shelly Sterling who examined Donald Sterling and found him to be mentally incapacitated.
Bobby Samini, the lawyer for Donald Sterling, said his client was not in the courtroom because they thought it would take more time to get a decision from the federal court. His legal team said Donald Sterling would be in court to testify on Tuesday.
Sterling's other lawyer, Gary Ruttenberg, said that Shelly Sterling had duped his client and that the NBA is complicit in her actions.
"The NBA wants to get rid of my client," Ruttenberg said. "They were colluding with Mrs. Sterling and her counsel to do this."
Sterling's lawyers did not cross-examine Platzer on Monday.
But O'Donnell said no fraud occurred and that Donald Sterling changed his mind after originally agreeing to the sale of the team.
"He will pull out all the stops to prevent the sale from going forward," O'Donnell said.
Sterling was banned from the NBA for life earlier this year following the public release of recorded conversations between him and his girlfriend V. Stiviano. Sterling is heard on the tape making bigoted comments, criticizing Stiviano for having her picture taken with black people and telling her not to bring blacks to Clipper games.
The league announced plans to take action against Sterling to force him to sell the team. But Sterling has since filed a lawsuit against the NBA, alleging violations of his civil rights.
He has contended that he was recorded illegally while making emotional remarks during a disagreement with Stiviano.
AFP Photo/Robyn Beck