Donald Trump Accused Of Rape In Federal Court Lawsuit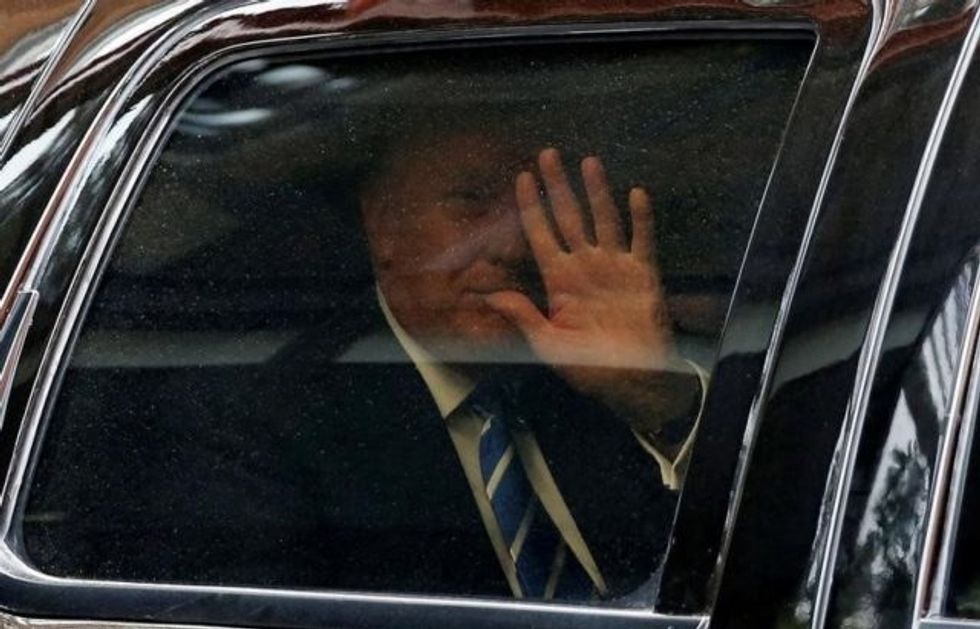 Published with permission from Alternet.
A new lawsuit filed in Manhattan Federal Court alleges that Donald Trump repeatedly raped a 13-year-old girl a little over 20 years ago. According to the now-adult woman's filing, the sexual assaults took place at parties held by Jeffrey Epstein, the billionaire former hedge funder who pleaded guilty in 2008 to charges involving soliciting sex from underage girls as young as 14.
In the filing, the woman states the assaults took place in 1994. She said Epstein lured her to his Upper East Side home—then dubbed Wexner Mansion—with promises of a career in modeling and large sums of money. Once there, Jane Doe says she was violently raped by Trump, according to Death and Taxes:
In the court filing, "Defendant Trump" allegedly "initiated sexual contact with Plaintiff at four different parties. On the fourth and final sexual encounter with Defendant Trump, Defendant Trump tied Plaintiff to a bed, exposed himself to Plaintiff, and then proceeded to forcibly rape Plaintiff. During the course of this savage sexual attack, Plaintiff loudly pleaded with Defendant Trump to stop but with no effect. Defendant Trump responded to Plaintiff's pleas by violently striking Plaintiff in the face with his open hand and screaming that he would do whatever he wanted."

In the next section, she adds that "Immediately following this rape, Defendant Trump threatened Plaintiff that, were she ever to reveal any of the details of the sexual and physical abuse of her by Defendant Trump, Plaintiff and her family would be physically harmed if not killed."
Jane Doe describes, in graphic detail, being anally and vaginally raped, and also being physically struck by Epstein. The complaint goes on to allege that Epstein threatened Jane Doe's safety and that of her family should she reveal the attack to outside sources. "Both defendants let plaintiff know that each was a very wealthy, powerful man and indicated that they had the power, ability and means to carry out their threats," the complaint states, according to the Real Deal.
Death and Taxes reports a second anonymous woman, identified as "Tiffany Doe," who corroborates the charges in the lawsuit, stating that she witnessed the rape. Tiffany Doe testified that between 1991 and 2001, Epstein put her on his payroll, tasking her with bringing underage girls to parties.
Epstein—who was alleged to have preyed on dozens of underage girls throughout the 1990s and early aughts, but was convicted on a single charge for which he served 13 months—has refuted the woman's claims. Trump Organization vice president and general counsel Alan Garten issued a statement saying the charges are "categorically untrue, completely fabricated and politically motivated," according to the Daily News.
The lawsuit was originally filed in a California court. At the time, Jane Doe—who used her real name—did not have the aid of counsel in filing and the suit was dismissed due to problems with paperwork. Doe's new lawyer, Thomas Meagher, told the Daily News the first filing also "cited statutes that did not apply to the case."
Jane Doe is suing for $75,000, payment of her attorney's fees, and an order of protection against Trump. She says she waited many years before filing suit out of fear that Trump and Epstein would make good on their promises to harm her family.
Trump has long admitted to being friendly with Epstein, telling New York Magazine several years ago, "I've known Jeff for 15 years. Terrific guy. He's a lot of fun to be with. It is even said that he likes beautiful women as much as I do, and many of them are on the younger side. No doubt about it, Jeffrey enjoys his social life."
In 2009, Mark Epstein, Jeffrey's brother, testified under oath that Trump flew at least once on Epstein's private plane, the so-called "Lolita Express," according toVice. (According to flight logs, so did Bill Clinton.) The site also notes that Epstein's private phone book, of which the FBI has a copy, includes phone numbers and information for Donald Trump, along with Prince Bandar of Saudi Arabia, Tony Blair, former Utah governor and Republican presidential candidate Jon Huntsman, Senator Edward Kennedy, Henry Kissinger, and David Koch.
Vice writes that "in 2010, Epstein pled the Fifth when asked by a lawyer representing one of Epstein's victims about his relationship with Trump:
Q: Have you ever had a personal relationship with Donald Trump?

A. What do you mean by "personal relationship," sir?

Q. Have you socialized with him?

A. Yes, sir.

Q. Yes?

A. Yes, sir.

Q. Have you ever socialized with Donald Trump in the presence of females under the age of 18?

A: Though I'd like to answer that question, at least today I'm going to have to assert my Fifth, Sixth, and 14th Amendment rights, sir."
In the 1993 book Lost Tycoon: The Many Lives of Donald J. Trump, biographer Harry Hurt points to a deposition in which Trump's ex-wife Ivana accused the billionaire of marital rape. According to the Daily Beast, which revisited the charge last year, just before the book went to print, Donald Trump's lawyers provided a new statement from Ivana, in which she mitigated her original words:
"During a deposition given by me in connection with my matrimonial case, I stated that my husband had raped me. [O]n one occasion during 1989, Mr. Trump and I had marital relations in which he behaved very differently toward me than he had during our marriage. As a woman, I felt violated, as the love and tenderness, which he normally exhibited towards me, was absent. I referred to this as a 'rape,' but I do not want my words to be interpreted in a literal or criminal sense."
In her complaint, Jane Doe contends that Donald Trump was aware that she was 13 at the time of the assaults.
Photo: Republican U.S. presidential candidate Donald Trump departs after he was deposed for a lawsuit involving partners in a restaurant venture at offices in Washington, U.S. June 16, 2016.  REUTERS/Jonathan Ernst