Donald Trump And Others Want To 'Investigate' Black Lives Matter — Why?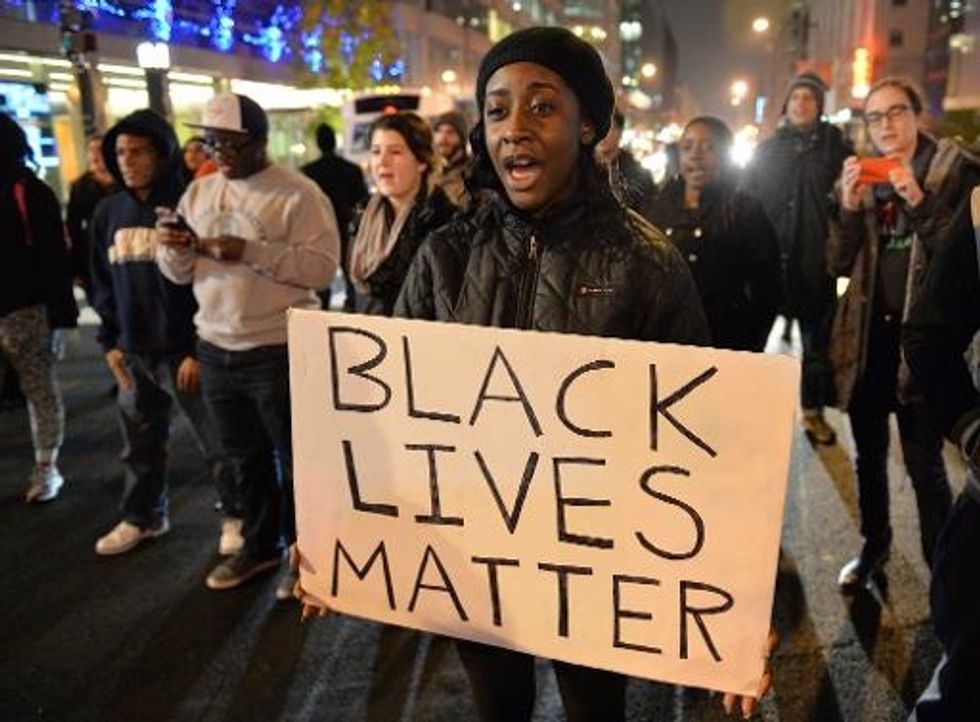 Black Lives Matter is a civil rights movement, and the way conservative leaders are going after it eerily recalls how government went after the Civil Rights movement of the 1960s.
When asked by Bill O'Reilly on Monday if Black Lives Matter (BLM) "will be singled out as a provocateur in this terrible situation?" if Donald Trump is elected president, the Republican nominee replied that he's seen protesters "essentially calling death to the police," and "we're going to have to look into that."
"We are going to have to, perhaps, talk with the Attorney General about it or do something, but, at a minimum, we're going to have to be watching because that's really bad stuff and it's happened more than once," Trump said after O'Reilly reminded him of Americans' freedom of assembly and free speech.
Trump then said he's "probably the least racist person there is," and that he's "doing very well with the African American community."
In reality, he's polling at six percent with African Americans, according to one recent poll.
A day later, Texas Lt. Gov. Dan Patrick voiced his support for an investigation into Black Lives Matter (BLM). "If you are walking down the street saying 'What do we want, we want to kill cops now,' the president has to speak out against that, and the president needs to stop inviting people to the White House who say they want to kill cops," Patrick said on CNN.
This wouldn't be the first time government officials "investigate" a civil rights movement in order to suppress its message. By now, it is no secret that the FBI kept Martin Luther King Jr. and other civil rights activists under constant surveillance during the 1960s. They began this surveillance in 1955 using King's possible ties with communism as an excuse.
After his August 1963 iconic "I Have A Dream" speech, the FBI intensified their pursuit of King in fear of his movement's momentum. In one of tens of thousands of FBI memos from the time, King is called the "most dangerous and effective Negro leader in the country." The FBI then scheduled a meeting to "explore how best to carry on our investigation [of King] to produce the desired results without embarrassment to the Bureau," and neutralize King as "an effective Negro leader."
FBI Director J. Edgar Hoover had filed a request a month before the speech to the Attorney General to tap the phones of King and his associates and bug their homes and offices. Attorney General Robert Kennedy approved this request in September.
In 1967, the FBI created a counter-intelligence program against ''Black Nationalist–Hate Groups,'' to look into the Southern Christian Leadership Conference and civil rights leaders. Hoover described the goal of this program as an endeavor "to expose, disrupt, misdirect, discredit, or otherwise neutralize the activities of black nationalist, hate-type organizations and groupings, their leadership, spokesmen, membership, and supporters, and to counter their propensity for violence and civil disorder."
A Senate Committee during the 1970's to look into the FBI's domestic intelligence operations determined that "Rather than trying to discredit the alleged Communists it believed were attempting to influence Dr. King, the Bureau adopted the curious tactic of trying to discredit the supposed target of Communist Party interest—Dr. King himself."
Photo: AFP Photo/Mladen Antonov