White Supremacist Gets Trump Press Credentials, Interview With Trump Jr.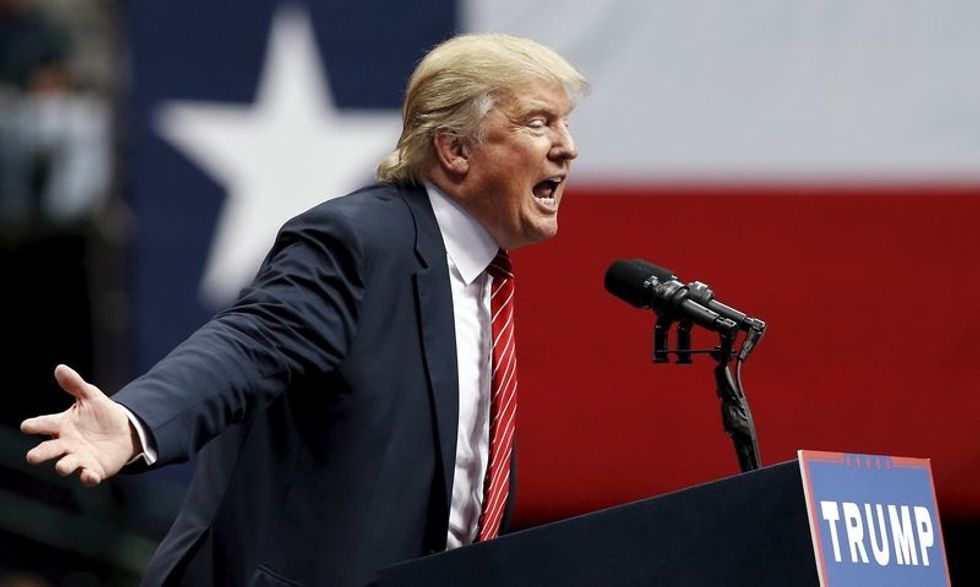 Radio show host, author, and political commentator James Edwards — who, I should note, rejects the label "white supremacist," despite some overwhelming evidence to the contrary — has attended three Trump rallies in recent months, most recently as a fully-credentialed member of the press. According to his website, he will release a recorded interview with Donald Trump Jr., Donald Trump's son and a surrogate for his campaign, on Saturday.
This past Saturday, Edwards broadcast live from the press pen of a Trump rally in Memphis. Towards the end of an article summing up the event, he reflected on his place as a white supremacist, yes, at a Trump rally:
"I firmly believe that everything for which I stand is both natural and healthy, but it wouldn't bother me if Donald Trump himself denounced me and all of my friends. He can denounce me until the cows come home so long as he follows through on his pledge to build a wall and ensures that the aliens self deport. I am supporting him because immigration is the single biggest problem that our nation needs to solve. Demographics is destiny. He doesn't need to support me."
When asked for comment, Trump campaign spokesperson Hope Hicks said in an email that the campaign provided press credentials to "everyone that requested access to the event," including "close to 200 reporters."
She said the campaign "had no knowledge of [Edwards] personal views and strongly condemns them."
In 2008, the Anti-Defamation League wrote of Edwards,
[He] has interviewed a variety of anti-Semites, white supremacists, Holocaust deniers, conspiracy theorists and anti-immigrant leaders. A list of former guests includes veteran anti-Semite and Holocaust denier Willis Carto; Prussian Blue, a neo-Nazi singing duo; anti-Semite Ted Pike; Mark Weber, the director of the Institute for Historical Review; and Frank Roman, a founding member of the neo-Nazi European Americans United group.
In the past, the Trump campaign has tightly controlled who is and is not allowed to cover their events:
In July, reporters from the Des Moines Register were prevented from covering a Trump event after their paper published an editorial calling for Mr. Trump to leave the race.
In October, Jorge Ramos and his Univision staff were prevented from covering a Trump event because Trump was suing Univision at the time.
A Buzzfeed reporter was denied entry to a Trump event in November because he had previously stepped outside of the designated "press pen."
As for the previously-recorded interview that Edwards said is scheduled to air on Saturday, Hicks wrote that "to [Donald Trump Jr.'s] knowledge and that of the campaign, [he] did not participate in an interview with this individual."
Hmm. We'll see about that.
I've reached out to Edwards for clarification and will update this article as soon as more information becomes available.
3/2/2015: Earlier this afternoon, Trump Jr. told Bloomberg Politics that he did in fact do the interview with Edwards, contrary to his campaign's previous statement. 
Photo: Republican presidential candidate Donald Trump speaks at a rally in Dallas, Texas, in this file photo taken September 14, 2015.   REUTERS/Mike Stone/Files