Distraction? Don Jr. Hit Amber Heard As Select Panel Torched Trump
@next2godwin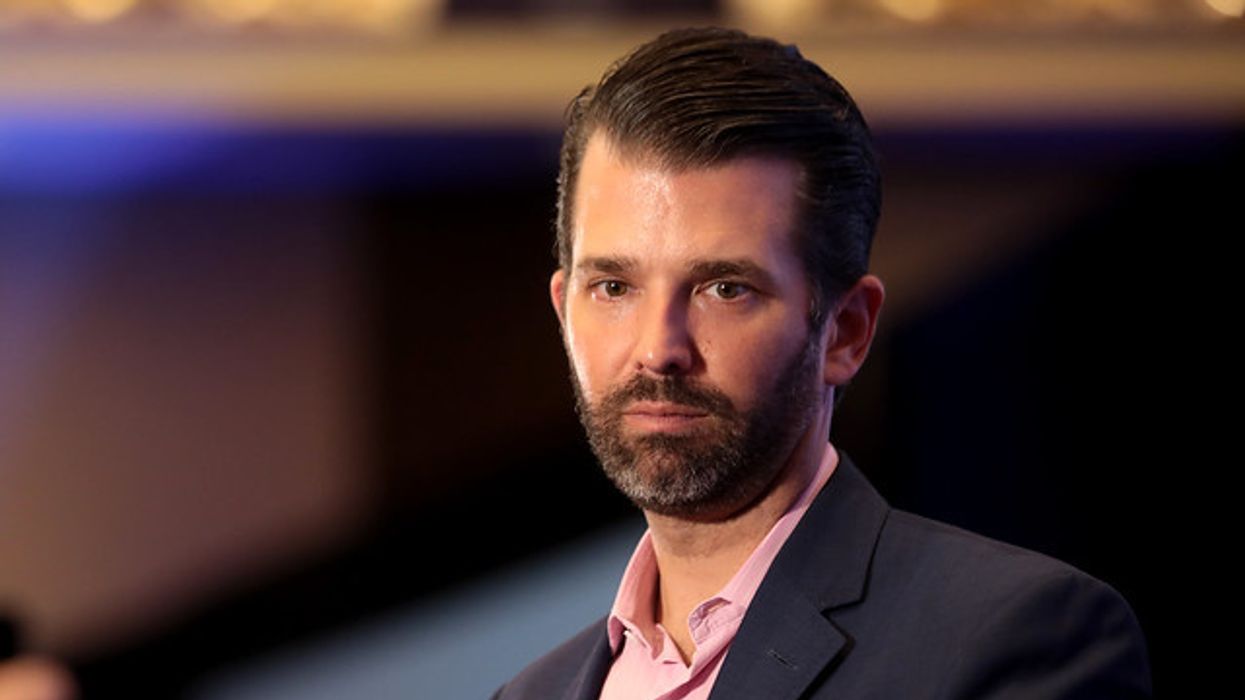 Donald Trump Jr.
As the House Select Committee held the first in its slate of landmark hearings, where it showed video after video of aides skewering former President Trump for his false claims of election fraud, Donald Trump Jr., Trump's son, was whining about Amber Heard on social media.
In a tense and somewhat emotional prime-time hearing late Thursday, the select committee investigating the January 6, 2021, Capitol riot offered new information that portrayed what it characterized as an attempted coup by the former president — who, the panel said, rubber-stamped far-right calls for his vice president's hanging.
Pretending to be uninterested in the January 6 hearings, Trump Jr. took to Instagram to share his thoughts on the long-since-concluded legal bout between Heard and her ex-husband, Johnny Depp.
"Believe all women? Really? All of them? That's the dumbest thing I've Amber Heard," Trump Jr. posted on Instagram. Whether or not Trump Jr. was referring to his sister, Ivanka's testimony is unknown.
Social media users mocked the former president's son not just for rehashing old news but also for his bizarre and laughable attempt to divert the attention of his social media followers from the January 6 hearings, where taped testimony from his sister, Ivanka Trump, denouncing her father's lies of widespread electoral fraud was aired.
Trump Jr. is no stranger to mockery for his unhinged narrative on social media. In March, he was ridiculed for suggesting on social media that his father be allowed to partake in talks between NATO allies about the Ukraine war.
"Sending Biden to Europe for 'High Stakes' NATO talks will only embolden our enemies further," Trump Jr. wrote. "If you want to get something done right send Trump." Hours later, the phrase "send Trump" began trending as Twitter users suggested that the former president be sent to Moscow instead — and left there.
"Send [Trump] to Moscow. Leave him there," someone tweeted. "99% of actual Americans agree we should send [Trump] to Moscow. And leave him there," another Twitter user opined.
During its investigation, the House Select Committee obtained text messages from the phone of the former White House chief of staff, Mark Meadows, including messages from Trump Jr. pushing ideas of how his father could retain power despite losing the election.
"It's very simple. We have multiple paths. We control them all," Trump Jr. wrote to Meadows on November 5, 2020.
"Republicans control 28 states Democrats 22 states. Once again Trump wins," the message said. "We either have a vote WE control and WE win OR it gets kicked to Congress 6 January 2021," another November 5 Trump Jr. message read.
"We have operational control Total leverage. Moral High Ground POTUS must start 2nd term now," Trump Jr. reportedly said in another text message.
The House Select Committee is reportedly set to hold its next hearing on Monday, 13 June, 2022, where it's expected to continue detailing a "sprawling, multi-step conspiracy," spearheaded by former President Donald Trump to subvert a democratic election.