"Sunset Boulevard": A One-Act Play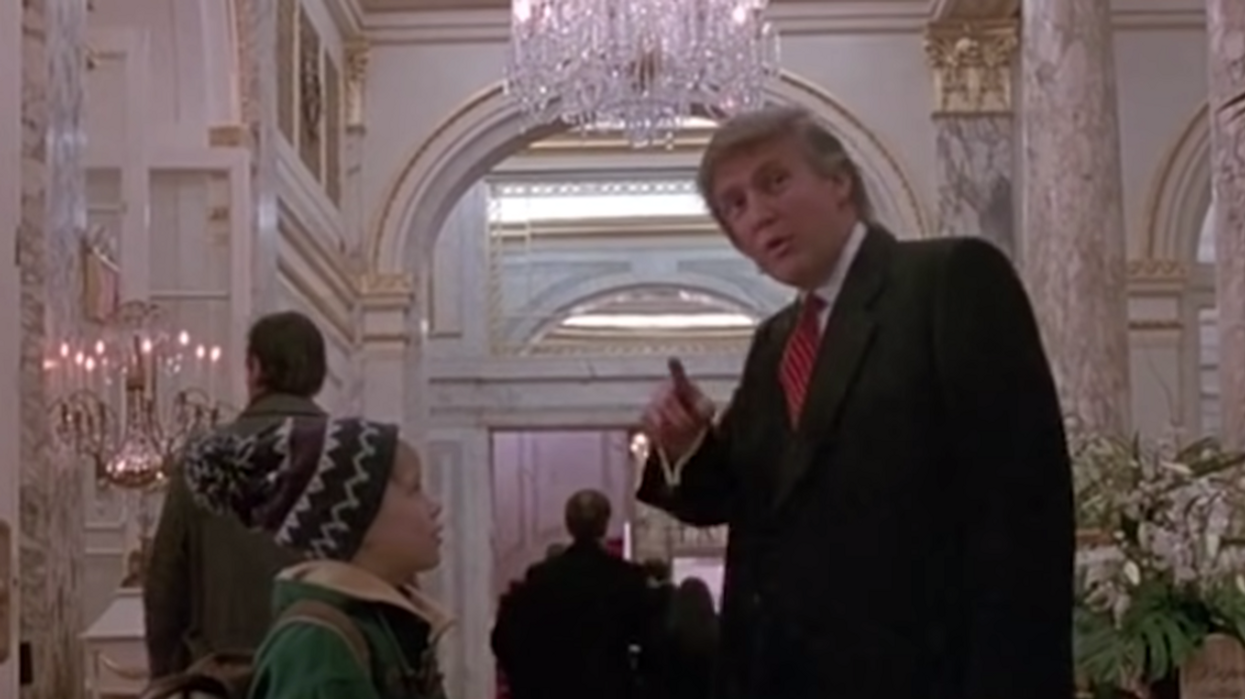 Screenshot from YouTube
The 45th President of the United States is in his gilded study at Mar-a-Lago with his loyal aide Jason Miller.
JASON MILLER: Mr. President, your lawyers are on the line.
DONALD TRUMP: I fired them, tried to gyp me on the expenses.
MILLER: Not those lawyers, your other lawyers. The new ones.
TRUMP: Put them on hold.
MILLER: It's about testifying in your second impeachment trial.
TRUMP: Could be a big cameo.
MILLER: What should I say?
TRUMP: Who cares?
MILLER: Oh, Mike Pence left a message.
TRUMP: Schlong Mike Pence!
MILLER: There's this letter from the disciplinary committee of the Screen Actors Guild and the American Federation of Television and Radio Artists about revoking your membership. I'm not going to answer.
TRUMP: Are you kidding? This is the greatest opportunity to remind them who's the biggest star. Get YouTube up. Let's decide which are the best cameos.
Miller clicks on YouTube on his computer.
TRUMP: The Fresh Prince of Bel Air. Hey, there's Marla with me! Watch, the kid Carlton says, "It's the Donald! Oh my God!" See, he faints. And the mother says to me, "You look much richer in person." Definitely put that one in.
MILLER: A classic.
TRUMP: Sex and the City. Watch how Miranda looks at me in a restaurant where I'm making a big real estate deal. But she doesn't come on to me. Leave it out. How about The Little Rascals? I'm playing a guy named Waldo Johnston II, and I'm talking to my son, Waldo Johnston III, and I say, "Waldo, you're the best son money can buy." That one goes in. How about Suddenly Susan?
Miller taps the video link.
TRUMP: Whoa! How about this line I have? "Make it snappy, I've got a plane to catch." Great line, or what? Then, yeah, here it is, they unveil a new magazine to show me." "We've created a magazine. We give you Skazzy." And how do you like that cover of me: "Our Next President?"
MILLER: That one goes in?
TRUMP: Nah, I am president.
MILLER: Next, Zoolander.
TRUMP: The best. Hey, there's Melania with me! Listen to my line. "Look, without Zoolander male modeling wouldn't be what it is today." That one is a keeper.
MILLER: Should we see the most famous?
Miller hits the link.
TRUMP: Home Alone 2! Here comes the kid lost in the Plaza. He doesn't know who I am. He doesn't know I own the Plaza. "Where's the lobby?" Here's my line: "Down the hall and to the left."
MILLER: Ready? Here it comes—Wall Street: Money Never Sleeps.
TRUMP: Maybe my ultimate best. I walk into a barber shop. Michael Douglas is Gordon Gekko. He's getting his hair cut. "Hey, is this the one and only Gordon Gekko?" I say. And he says, "Hey, Donald." And I say, "This is a great place to get a haircut." And he says, "I love this place. I've been coming since the Eighties." And I say, "The Eighties are no longer, Gordo. How's life, Gordo?" But, guess what, my biggest part ever maybe, I gave them my conditions—don't touch the hair, golden lighting. And they cut the scene! But I had a copy of the scene, put it out in a DVD, so it counts. Put it in.
MILLER: And the letter?
TRUMP: Take this down: "I write to you today regarding the so-called Disciplinary Committee hearing aimed at revoking my union membership. Who cares! While I'm not familiar with your work, I'm very proud of my work on movies…" And put in Home Alone 2, Zoolander and Wall Street: Money Never Sleeps. "…and television shows…" Put in The Fresh Prince of Bel-Air, Saturday Night Live, and of course, one of the most successful shows in television history, The Apprentice – to name just a few!"
MILLER: Perfect. And the close?
TRUMP: "You have done nothing for me."
MILLER: Perfect.
TRUMP: This is my most important document before that impeachment trial. Reminds everybody. I am big. It's the pictures that got small.
The phone rings. Miller picks it up, listens, hangs up.
MILLER: Mr. President, you won't believe this, but Kevin McCarthy is here again. Where should I tell him to wait?
TRUMP: Down the hall and to the left.
Sidney Blumenthal, former senior adviser to President Bill Clinton and Hillary Clinton, has published three books of a projected five-volume political life of Abraham Lincoln:A Self-Made Man,Wrestling With His AngelandAll the Powers of Earth. His play, This Town, about a scandalous White House dog, was produced in 1995 by LA TheatreWorks. This is the fourth in his "Trump Cycle" series of one-act plays published in The National Memo, including The Pardon, Epstein's Ghost, and Ivanka's Choice.