"Epstein's Ghost": A Play In One Act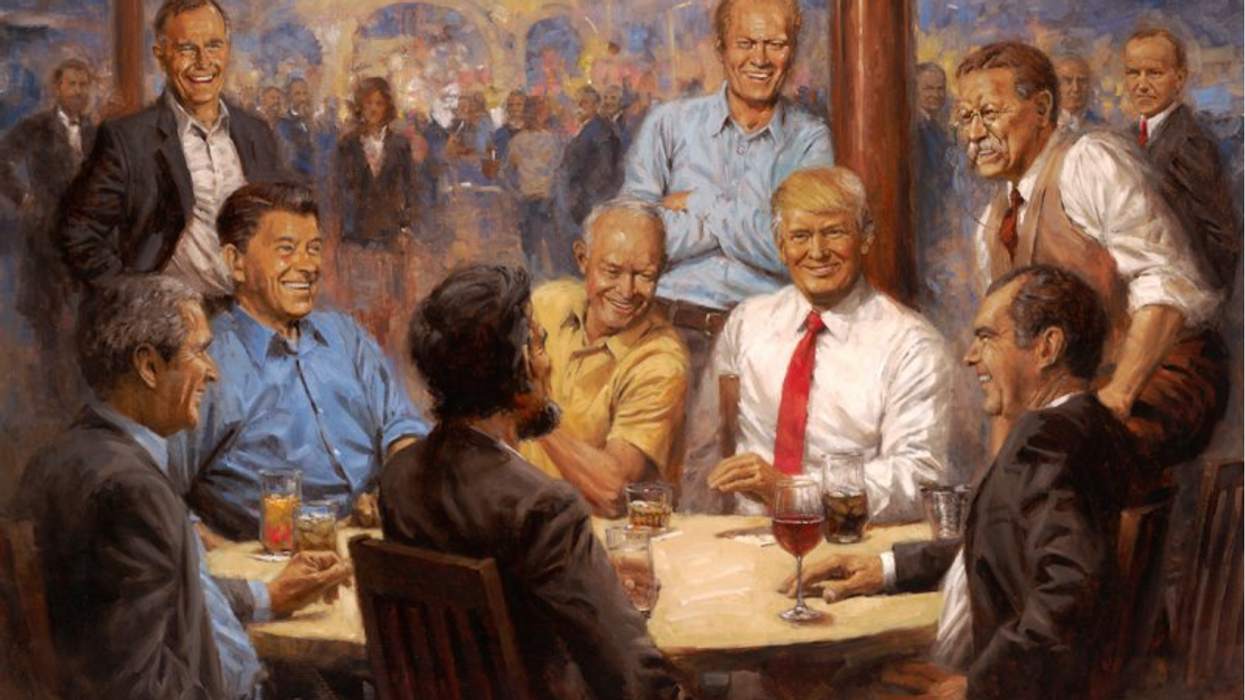 Image courtesy of Andy Thomas
Scene 1: The study off the Oval Office. January 19, 2021, 11 p.m.
Trump is alone, gazing at a print called "The Republican Club," showing him as the center of attention of past Republican presidents while they play cards.
TRUMP: I'll have that picture packed up in the morning. The best. Hang it in my presidential library. Sell it at the gift shop. What's Lincoln drinking? They say he was a teetotaler. Looks like a beer. I bet he sneaked a beer. The artist got everything right. I'm drinking a Diet Coke. Lincoln couldn't stop the Civil War. I didn't have a civil war. That thing at the Capitol? A big little nothing. Lincoln couldn't carry Texas. I carried it twice. His wife held seances. They spoke to ghosts. Robert E. Lee drove Lincoln crazy.
Scene 2. The Lincoln Bedroom. Midnight.
Trump is in his pajamas, wearing a bathrobe, sitting up in bed, with a channel changer in his hand, surfing between three TV screens, showing Fox News, Newsmax and the One America Network.
TRUMP: Never spent a night in the Lincoln Bedroom. Creepy. But it's my last chance. (Calls out.) Melania? Gone to her bedroom. We're up at five in the morning to get to Andrews for the big sendoff, twenty-one gun salute, big rally when we land in Florida, beginning of the comeback. (Calls out again.) Melania? Nothing. I'll tweet out my Farewell Address. (He reaches for his cell phone, starts writing.) "My fellow…" God damn it, nothing. Schmucks cut off my twitter. Lorena Bobbitt, Hillary, Kamala. (Calls out.) Miller! Stephen! Stephen Miller! Jason! Jason Miller! (Waits a second.) Nothing. Nobody there.
(Trump feels a slight breeze and a chill, and hears the rustle of something moving. He wraps his bathrobe tighter. Before him stands a familiar figure, with a long trailing orange sheet wrapped around his neck.)
TRUMP: Jeffrey!
JEFFREY EPSTEIN: You don't believe in ghosts, do you?
TRUMP: How long have you been dead?
EPSTEIN: Five hundred and twenty-eight days to be exact.
TRUMP: Didn't see it coming, did you? You can take that sheet off your neck now. You used to be a better dresser.
EPSTEIN: You're the only one who can see me now.
TRUMP: You must have come for a reason. What do you want from me?
EPSTEIN: Too late for a pardon.
TRUMP: I liked you a lot better than a lot of the people I gave pardons. You sure you don't want anything? (Epstein shakes his head.) All right, have it your way. But don't go anywhere. I could use some company. I just have to give my last presidential order. (Trump picks up the White House phone.)
WHITE HOUSE OPERATOR: Mr. President…
TRUMP: Double cheeseburger, fries and a Diet Coke. (He hangs up.)
EPSTEIN: I've lost my appetite.
TRUMP: Take a chair. Take off that sheet. There's no evidence you exist, Jeffrey, you know that.
EPSTEIN: Evidence? You remember those photographs we took with the girls? They were in my safe at East 91st Street. When the FBI raided they took everything.
TRUMP: You never had much time to talk. I guess you can talk now. So, tell me, what's it like on the other side?
EPSTEIN: Every day I go to your mansion at Mar-a-Lago. You greet me at the door. There's a party going on. The room is filled with a legion of girls, all of them dancing, trying to get our attention. I tell you a joke. You point to one girl and whisper to me, "She's hot." We laugh. Then the cutest of the girls, six of them, come up to me and take me by the hand. They lead me to a room with a massage table. They put a sheet on it, giggle and tell me to take my clothes off. They leave. I lie down on the table. Then nobody ever returns. I just lie there. The next thing I know it's the next day and I'm going to your mansion at Mar-a-Lago. You're at the door. It all happens again exactly the same way.
TRUMP: When you come to my place are you wearing the sheet?
EPSTEIN: Only when I am let out to wander on the wings of the wind.
TRUMP: But why bother me now? No pardon. I don't get it. What's in it for you?
EPSTEIN: I have sat invisible beside you many and many a day. This is the first and last time I will make myself known. A very little more is all that's permitted to me. I cannot rest, I cannot stay, I cannot linger anywhere. My time is nearly gone here, while your time here ticks away. I am here to warn you of your fate. I will be the last to tell you of your chance and hope once you leave this house. It's what I learn over and over again every single day when I visit you at Mar-a-Lago. (Epstein wraps his orange sheet around his neck.)
TRUMP: What is it?
EPSTEIN: There's no happy ending.
Sidney Blumenthal, former senior adviser to President Bill Clinton and Hillary Clinton, has published three books of a projected five-volume political life of Abraham Lincoln:A Self-Made Man,Wrestling With His AngelandAll the Powers of Earth. His play, This Town, about a scandalous White House dog, was produced in 1995 by LA TheatreWorks.