Despite Copious Evidence, Trump Denies Knowing Sex Offender Epstein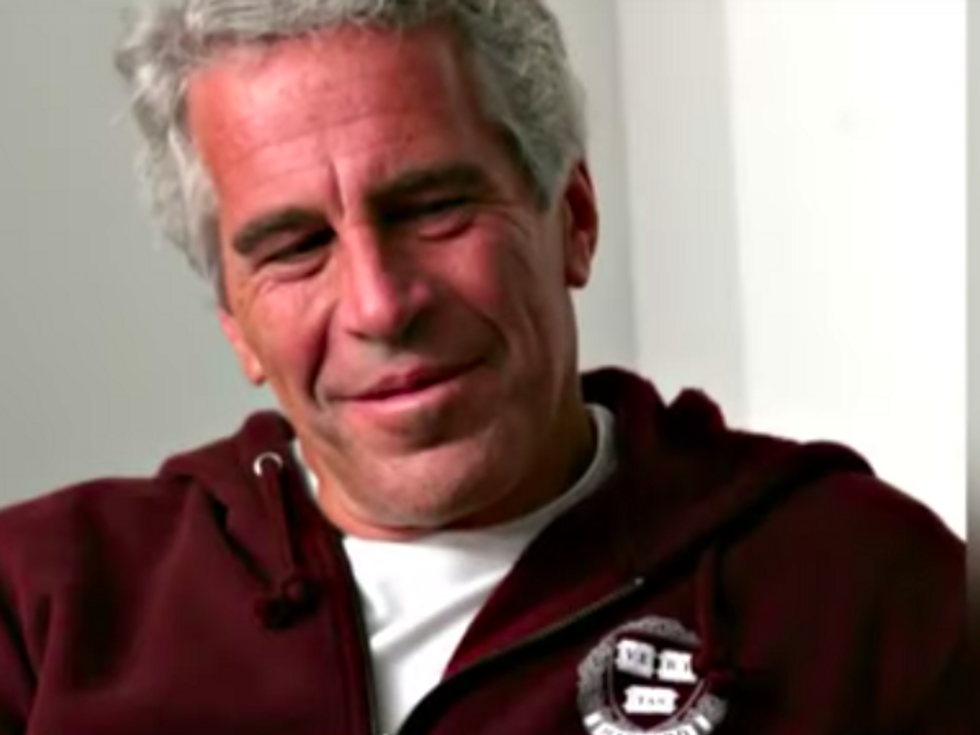 Reprinted with permission from Alternet.
President Donald Trump denied through a lawyer that he had a relationship with Jeffrey Epstein, the billionaire who was arrested over the weekend on charges of sex trafficking, the Washington Post reported on Monday. But that contradicts persuasive evidence that they were, indeed, friends.
Perhaps most damning are Trump's own words, as quoted in a New York magazine article in 2002. Since he was not yet president at the time, and Epstein hadn't yet faced these charges, Trump can hardly claim that a reporter at the time was trying to contrive a fake relationship between him and the financier. The quote has been making the rounds not only because it shows the friendship between the president and Epstein in the middle of the period in which the alleged trafficking of minors occurred, but because it suggests that Trump may have been aware of the criminal behavior:
"I've known Jeff for fifteen years. Terrific guy," Trump booms from a speakerphone. "He's a lot of fun to be with. It is even said that he likes beautiful women as much as I do, and many of them are on the younger side. No doubt about it – Jeffrey enjoys his social life."
The Post also details a slew of additional "clear evidence" — including testimony by those who knew of their relationship and reports that say Epstein had numerous phone numbers connected to Trump in a contact book.
Asked in February about Labor Secretary Alex Acosta's role in the case, Trump also pleaded ignorance and suggested he knew little about the Epstein case. (Acosta was the U.S. attorney who worked on the lenient and controversial plea deal Epstein received when he first faced these charges. A judge recently ruled that the fact that victims weren't informed about the plea deal violated the law.)
"I really don't know too much about it," Trump said in February. "I know he's done a great job as labor secretary, and that seems like a long time ago, but I know he's been a fantastic labor secretary. That's all I can really tell you about it. That's all I know about it."
But these claims to ignorance are also apparently contradicted by another aspect of the Post's report:
Brad Edwards, an attorney who has represented some of Epstein's alleged victims, said he sought out Trump in 2009, seeking to interview Epstein's acquaintances.

"Trump was "the only person who picked up the phone and said, 'Let's just talk. I'll give you as much time as you want. I'll tell what you need to know,' " Edwards said in a 2018 interview on YouTube.

In that interview, Edwards said Trump "was very helpful in the information that he gave and gave no indication whatsoever that he was involved in anything untoward whatsoever." Edwards said he never took Trump's deposition.

Edwards on Monday declined to elaborate on the assistance Trump gave.
It's not just Trump who had ties to Epstein. Another president, Bill Clinton, had been reported to have flown in Epstein's private jet. Clinton isn't denying the existence of the relationship, though in a statement from a spokesperson on Monday, he tried to minimize the connection:
President Clinton knows nothing about the terrible crimes Jeffrey Epstein pleaded guilty to in Florida some years ago, or those with which he has been recently charged in New York. In 2002 and 2003, President Clinton took a total of four trips on Jeffrey Epstein's airplane: one to Europe, one to Asia, and two to Africa, which included stops in connection with the work of the Clinton Foundation. Staff, supporters of the Foundation, and his Secret Service detail traveled on every leg of every trip. He had one meeting with Epstein in his Harlem office in 2002, and around the same time made one brief visit to Epstein's New York apartment with a staff member and his security detail. He's not spoken to Epstein in well over a decade, and has never been to Little St. James Island, Epstein's ranch in New Mexico, or his residence in Florida.