Donald Trump Reportedly Loved The Disturbing Steve Bannon '60 Minutes' Interview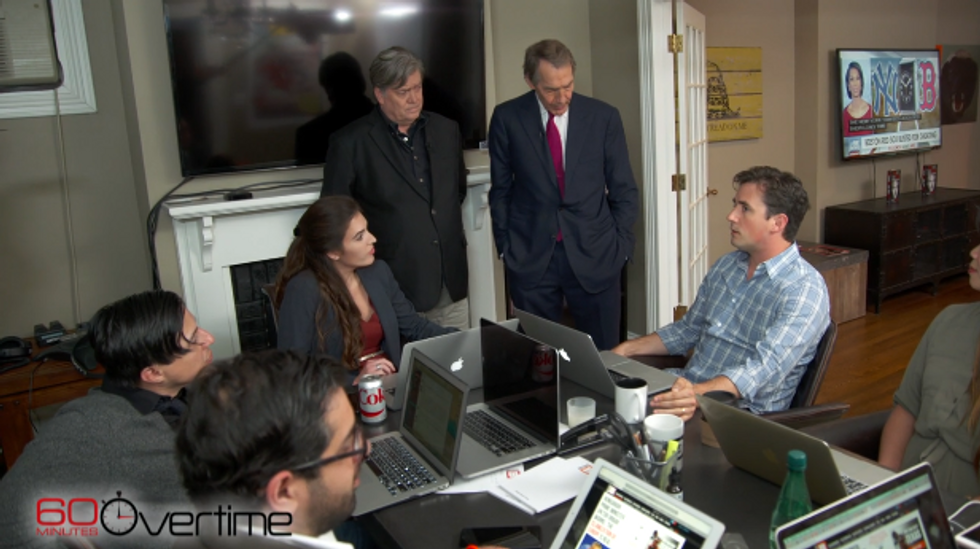 Reprinted with permission from AlterNet.
President Donald Trump was apparently a huge fan of the Steve Bannon interview on "60 Minutes" with Charlie Rose.
Bannon railed against Republicans for not being extreme enough, engaged in anti-immigrant rhetoric and called former FBI director James Comey's firing the "biggest mistake in modern political history." He also called the Russia investigation a "waste of time."
According to the Washington Post, Trump thought it was great. He told "friends and aides he was appreciative of the praise Bannon offered for him and his policies, according to one person familiar with the president's thinking."
"He thought that it was an articulate and forceful defense of him, as well as a very strong and very intelligent positioning of some of the core issues of the administration," a source told the Post.
While Trump hates to be told he's done anything wrong, hearing the crticism of Republicans who wouldn't bow to his destructive agenda items and seeing the Russia investigation dismissed on national TV was enough to keep him happy.
For those hoping Bannon's exit signalled a softening of the Trump adminsitration's extremism, his response to the "60 Minutes" interview proves he's exactly who we thought he was.
Chris Sosa is an associate editor at AlterNet. His work has appeared in Mic, Salon, Care2, Huffington Post and other publications. Previously, he was a campaign specialist and media spokesperson for People for the Ethical Treatment of Animals. Follow him on Twitter @ChrisSosa.