Donald Trump Is Shamelessly Exploiting An NFL Player's Death To Push His Racist Immigration Policy
@AlterNet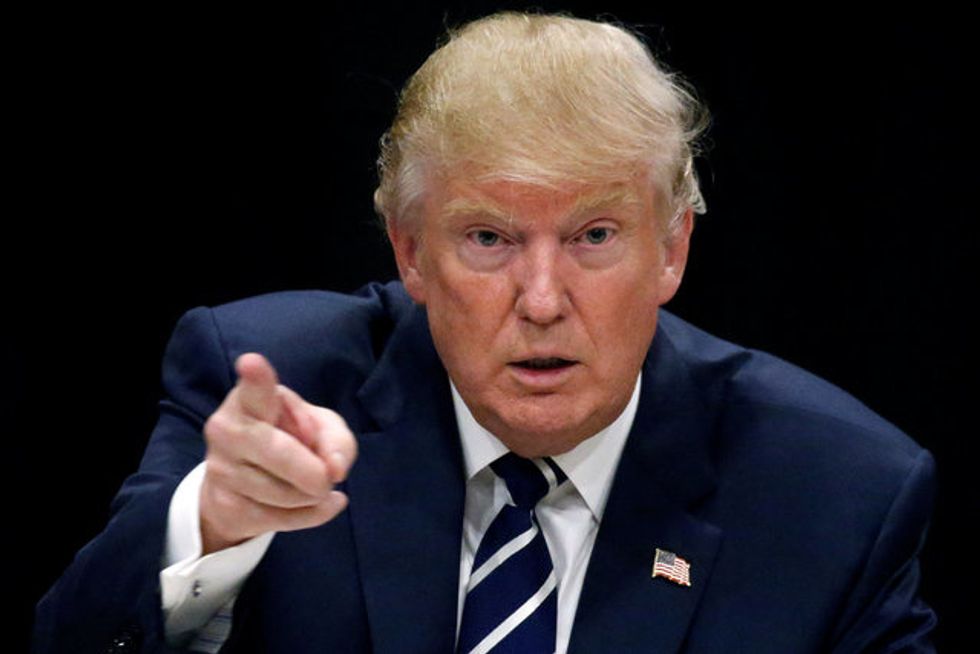 Reprinted with permission from AlterNet.
In tweets shared on Tuesday morning, Donald Trump used NFL player Edwin Jackson's death to exacerbate anti-immigrant sentiment across the nation. The president tweeted that it was "so disgraceful that a person illegally in our country killed @Colts linebacker Edwin Jackson. This is just one of many such preventable tragedies. We must get the [Democrats] to get tough on the Border, and with illegal immigration, FAST!" He then added, "My prayers and best wishes are with the family of Edwin Jackson, a wonderful young man whose life was so senselessly taken."
According to the Indiana State Police, Colts player Jackson and his Uber driver, Jeffrey Monroe, were killed on the interstate on Sunday morning after Guatemala native Manuel Orrego-Savala allegedly collided into their vehicle while drunk driving. Savala, who authorities say used the alias Alex Cabrera Gonsales, was living in the United States as an undocumented immigrant and is currently being held by the state police in Marion County Jail.
This isn't the first that Trump has politicized a tragedy. After an attacker, originally from Uzbekistan according to authorities, drove through a crowd of New York pedestrians and killed eight in November, Trump called for an immigration crackdown. In a tweet shared shortly after the attack, Trump said, "The terrorist came into our country through what is called the 'Diversity Visa Lottery Program,' a Chuck Schumer beauty." However, Trump's response to the Las Vegas attack, in which Stephen Paddock killed 58 concert-goers and injured more than 500, was much more different and even elusive. Trump made no aggressive claims to improve domestic gun control laws and simply said, "My warmest condolences and sympathies to the victims and families of the terrible Las Vegas shooting. God bless you!"
Soon after Trump tweeted for more aggressive anti-immigrant legislation in the wake of Jackson's death, critics denounced the president for indulging in a disgraceful bout of blame game and highlighted his duplicity. Trump's tweet ignored a fact established by the Centers for Disease Control: nearly 10,000 Americans have been killed in alcohol-impaired driving. Immigrants, it turns out, were not the root cause of these deaths. In 2014 alone, a whopping 111 million Americans reported themselves for drunk driving.
It wasn't just online observers who took issue with Trump's instigative finger-pointing. Jackson's roommate, Chad Bouchez, responded to Trump's tweetswhile talking to CBS News and said that the 26-year-old linebacker "would not want that."
"I don't think Edwin would have judged anyone on where they were from or anything else," Bouchez said.