Donald Trump: The First U.S. President Who's Openly Traumatized By 'Saturday Night Live'
@alexvhenderson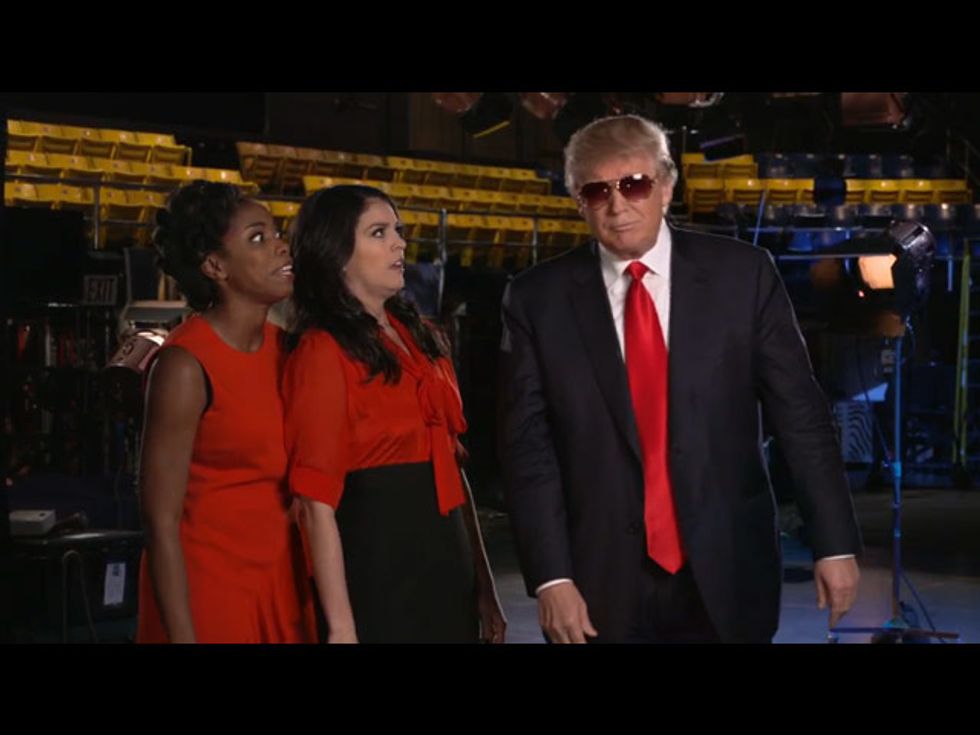 Reprinted with permission from AlterNet.
The end of summer and arrival of fall not only means cooler temperatures and shorter days; it also means the return of NBC's long-running "Saturday Night Live," which launched its 44th season on September 29. For President Donald Trump, a new "SNL" season brings with it the fear of being lampooned by Alec Baldwin—and sure enough, "SNL's" October 13 show opened with a skit poking fun at Trump's recent meeting with rapper Kanye West(played by Chris Redd). Baldwin's impression of Trump has been wildly popular, but the president is not a fan. And Trump is the first president in "SNL's" 43-year history who has been deeply upset by a humorous impression of him.
"SNL's" lampooning of presidents of the United States is a time-honored tradition going back to 1975,when Chevy Chase (who was part of the show's original cast along with comic giants like John Belushi, Dan Aykroyd and Gilda Radner) unveiled his impression of President Gerald R. Ford. Chase was unmerciful, portraying Ford as an accident-prone klutz who would leave the Oval Office in shambles. But Ford didn't react negatively. He even appeared with Chase at a White House dinner in 1976, declaring, "I'm Gerald Ford, and you're not" (a play on Chase's famous line, "I'm Chevy Chase, and you're not").
Actually, Ford wasn't a klutz. He was an avid tennis player who had been a college football star, but showing that he could take a joke and appearing with Chase in public was a smart public relations move.
Over the years, "SNL" has lampooned eight different presidents: five Republicans (Ford, Ronald Reagan, George H.W. Bush, Sr., George W. Bush and Trump) and three Democrats (Jimmy Carter, Bill Clinton and Barack Obama). There were some hilarious impressions along the way, from Dana Carvey portraying Bush, Sr. to Aykroyd portraying Carter. And sometimes, the real-life presidents would show up, such as President George H.W. Bush, Sr. himself appearing and humorously critiquing Carvey's impression of him.
When it comes to mocking presidents, "SNL's" nonpartisan rule has always been that both Democrats and Republicans are fair game. But Trump is the first president who has gotten into a bitter war of words with the person doing an impression of him.
Showing how thin-skinned he is, Trump (who hosted "SNL" in 2015) has repeatedly attacked Baldwin on Twitter. On October 16, 2016, Trump posted, "Watched Saturday Night Live hit job on me. Time to retire the boring and unfunny show. Alec Baldwin portrayal stinks. Media rigging election!"
On March 2, Trump tweeted, "Alex (sic) Baldwin, whose dieing (sic) mediocre career was saved by his impersonation of me on SNL, now says playing DJT was agony for him. Alex, it was also agony for those who were forced to watch. It was terrible."
Trump's angry anti-Baldwin tweets are quite a contrast to "SNL's" relationship with members of the Bush family. Carvey was on very friendly terms with President George H.W. Bush, who was genuinely amused by Carvey's impression of him. And President George W. Bush stressed that he never took offense when Will Ferrell portrayed him as a goof who couldn't speak English correctly.
Nor did President Bill Clinton take offense when he was lampooned by two different "SNL" cast members—first Phil Hartman, then Darrell Hammond.
On September 30—the day after "SNL's" season premiere—Trump couldn't resist attacking the show on Twitter. Trump tweeted, "Like many, I don't watch Saturday Night Live (even though I past hosted it) – no longer funny, no talent or charm. It is just a political ad for the Dems. Word is that Kanye West, who put on a MAGA hat after the show (despite being told "no"), was great. He's leading the charge!"
The "political ad for the Dems" part is ludicrous in light of the fact that "SNL" has been having laughs at the expense of Democrats for 43 years—and "SNL" creator Lorne Michaels himself recently donated $5000 to Republican Sen. Susan Collins, who most Democrats are furious with for voting for the confirmation of Trump's second Supreme Court nominee, Brett M. Kavanaugh.
While others view "SNL" as a show that ridicules politicians of both the left and the right, Trump insists that "SNL" has a vendetta against him personally. And the more he rails against "SNL," the more he shows his controlling, authoritarian nature.
Alex Henderson is a news writer at AlterNet and veteran political journalist. His work has also appeared in Salon, Raw Story, Truthdig, National Memo, Philadelphia Weekly, Democratic Underground, L.A. Weekly, MintPress News and many other publications. Follow him on Twitter @alexvhenderson.