Donald Trump Vs. Fox News — Again!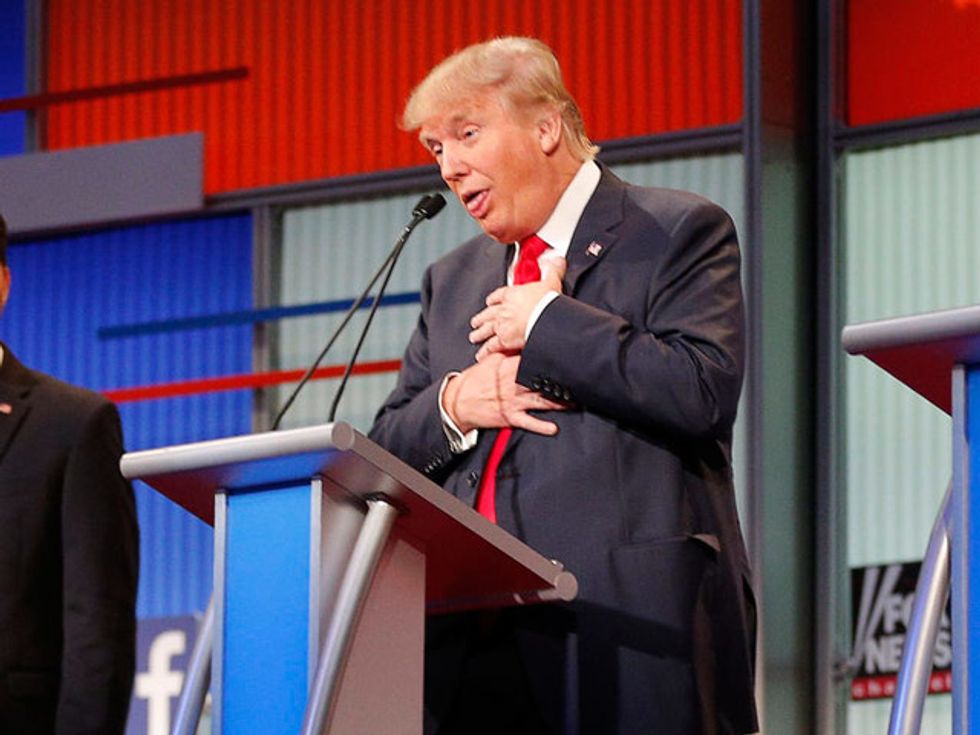 Donald Trump has reignited his war against his political enemies — with a new attack on Fox News host Megyn Kelly. And even the most prominent Republican media outlet in the country is discovering: The Donald won't ever let you go.
Trump had previously gone after Kelly two weeks ago — after she questioned him at the Fox News debate about his past insults against women — by making a comment about her that was widely interpreted as a reference to her menstrual cycle. Then peace seemed to arrive after Fox News chief Roger Ailes defused the situation.
But on Monday night, Trump took to Twitter again — and in an amazing pursuit for a presidential frontrunner, lobbed a new round of insults against Kelly upon her return to the air following her vacation.
I liked The Kelly File much better without @megynkelly. Perhaps she could take another eleven day unscheduled vacation!

— Donald J. Trump (@realDonaldTrump) August 25, 2015
Note: Fox News has said that Megyn Kelly's vacation was scheduled long in advance.
Trump also reposted other people's tweets — including one that made a direct, misogynistic attack on Kelly:
In response, Ailes, who had seemingly patched things up with The Donald, released a new statement calling upon Trump to apologize, and standing by his channel's anchorwoman:
Donald Trump's surprise and unprovoked attack on Megyn Kelly during her show last night is as unacceptable as it is disturbing. Megyn Kelly represents the very best of American journalism and all of us at FOX News Channel reject the crude and irresponsible attempts to suggest otherwise. I could not be more proud of Megyn for her professionalism and class in the face of all of Mr. Trump's verbal assaults. Her questioning of Mr. Trump at the debate was tough but fair, and I fully support her as she continues to ask the probing and challenging questions that all presidential candidates may find difficult to answer. Donald Trump rarely apologizes, although in this case, he should. We have never been deterred by politicians or anyone else attacking us for doing our job, much less allowed ourselves to be bullied by anyone and we're certainly not going to start now. All of our journalists will continue to report in the fair and balanced way that has made FOX News Channel the number one news network in the industry.
Fox anchorman Jon Scott read the Ailes statement on the air.
Still The Donald just dug in further, releasing a statement which in one fell swoop trashed Megyn Kelly (again), boasted of his poll numbers, promoted his upcoming campaign rally — and hinted at appearing on other networks.
I totally disagree with the FOX statement. I do not think Megyn Kelly is a quality journalist. I think her questioning of me, despite all of the polls saying I won the debate, was very unfair. Hopefully in the future I will be proven wrong and she will be able to elevate her standards to a level of professionalism that a network such as FOX deserves.

More importantly, I am very pleased to see the latest polls from Public Policy Polling showing me at a strong number one with 35% in New Hampshire, the Monmouth University poll showing me, again at number one, with 30% in South Carolina and the latest national poll from Gravis where I am again the clear front runner with 40%. It was also just announced that I won the prestigious corn kernel poll at the Iowa State Fair by a landslide.

I will be in Iowa tonight with my speech being broadcast live on CNN and other networks. My sole focus in running for the Presidency is to Make America Great Again!
Photo: Republican 2016 U.S. presidential candidate and businessman Donald Trump reacts near the end of the debate in Cleveland, Ohio, August 6, 2015. REUTERS/Brian Snyder