Donald Trump Vs. Lindsey Graham: Don't Forget My Number!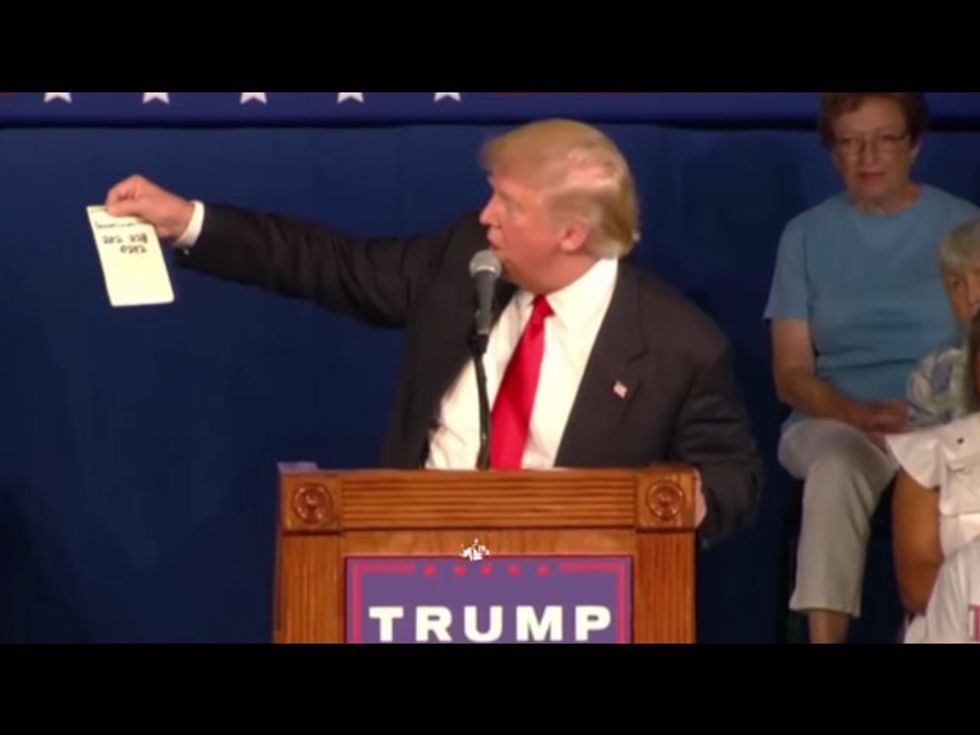 Donald Trump doesn't forget an insult — especially from someone who once tried to be his friend. The latest target of his wrath is Senator Lindsey Graham (R-SC) — the underdog candidate who has now received the dubious "honor" of becoming The Donald's number-one enemy for a day.
Appearing Monday on CNN, Graham absolutely savaged Trump's attack on his friend Senator John McCain's (R-AZ) military record as a prisoner of war, repeatedly calling Trump a "jackass."
"He's bringing his name down, and he's not helping the process, and he shouldn't be commander in chief," Graham said, later going on to add: "I am really pissed."
Graham resumed the name calling Tuesday, on CBS This Morning.
"I don't care if he drops out — stay in the race, just stop being a jackass. You don't have to run for president, and be the world's biggest jackass."
He also said of his own comment: "A lot of people are offended — the jackasses are offended."
Trump's response: During a campaign appearance in Graham's home state of South Carolina, The Donald ridiculed Graham mercilessly.
"This guy, Lindsey Graham, so he calls me a 'jackass' this morning," Trump said. "And I said to myself, 'You know, it's amazing. He doesn't seem like a very bright guy, okay? He actually probably seems to me not as bright honestly as Rick Perry. I think Rick Perry is probably smarter than Lindsey Graham, but what do I know?"
He then told a story about how Graham spoke with him several years ago, begging Trump to put in a good word for him during The Donald's own appearances on Fox News.
"And he gave me his number — and I found the card!" Trump said triumphantly. "I wrote the number down, I don't know if it's the right number. Let's try it: 202-228-0292. I don't know — it's three or four years ago, so maybe it's an old number. 202-228-0292. So, I don't know, give it a shot — your local politician. You know, he won't fix anything, but at least he'll talk to you."
The National Memo placed a call to that number. An automated system listed it as the voicemail of Lindsey Graham — and that the message box was full.
While telling that anecdote, Trump also mocked Graham for having asked him during this conversation for a campaign contribution. Columbia's The State newspaper notes that during his 2014 re-election campaign, Graham did indeed receive a $2,600 donation from Trump.
Graham's campaign reacted with the following statement:
Donald Trump continues to show hourly that he is ill-prepared to be commander in chief.

The two people most excited about Donald Trump's candidacy are Barack Obama and Hillary Clinton. Because of Trump's bombastic and ridiculous campaign, we aren't talking about Obama's horrible deal with Iran or Hillary Clinton's plans to continue Obama's failed national security agenda.
Graham himself also tweeted out an informal response:
Probably getting a new phone. iPhone or Android?

— Lindsey Graham (@LindseyGrahamSC) July 21, 2015
And when he does, we're thinking there's someone Graham probably won't be calling.