Donald Trump Is Working To Make America Whiter By Dramatically Restricting Legal Immigration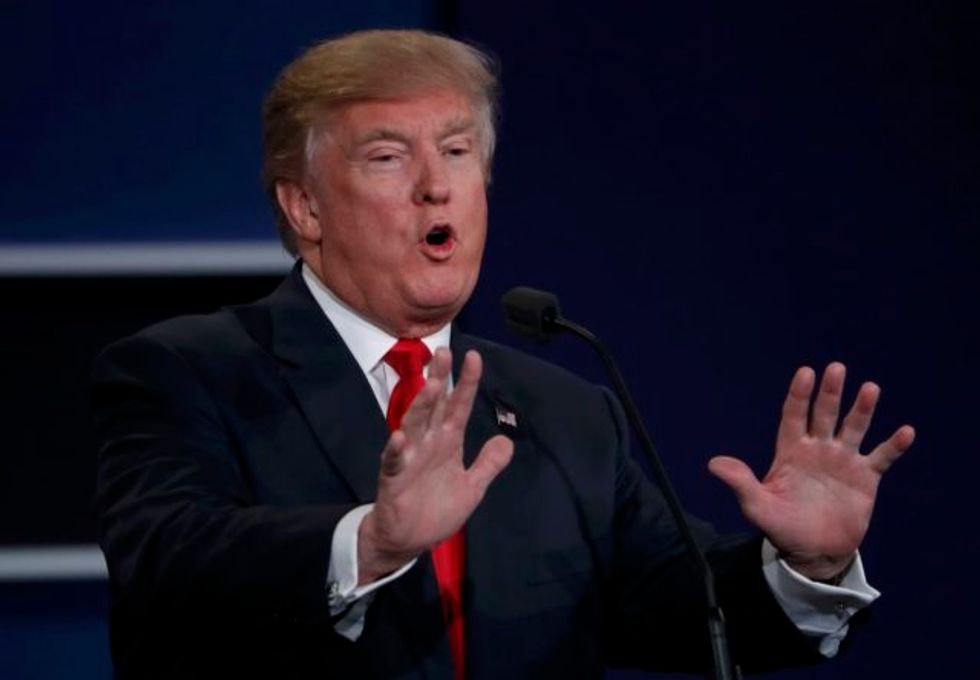 Reprinted with permission from Alternet.
During a September 2016 campaign speech in Arizona, Donald Trump made a promise to cut back on legal immigration to the U.S. While the promise became eclipsed by Trump's frequent attacks on undocumented immigrants—exacerbated even more once he took office and expanded the powers of immigration and border patrol officers—the president has not forgotten about his promise. Reporting from Politico now reveals Trump has been working in secrecy with two conservative senators on a bill that would make major cuts to legal immigration and adversely impact people of color.
According to Politico, Trump plans to support a bill that will be introduced later in the summer by Republican senators Tom Cotton from Arkansas and David Perdue from Georgia, both immigration hardliners. The bill seeks to cut in half the number of legal immigrants entering the U.S. each year by 2027. About 1 million legal immigrants currently enter the county each year, but the bill would halve that number in the upcoming decade.
If passed, Cotton and Perdue's new bill would cause a dramatic change in the country's current immigration system by shifting from a family-based approach to merit-based immigration. Foreign nationals looking to reunite with family in the U.S. make up the largest category of legal immigrants. In contrast, people immigrating to the U.S. on the basis of merit only comprise 10 percent of legal immigrants over the past 15 years, according to the Economic Policy Institute and the Department of Homeland Security's Immigration Yearbook. Cotton and Perdue's bill seeks to increase the number of green cards given to foreigners who fulfill a number of select categories, such as professor, researcher, holding an advanced degree or having an "extraordinary ability in a particular field."
Trump has supported merit-based immigration in the past, praising Canada and Australia's merit-based system in a speech to a joint session of Congress in February.
"Switching away from this current system of lower-skilled immigration, and instead adopting a merit-based system, we will have so many more benefits," he said. "It will save countless dollars, raise workers' wages and help struggling families—including immigrant families—enter the middle class."
If U.S. immigration were only to select foreigners who are skilled and educated, it would give an upper hand to people who already have the means to receive an adequate education or job training. A system of accepting foreign nationals who meet this merit-based immigration criteria could also risk being shaped by arbitrary or ambiguous qualifications that serve the interests of the anti-immigrant Trump administration.
People from Asia and Latin America currently make up the two largest groups of immigrants entering the U.S., and a majority of these immigrants are able to enter the U.S. through family relations. According to the Center for American Progress, 55 percent of Asian immigrants come to the U.S. though the family visa program. Switching to a merit-based program, particularly one championed by Trump and white nationalist Steve Bannon, might slow down the number of people coming into the country from Asia and Latin America.
This legislation contains similar policies as a bill Cotton and Perdue introduced in February called the RAISE Act. In that bill, family members would be limited in the number of immigrants they can sponsor for citizenship.
Attorney General Jeff Sessions and chief strategist Steve Bannon, who also hold anti-immigrant views, helped Cotton and Perdue on the RAISE Act, and Trump himself paid positive lip service to the legislation.
"The goal here is to get our immigration levels back to historical norms, to take something of a pause to allow the economy to catch up with the immigrants that we have allowed into our country over the last two generations," Cotton said, according to NPR. "And to focus on the well-being of American citizens, those citizens who are here today, many of whom are struggling economically."
Cotton and Perdue's legislation reflects a widely held anti-immigrant belief among conservative politicians that too many low-skilled or unskilled immigrants are entering the country and decreasing job opportunities and lowering wages from native U.S. workers. However, immigration has been shown not to reduce the employment rates of native-born workers, according to a 2016 report by the National Academies of Sciences, Engineering and Medicine.
In fact, reducing the number of immigrants entering the U.S. would have a negative impact on the economy. According to the Atlantic, a shrinking immigrant population results in a smaller workforce, thus slowing the expansion of the economy. Fewer immigrants would mean fewer consumers participating in economic activities.
William Frey, the Brookings Institution demographer, told the Atlantic that cutbacks in legal immigrants would primarily reduce the share of young people in the population.
"And if you take that out you are making the population older, the elderly dependence ratio higher, and reducing the labor force's productivity," he said.
Celisa Calacal is a junior writing fellow for AlterNet. She is a senior journalism major and legal studies minor at Ithaca College in Ithaca, New York. Previously she worked at ThinkProgress and served as an editor for Ithaca College's student newspaper. Follow her at @celisa_mia.
This article was made possible by the readers and supporters of AlterNet.