Don't Believe The Condi Rice Hype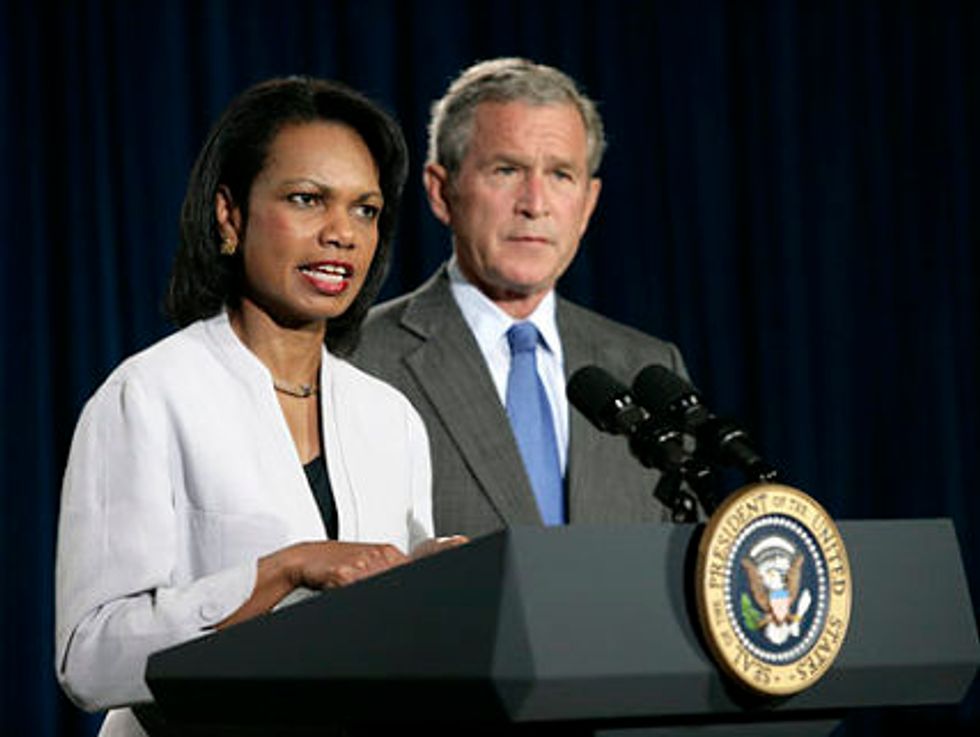 In the wake of a Drudge Report story naming Condoleezza Rice as the frontrunner to be Mitt Romney's running mate, speculation has been running wild that Romney may add the former Secretary of State to his ticket. Ignore it. A brief look at Rice's career shows that she is ridiculously ill-suited to run with Romney, and would be an extremely unlikely nominee.
The first of many issues with Rice is the fact that she was the public face of George W. Bush's historically unpopular foreign policy. Rice drew widespread criticism for her performance as National Security Advisor, and her tenure as Secretary of State is deeply controversial among liberals and conservatives alike. As Daniel Larison of The American Conservativeput it, Rice "has the unusual distinction of being distrusted and disliked by many neoconservatives, most realists, and all non-interventionists in almost equal measure."
The Romney campaign has gone out of its way to distance itself from the Bush administration as much as humanly possible. How often does it really want to see this clip appear in campaign ads between now and November?

Rice's close ties to George W. Bush aren't the only factor that make her an extremely unlikely vice presidential pick. She is also pro-choice.
Given that the religious right is already distrustful of Romney's social conservative bona fides, adding a pro-choice woman to his ticket would certainly be a deal-breaker for him with that critical constituency. Indeed, shortly after Drudge leaked Rice's name, Susan B. Anthony List President Marjorie Dannenfelser said in a press release:
Former Secretary Rice's position on the sanctity of human life makes her an unqualified candidate for Governor Romney to choose as a running mate. Throughout the campaign, including at the Palmetto Freedom Forum last September, he has pledged to us in no uncertain terms that he would choose a pro-life running mate. We have taken Governor Romney at his word and therefore believe Secretary Rice will be ruled out of consideration. Secretary Rice's position violates criteria that Governor Romney himself has laid out.
Romney knows that he needs a huge turnout from the religious right to win the White House, and he has bent to its will over and over again throughout the campaign. Why would he suddenly change that pattern now?
There are plenty of other reasons why Rice is not a viable choice for Romney. Rice is a college professor, and Romney has vowed not to fill his cabinet with academics. Rice counts Bush's failure to pass comprehensive immigration reform as one of her "biggest regrets," and Romney wants to make immigrants so miserable that they "self-deport." Rice believes that rejecting the Kyoto climate change treaty was a "self-inflicted wound," while Romney believes that the treaty is a job-killing "radical environmental [idea] of the liberal left." The list goes on and on.
At the end of the day, what seems more likely: That Romney is actually planning to run with a woman who is so poorly suited to join his ticket, or that Romney's campaign leaked her name to Drudge — a notorious mouthpiece for the presumptive Republican nominee — in order to distract from a week of awful headlines?