5 Down-And-Dirty Tricks Ted Cruz Uses To Fool Voters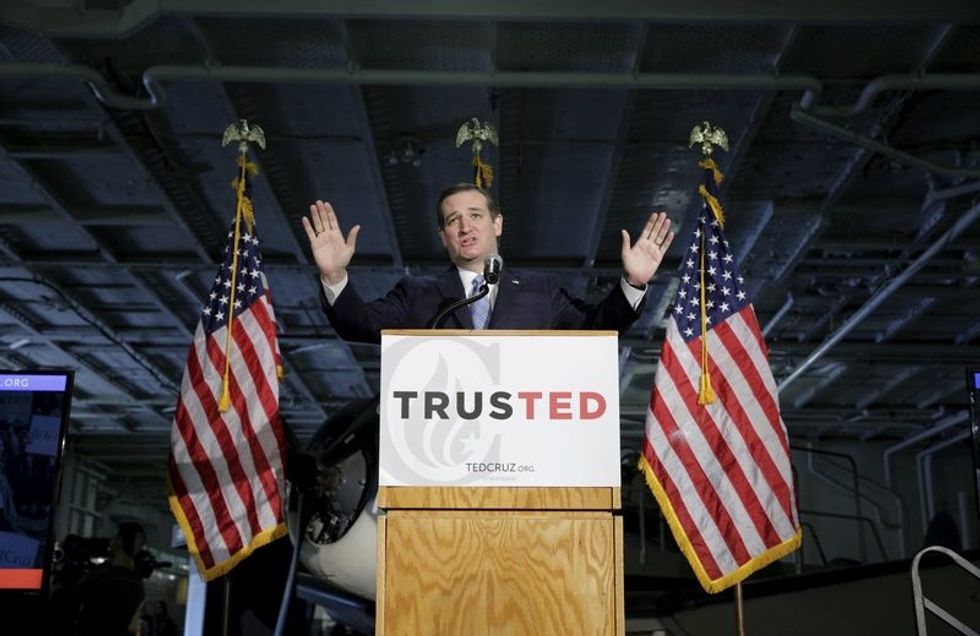 Ted Cruz is nasty . Ted Cruz is mean . Ted Cruz is " a huge asshole ."
Ted Cruz is a pretty horrible human being.
That's the consensus, at least, from notables like former President George W. Bush and Lt. Gen. Sean MacFarland, commander of the coalition against ISIS .
Cruz has had to wheedle his family to get them to acquiesce – on camera! – that he's a good guy, even though everyone from his former college roommate to his senatorial colleagues have whispered and shouted that the American public should stay far, far away from this loathsome, odious creature . (Even his "friends" in the Senate don't want him to be president .)
Now, he's tasked with saving us from The Donald — a role that, though potentially heroic, has managed only to force Cruz into a spotlight under which his seediness seems to have adopted a new shine. If Donald Trump is America's premier insult comic, Ted Cruz is its greatest scoundrel. He lies, deceives, and swindles some more. To wit:
Here are 5 dirty tricks Ted Cruz had used to fool voters:
He lied about Ben Carson exiting the race
Dr. Ben Carson decided to not to campaign in New Hampshire and South Carolina after the Iowa Caucus, preferring to return to Florida to (yes, really) get a change of clothes . The Cruz campaign, as detailed by Politifact , took this nugget – that Carson was taking "a very unusual" travel detour – and spun it so that Carson was "taking some time off" from the campaign.
In a series of tweets, emails and voicemails (and with some assistance from Iowa Congressman Steve King ) the campaign inferred and then explicitly stated that Carson had dropped out of the race, which was not the case, and urged caucus-goers to "not waste a vote" on Carson, but instead to vote for Cruz.
Although Cruz apologized , his campaign did acknowledge that "it made a coordinated effort to spread the story." He ended up winning Iowa, leaving Donald Trump to accuse him of stealing the election .
He used false data and social pressure to trick Iowa residents into voting for him
In another play for Iowa Caucus voters, the Cruz campaign sent out mailers meant to look like official documents warning voters that their participation – or lack thereof – would be recorded and sent to their neighbors, in addition to assigning a grade that matched up with their alleged voting history. Using well-known political science research, the mailers (as seen below), preyed upon voters' fears of social pressure to get them to vote.
. @TedCruz campaign mailed #IowaCaucus voters misleading "violation" https://t.co/PayPAJ84aR https://t.co/StcKy2N0F8 pic.twitter.com/hlzXJV8fIT

— Alex Howard (@digiphile) January 31, 2016
Of course, the "grades" listed on the mailers were all low scores — most of them "F"s:
Man, @TedCruz is such a scumbag (and so is his campaign staffer who thought this was a good idea) #iacaucus pic.twitter.com/5ybjhbZdA5

— super delegator (@LoganJames) January 30, 2016
The mailers used fraudulent "data" – the Cruz campaign made up percentages – and erroneously attributed this "data" to the Iowa Secretary of State and county election clerks, which prompted Iowa's Secretary of State, Paul D. Pate, to correct the record :
Accusing citizens of Iowa of a "voting violation" based on Iowa Caucus participation, or lack thereof, is false representation of an official act. There is no such thing as an election violation related to frequency of voting. Any insinuation or statement to the contrary is wrong and I believe it is not in keeping in the spirit of the Iowa Caucuses.

Additionally, the Iowa Secretary of State's Office never "grades" voters. Nor does the Secretary of State maintain records related to Iowa Caucus participation. Caucuses are organized and directed by the state political parties, not the Secretary of State, nor local elections officials. Also, the Iowa Secretary of State does not "distribute" voter records. They are available for purchase for political purposes only, under Iowa Code." – Paul D. Pate, Iowa Secretary of State
While the tactic has been used before – and an online version of it is being used in China – Cruz takes it to another level. And it's not something he apologizes for.
He mailed pre-filled "checks" and asked recipients to match them
According to the Huffington Post , the Cruz campaign mailed fake checks across the country to prospective voters meant to entice them to donate money by saying their contribution would be "matched" by "a group of generous supporters." It was misleading enough for one group to file a complaint with the state attorney general for allegedly violating state law.
The Intercept reports that this tactic "is either impossible, illegal, or a scam," since individual donations are legally capped at $2,700 for both the primary and general elections ($5,400 total) and the Cruz campaign would need a lot of "generous supporters" willing and able to "match" donations.
That means that the Cruz campaign either disregarded campaign finance law or is funneling all of the money they receive into a super PAC – which would also be illegal. "Super PACs … are allowed to accept unlimited contributions as long as they don't coordinate directly with campaigns," reporters Dan Froomkin and Zaid Jilani wrote . The law is explicit in what that means: Candidates running for national office "are not allowed to solicit more than $5,000 in Super PAC contributions from any one person."
The Cruz campaign, however, is relentless. One mailer with a fake check isn't enough – there are followups upon followups upon followups – post-its and emails and emails and emails and emails. Cruz tries to come across as casual: The sender's line is doctored to make it appear that the message was quickly sent from his iPhone. But the barrage of emails instead comes off as desperate, edging on creepy.
His app takes your data and tries to sell your friends onto the "Cruz Crew"
Ted Cruz knows how to work Big Data. On his app, available on both the App Store and Google Play, users have to opt-out of sharing sensitive data , which includes their contact information and their location. This makes it easy for the campaign to amass a trove of sensitive and lucrative information, which it shares with other organizations and analytics companies to better finesse the messages it sends to potential supporters and voters.
The analytics company behind the Cruz operation, Cambridge Analytica, is funded by Robert Mercer , a hedge-fund investor, computer scientist, and the fourth-largest Republican donor in 2014 – and a major backer of Cruz. Mercer has donated at least $11 million to Cruz-related super PACs.
The campaign also uses sophisticated gaming techniques to entice app users to participate, allotting points for specific actions , like sharing messages on social media.
Cambridge Analytica's formidable system analyzes billions of data points – from voter rolls to Facebook likes, keychain reward programs to Amazon purchases – and then sorts users into one of five personality types , which they use to target messages to the user's lifestyle, interests, and backgrounds. These discoveries are shared among different departments within the organization, so that a canvasser knocking on doors already knows what the little old lady in the pink house on the corner really purchases at Target.
He photoshopped a beaming Marco Rubio shaking hands with Barack Obama
The Cruz campaign published a website targeting rival Marco Rubio with a doctored photo of him shaking hands with President Obama, captioned with text suggesting it was related to the Trans-Pacific Partnership.
When challenged, the Cruz campaign merely shrugged their shoulders , saying it was no big deal; they even gave away their process: "We googled 'two people supporting amnesty,'" said campaign spokesperson Brian Phillips in an email to Politico.
Ted Cruz is sneaky and smart, and he's using all the techniques and terabytes he can to stomp his way to the presidency. He likes to stand behind banners that say Trus ted . But to those paying attention, the phrase is as transparent a ploy as the rest of his campaign.
Photo: Can we really trust Ted? REUTERS/Joshua Roberts