Drought Inspires Creative Suggestions To Address Water Shortage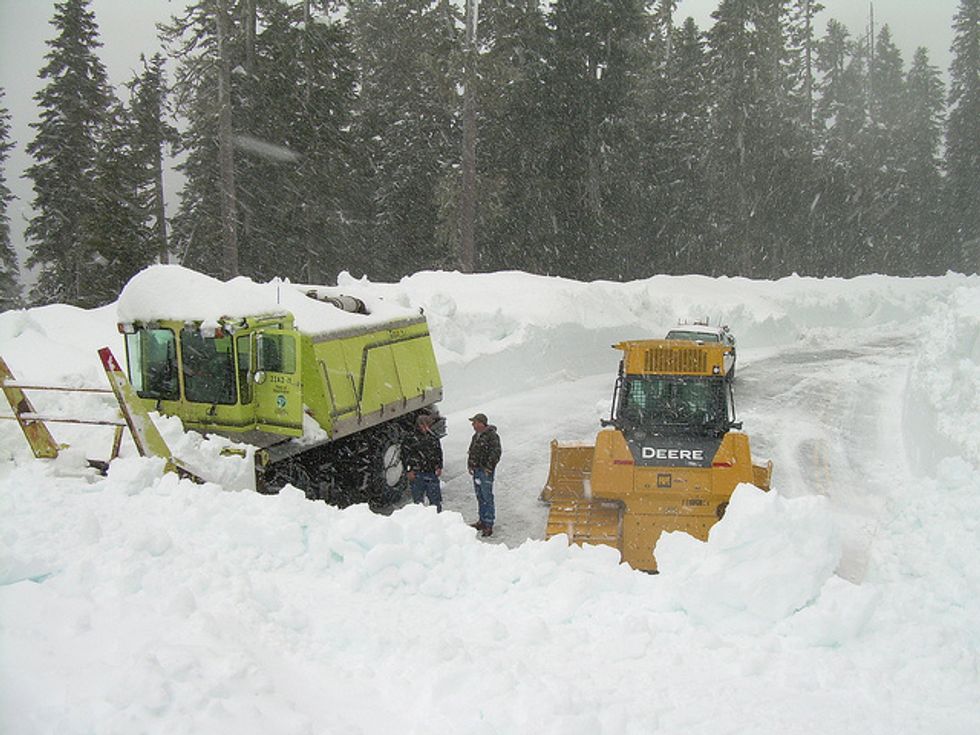 By Chris Megerian, Los Angeles Times (TNS)
SACRAMENTO, Calif. — Last month, after Gov. Jerry Brown ordered Californians to cut back their water use, a retired engineering professor in Carmel revived a decades-old proposal for easing the drought: icebergs.
He wrote to officials urging them to consider towing giant hunks of ice across the ocean to California, a fantastical concept that has never quite gained steam.
The suggestion was dutifully filed away in a database of drought-relief ideas sent from around the state and nation, compiled since the beginning of last year.
With the drought threatening every aspect of Californians' lives — how long they stay in the shower and what food they eat — it's not surprising that so many have opinions on how to handle the problem. Officials have cataloged more than 170 messages containing suggestions and received untold more in emails, phone calls and public meetings.
In a sense, people are responding to a rallying cry from Brown, who has repeatedly cited the state's history on the cutting edge of new technology and saying the dry spell "will stimulate incredible innovation."
The pitches run the gamut. Would the state like to invest in biodegradable towels that don't need to be washed with water? What about covering reservoirs to prevent evaporation? Why aren't more desalination plants being built?
One person suggested a water pipeline from Alaska, an idea also offered by William Shatner. The "Star Trek" actor's proposal was more modest, reaching only to Seattle.
The suggestions are recorded and categorized, such as "water supply — solar water purifier" or "conservation idea(s) — leak detection technology." Some are forwarded to the state water board for review.
"There could be good ideas here," said Nancy Vogel, a spokeswoman for the California Natural Resources Agency. "We don't want to miss out."
What about iceberg towing? "Well, it's entertaining," she said.
Almost none of the pitches have been successful, officials said. The state isn't in the business of investing in towels, and experts say a Shatner-esque pipeline isn't feasible. One of the more popular suggestions, desalination of ocean water, is already being pursued in San Diego, although it has not been embraced as a silver bullet because of concerns about cost and environmental effects.
The "cheapest, smartest, fastest" way to address the drought is for Californians to use less water, Felicia Marcus, chairwoman of the state water board, has said.
Still, Dave Todd, who works on drought issues at the Department of Water Resources, said the state is keeping an open-door policy for new ideas. For example, when someone reached out to discuss irrigation technology, Todd put him in touch with a laboratory at Cal State Fresno.
"They're being good citizens in trying times," Todd said. "We don't want to discourage people from thinking outside the box."
Some go way outside the box. Todd said one man sketched out a plan for changing the weather by aiming abandoned airplane engines at the sky.
It wasn't clear exactly how that would work, Todd said. "His physics were obviously way beyond mine."
Some ideas are more grandiose.
"Is there someone with whom I can speak about a project that will be approximately the scope of the Central Water Project, and perhaps save civilization?" David Newell, a 79-year-old retired engineer who lives in Sacramento County, wrote in November. He also conceded, "I sound nuts."
The suggestion involved "the direct air capture of CO2 utilizing endorheic basin alkaline deposits" (essentially, pulling pollutants out of the sky in areas with high concentrations of certain minerals).
Other ideas are modest.
Ethan Rotman, who runs an education program for the California Department of Fish and Wildlife, suggested bumper stickers, to be placed on unwashed cars, "transforming them from being a visual blight to hero status."
His email last June received a form letter in response, as most of the senders do.
"It seemed like a brilliant idea to me," said Rotman, 55, of Marin County. "Maybe my marketing was wrong. Maybe it wasn't a brilliant idea. I don't know."
A flood of drought-busting proposals is nothing new for California, where dry periods are a recurring phenomenon.
During a parched spell in 1976 and 1977, the state opened a Resources Evaluation Office, which responded to 4,400 letters, telegrams and postcards offering ideas. Many people wanted to complain about neighbors wasting water, according to a 1978 state report.
"Writers promised to end the drought for a price, usually to be paid in advance," the report said. "A few writers stated that it rained wherever they went for their vacations and offered to vacation in California if the state would pay their bills."
The report said hundreds of people suggested importing snow from the East Coast. The state actually calculated what it would take to use snow to make up the deficit in water supply: Every train tank car in the country would have needed to make 500 trips, for a total cost of $437 billion.
The report concluded, "Obviously, the suggestion, although innovative, was economically infeasible to an advanced degree."
The idea is undying, especially after particularly frosty winter in the Northeast. The state's idea catalog has an entry labeled "water supply — Transport snow from East Coast via train."
As for iceberg towing, the email last month came from Allen Fuhs, who is retired from teaching at the Naval Postgraduate School in Monterey.
In 1977, he attended a conference on the topic at landlocked Iowa State University sponsored by a Saudi prince who was interested in new water supplies for the Middle East. The prince even footed the bill to fly a chunk of iceberg from Alaska (it cost $7,500 — close to $30,000 in today's dollars).
In an interview, Fuhs suggested testing the concept with a demonstration tow that would bring an iceberg from Alaska to the Bay Area.
Asked if he had heard from state officials, Fuhs, 87, said no. But "I'd sure love to have an opportunity to make a presentation."
(c)2015 Los Angeles Times, Distributed by Tribune Content Agency, LLC
Leftover snow has been proposed as one way to help California citizens weather the drought afflicting their state. Photo: Washington State Department of Transportation via Flickr