Drought Intensifies Debate On Backyard Pools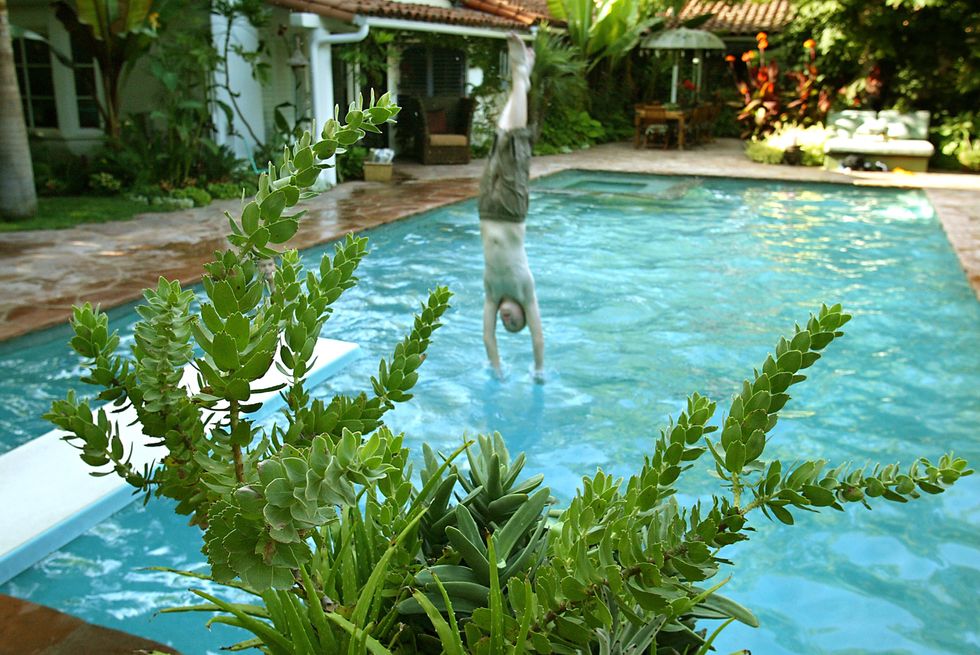 By Matt Stevens, Los Angeles Times (TNS)
LOS ANGELES — The backyard swimming pool is again in regulators' crosshairs as they scramble to save enough water to meet Gov. Jerry Brown's order to cut urban use 25 percent.
More than 20 water suppliers have implemented restrictions on pools, banning new construction, prohibiting homeowners from refilling their aquatic playgrounds and requiring the use of covers, pool industry records show.
But the industry is fighting back, sending representatives to city councils and water regulators with a simple message: Swimming pools can use less water than grass and have gotten an unfair rap.
"The amount of water you need to water your lawn, that's something you can't even envision. But with a pool, it's a big collection of water sitting right there and so there's a misperception we've been battling," said John Norwood, president of the California Pool and Spa Association.
The association also launched a public education campaign called Let's Pool Together, which offers tips for pool owners to maximize their water efficiency.
"Pool owners are already saving water. But we can all do more!" the campaign's website explains.
There is much debate about whether pools are wasteful.
Most water experts say that pools use roughly the same amount of water as a lawn of the same size. But pools also have decks, which use little or no water. And when owners use a cover to limit evaporation, a pool can use less water than turf.
An analysis last year by the Santa Margarita Water District found that pools require thousands of gallons of water to fill initially, but they use about 8,000 gallons less water than a traditional landscape after that. By the third year, the analysis found, the savings add up, and a pool's cumulative water use falls below that of a lawn.
But conservationists say that pools are a luxury that the drought-stricken state cannot afford and that a yard full of drought-tolerant landscaping would use much less water than a pool.
"This is a private, personal, recreational use," said Conner Everts, facilitator of the Environmental Water Caucus, an organization that promotes sustainable water management.
Pool restrictions have cropped up in cities that are cracking down hardest on water waste. For example, Santa Cruz recently enacted strict water rationing along with a ban on filling or refilling pools.
Beverly Hills, which has a history of high water usage, must slash its consumption 36 percent under the state plan to meet Brown's conservation goal. That city finalized new watering rules in May that prohibit refilling pools, spas and ponds.
But in other places, officials have shied from pool restrictions after learning how little water would be saved.
City staff in Santa Barbara had recommended a moratorium on new pools as part of more stringent water conservation efforts. But the City Council rejected the moratorium as more symbolic than pragmatic.
Joshua Haggmark, the city's water resources manager, said the city only permits about 13 new pools a year. Still, he said, the symbolic gesture could have carried weight.
"It isn't a lot of water in the big picture, but it's that perception in the public," he said.
Water policy experts said that in this stage of the drought, it is important to give local agencies some flexibility to decide which restrictions they want to impose.
"It's not my sense that we're at a stage where we have to completely ban any use of water outdoors. It's about being smarter," said Ellen Hanak, director of the Water Policy Center of the Public Policy Institute of California. "In the case of a pool, being smart means covering it and not constantly refilling it."
Peter Gleick, president of the Pacific Institute, an Oakland environmental think tank, said pools and lawns can no longer be considered a necessity.
"There are hundreds of thousands of people in the Central Valley that don't have safe drinking water," Gleick said. "We can't pretend we're not in a drought any longer."
Photo: California water suppliers have implemented restrictions on pools in an effort to help the state cut urban water use, but the industry argues that pools can actually help save water. (Mel Melcon/Los Angeles Times/TNS)