On Drug Lord's Mexican Turf, Lines Blur Among Cops, Pols, Cartel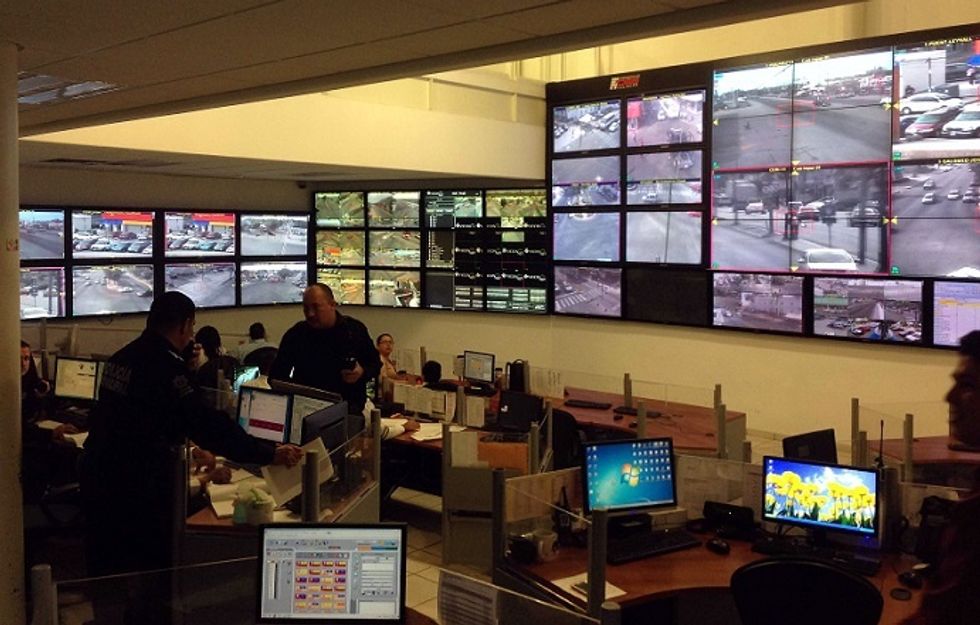 By Tim Johnson, McClatchy Foreign Staff
CULIACAN, Mexico — Walk into the command center of Culiacan's municipal police department, and you see a huge bank of monitors showing closed-circuit images of street corners, captured by 190 or so all-seeing cameras that rotate and zoom.
Yet in this city of a million or so inhabitants, home turf of Joaquin "El Chapo" Guzman, the recently captured crime boss of the Sinaloa Cartel, the cameras and the 1,460 or so transit and street cops seem to miss a lot.
Despite multiple sightings of Guzman and other cartel bosses, police never could spot him. Some residents deem it willful blindness, a sign that lines blur easily among organized crime, police and politicians.
Guzman was captured when naval commandos deployed from faraway Mexico City descended with hot intelligence that the fugitive drug baron was moving from safe house to safe house within the city. As commandos gave chase, they discovered a municipal Dodge Charger police cruiser in a garage at one of his homes.
The Culiacan secretary for public security, Hector Raul Benitez Verdugo, said in an interview that the blue patrol car was a fake. Its call numbers, 19-21, didn't match any in the city police fleet, he said.
Guzman and bodyguards later fled through a series of tunnels and drainage canals, leaving behind grenades and part of a municipal police uniform.
The commandos finally snared Guzman at dawn on Feb. 22 in an oceanfront condominium in Mazatlan, a two-hour drive from this city.
A local lawyer said it was no surprise that bosses in the Sinaloa Cartel would either co-opt city police or use fake police units to protect themselves.
"It's a way to camouflage yourself," said Jesus Cerda Lugo. "If you see a police cruiser, it's very difficult to know if it's real or fake. After all, you don't know all the police in the city."
If an officer in uniform gives you orders, "and he has a badge, you imagine that he's real," Cerda said.
Guzman's capture has brought new attention to the municipal police forces in Cualican and Mazatlan.
Sunday night, the newspaper El Noroeste in Mazatlan received two telephoned threats minutes after a reporter called police to follow up on a story in a national newspaper, Reforma, that said city police had been protecting Guzman.
"Look, (moron), tell that (jerk) … that we don't want him talking about the municipal police because we are going to (mess) him up, and you, too, if you (mess) with the police," the newspaper said a journalist was told. The language was stronger than the revised quotation here.
The facade of El Noroeste was hit with 17 rounds of automatic weapons fire in late 2010, and a headless body was dumped outside the newspaper in July 2011, so such threats are taken seriously.
Mazatlan serves as the playground for the Sinaloa Cartel, while Culiacan, the inland capital, surrounded by fertile agricultural land, is ground zero for bosses under Guzman's command.
Even if the U.S. Treasury Department listed Guzman as "the world's No. 1 crime lord," he didn't seem to feel the need to stay hidden in Sinaloa's Sierra Madre range. He regularly came down into the city.
The Wall Street Journal reported Tuesday that Guzman had lunched earlier this month at the Mar & Sea restaurant on the leafy banks of the Humaya River, not far from central Culiacan. A former state governor owns the restaurant.
It wouldn't have been the first time Guzman came into the Sinaloa capital to satisfy his craving for haute cuisine. Many city residents have heard similar stories.
One of the deans at the Autonomous University of Sinaloa, who declined to be further identified for his own safety, said a close friend was in a restaurant when either Guzman or Ismael "El Mayo" Zambada, a co-leader of the Sinaloa Cartel, entered the restaurant.
"He arrived with his security team, which cordoned off the restaurant. They told everyone there to keep eating and drink all that they wanted, that their boss would pay for all meals. But the order was that nobody was to touch their cellphones," the dean said. "The restaurant stayed sealed up for hours.
"This wasn't any more than a year ago."
Corruption among city police is far from unique to Sinaloa state. It's a problem that has long nettled federal authorities, who want city police under a unified command structure at the federal and state level. Authorities have removed tens of thousands of corrupt municipal police officers in recent years in states such as Baja California, Chihuahua, Michoacan, Nuevo Leon, Tamaulipas and Veracruz.
In Culiacan, drug lords move about in late-model armored SUVs, but city police don't seem to spot or stop them.
Asked whether municipal police had ever gotten into a gunfight with traffickers from the Sinaloa Cartel, Benitez Verdugo, Culiacan's security chief, said, "There has not existed any clash of this kind."
Benitez Verdugo might seem an unusual pick to lead the police. His wife is the daughter of Pedro Aviles, a legendary marijuana trafficker in Sinaloa in the 1960s and 1970s who was eventually slain.
But then politicians, state prosecutors and senior security officials in Sinaloa frequently must fend off accusations that they're linked to drug traffickers.
Last June, a longtime police escort for Gov. Mario Lopez Valdez went missing. Weeks later, he appeared in a video uploaded to YouTube alleging, in a calm voice, that he'd accompanied Lopez Valdez shortly after his inauguration in 2011 to a meeting in the mountains with Guzman.
On the video, the escort, Frank Armenta, played wiretapped telephone conversations between the governor and other senior officials, including the state attorney general. The conversations indicated that Lopez Valdez was instructing officials to protect the Sinaloa Cartel and go after its rivals, the Beltran Leyva and Los Zetas trafficking groups, in the northern part of Sinaloa.
In a second videotape released in July, Armenta showed flight logs that indicated that a helicopter — presumably the governor's — had made at least four trips to La Tuna, the village where Guzman grew up high in the Sierra Madre.
Armenta's decapitated body appeared on a roadside Aug. 9.
Lopez Valdez has said repeatedly that the videos contain doctored and spliced conversations and that Armenta was forced by his captors to make the tapes.
The governor has spoken little since Guzman's capture. His spokeswoman didn't return multiple telephone calls over three days.
When reached by Adela Micha of Radio Imagen earlier this week, the governor stumbled for words about the impact of the capture of such a renowned crime lord in his state.
"What can I say? Congratulations," Lopez Valdez said.
Photo: Tim Johnson/MCT