Dylann Roof: Minor Crimes, 'Creepy' Behavior, Talk Of 'Southern Pride'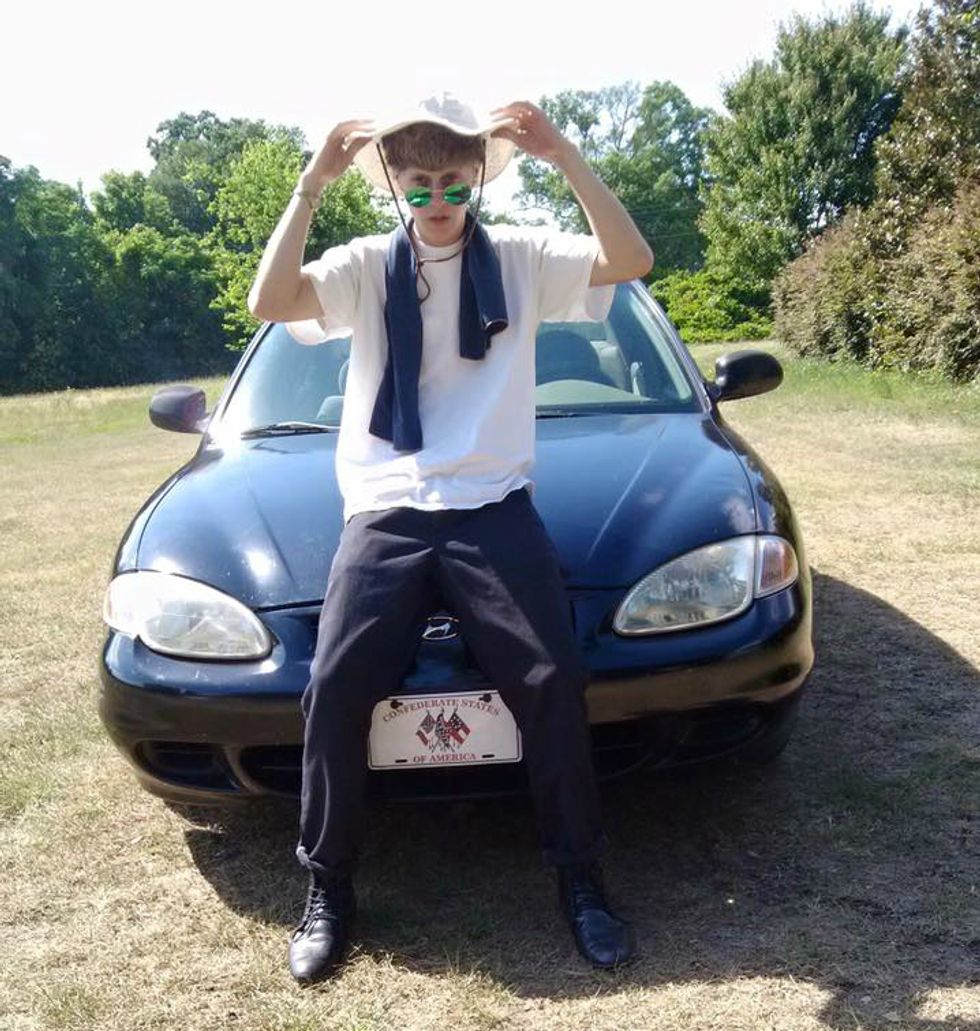 By John M. Glionna, Molly Hennessy-Fiske and Brittny Mejia, Los Angeles Times (TNS)
In his Facebook profile photo, Dylann Storm Roof's look is glum and menacing; his jacket bears emblems popular with white supremacists.
The 21-year-old suspect in a deadly mass shooting at a historic black church in South Carolina wears a dark jacket marked with the flags of two African countries when they were ruled by whites, one from apartheid-era South Africa and the other from Rhodesia, now Zimbabwe.
On Thursday, Roof was arrested in connection with the deaths of nine people after allegedly opening fire during a weekly Bible study group at Charleston's Emanuel AME Church on Wednesday night in what is being investigated as a hate crime.
Following a two-state manhunt, the suspect was taken into custody during a traffic stop in Shelby, N.C., more than 200 miles from Charleston. A tip from a citizen led to the arrest.
While little is known of Roof's background, authorities Thursday were scrambling to sketch out a profile of a young man who had a criminal record.
"A terrible human being is now in custody," Charleston Mayor Joseph P. Riley Jr. said of Roof at the announcement of his arrest. "We don't let people like this get away with a dastardly deed like this."
Police reports show he was arrested twice in Columbia, S.C., earlier this year on suspicion of drug possession and trespassing at the Columbiana Mall.
In February, mall security called Columbia police because Roof was dressed in "all black" and acting bizarrely in several retail stores, according to the reports.
In that incident, an officer questioned Roof, who consented to be searched, and police recovered several strips of Suboxone, a powerful medication used to treat addiction to heroin and painkillers, in his possession. He was later arrested and banned from the mall.
Two months later, Roof was arrested a second time for trespassing at the mall, court records show.
Chris Spears, manager of the Shoe Department store, said in an interview that Roof approached his assistant while she was working.
"He was asking her all kinds of personal questions, wanting to know work schedules. She was busy working and she felt uncomfortable, so she called security and they came and got him," Spears said. He said Roof was "wanting to basically see how we ran things" and acted "like he was on drugs … really creepy."
Charleston police and FBI officials said that a man reportedly wearing a wig, phony glasses and a heavy sweatshirt, even though it was an extremely warm day, walked into the Wednesday evening Bible study class about 8 p.m. and sat for more than an hour.
He appeared to be carrying a small backpack over his right shoulder that could have contained a weapon and ammunition, police said.
About 9 p.m., the man suddenly rose to his feet and the church, where blacks have worshipped since long before the Civil War, erupted in violence.
"He stood up and was shouting and saying, 'I have to do this,'" a law enforcement official briefed on the shooting said of the shooter.
The gunman first turned to the prayer service leader, the pastor of the church and a state senator, Clementa C. Pinckney, and pulled the trigger.
Then, officials say, he methodically kept firing, pausing only to reload.
The shooter then vanished, leaving behind eight dead. A ninth victim later died at a hospital.
Following the overnight manhunt, Roof was stopped by officers in North Carolina. Authorities say he was cooperative with the officer who detained him in the tiny town of Shelby. Roof is expected to make his first court appearance there, and could be extradited back to South Carolina.
Many who knew Roof are baffled that he is in custody for the racially tinged rampage.
"I never thought he'd do something like this," high school friend Antonio Metze told The Associated Press. "He had black friends."
Another former classmate from high school, John Mullins, said Roof didn't seem dangerous but that he would make comments sometimes that were troubling, talking about "Southern pride."
"It was just jokes he would make, racist jokes," Mullins said, and declined to explain.
After Roof was tied to the shooting, a friend shared on Facebook a photo of him seated on a black car, dressed in black pants and a white T-shirt, his hands placed on his hat as he peers down over his sunglasses. Between his set-apart legs is a clear visual of the front license plate, reading: Confederate States of America.
"This is what you need to be on the lookout for … thats his car and him … NO i dont know where he is," wrote Derrick D. Gutta Pearson. He added, "NO i dont talk to him."
Roof's Facebook page says he attended White Knoll High School in Lexington, S.C. Records from the Lexington school district indicate that he repeated ninth grade and then left the school in February 2010.
Roof has about 80 Facebook friends, many of them African-American. One of them, Pearson, posted about waking up to find 15 friend requests, all asking about Roof. He advised anyone who saw Roof to call the authorities.
"It's obvious lives do not matter to him," Pearson posted.
Photo: The few pictures of Dylann Roof on Facebook show him sitting on this car, showing off the distinctive license plate of the Confederate States of America. Raymond Tyrel Carter via Facebook