Early Medicaid Success Is A Victory Against Inequality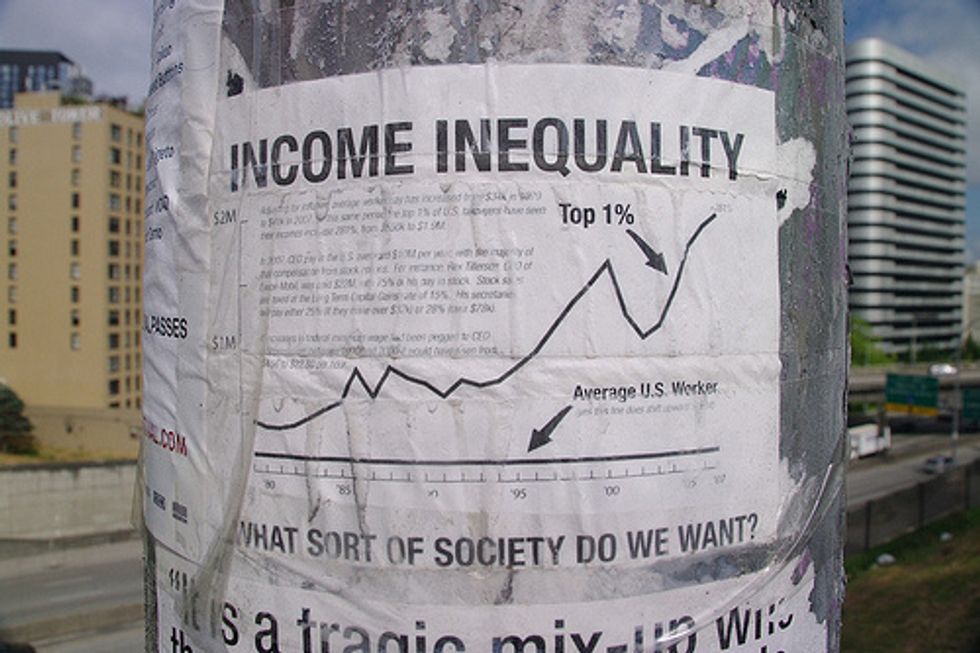 Buried in the bad news about the disastrous launch of Healthcare.gov is good news about a government policy that may be the biggest victory against inequality since the Johnson administration.
"Almost 400,000 people have learned they are eligible to enroll in the states' Medicaid programs, and the numbers are high even in Republican-dominated states that have chosen not to expand the program," reports USA Today's Kelly Kennedy.
The Affordable Care Act (ACA) expands Medicaid to those who earn up to 138 percent of the poverty level. The Supreme Court gave states the right to opt out of the expansion at any time, even though the federal government is covering 100 percent of the cost for the first three years, with that contribution tapering down to 90 percent by the end of the decade.
A recent study found that while Medicaid coverage doesn't change health outcomes much in the first two years, there are almost immediate positive impacts.
"The investigators found that Medicaid enrollees had reduced rates of depression and better self-reported mental health," the National Institute of Aging (NIA) reported.
More dramatically, it relieved some of the financial strain that comes with being poor.
"Medicaid almost completely eliminated out-of-pocket catastrophic medical expenditures and reduced other measures of financial hardship, including borrowing money to pay medical bills or skipping payments on bills," according to the NIA. "Health care use, including physician visits, preventive care, and prescription drugs, increased. Medicaid also increased the number of people who said that their health was the same or better than it was a year previously."
Some Republicans, the ones with extra audacity and likely generous insurance plans, argue that the health outcomes on Medicaid are worse than being uninsured. This is an argument that uses funding cuts the right has insisted upon to cherry-pick bad examples of care.
These findings also ignore the financial damage a lack of insurance does both to the individual and to our economy as a whole. As former president Bill Clinton noted, America is first "by a country mile" in the share of gross domestic product we spend on health care, at 17.9 percent. Yet our results are somewhere around 25th — at best — in the world. America could save $1 trillion a year, putting our budget into surplus, if we were just as effective at delivering health care as Switzerland or the Netherlands.
"We find that Medicaid provides access to health care services comparable to that of employer-sponsered insurance but at significantly lower costs," a recent study from the Urban Institute found.
An estimated 12 million Americans in families that currently earn too much to qualify for Medicaid are eligible to enroll in expansion, possibly reducing our uninsured population by a quarter. Another five million are being denied coverage in 25 states led by Republicans, despite the fact that expansion would fill holes in state budgets, create jobs and bolster rural hospitals.
As our David Cay Johnston has explained, America's mounting income inequality crisis is largely the result of government policies. Because of the ACA, America's working poor — who have suffered the most in the Great Recession — are getting coverage, possibly for the first time in their lives, and a new sense of security. And it's almost entirely paid for by taxes on investment income over $250,000 and corporations.
Medicaid expansion won't fix our income inequality crisis, but at least it will make life easier for millions of struggling Americans.
Photo: mSeattle via Flickr