Ease Into White Wines With 6 Under $10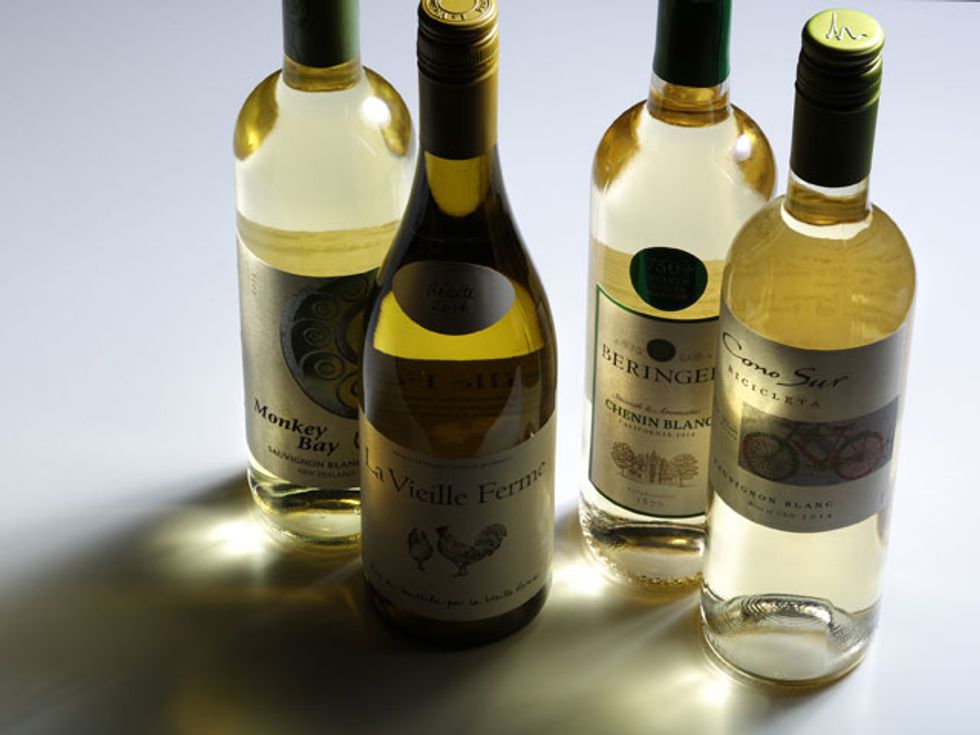 By Michael Austin, Chicago Tribune (TNS)
Surely color has a lot to do with why most people think of white wines as lighter and easier to drink than reds. Whites are usually served at lower temperatures, too, and that does something to increase the refreshing factor.
Whites often work better as aperitifs than reds, but just so no one relegates whites to cocktail status, let's not forget that whites can be serious and essential accompaniments to food. Anyone who has had raw oysters or a smear of goat cheese with the right sauvignon blanc would testify to this. The same is true for anyone who has experienced the sympathetic cohesiveness of crabcakes with a rich, cream-based sauce and a medium-bodied, lightly oaked chardonnay.
Some white wines simply rev up our appetites, or warm up our palates and get them ready for the bigger flavors that are on their way. Other whites make food better than it would have been without wine, and certainly better than it would have been with red. You probably don't want to drink a glass of malbec with crab ceviche, but that's not because of the old red/white rule. Red wine with meat, white wine with fish? Puh-lease. If you're still on that program, I have to ask you something: Who delivers your ice? Because I might come across someone who needs a block or two when my time travel machine finally kicks in and does what it's supposed to.
There are classic pairings, and there are unconventional pairings that somehow work, but no matter where your dinner or wine-drinking evening is going, white wine is almost always a great place to start. Begin light, and progress into weightier more flavorful styles; that's a good plan for both food and wine.
For the most part, whites don't age as well as reds, so if you find a white you like, buy a few bottles instead of a case of 12. It's never a bad idea to have some crisp white wines on hand. Use them to kick off a social gathering or to accommodate those who shy away from reds — the people I will be doing my best to persuade otherwise. Meanwhile, here is something to consider in the white-versus-red debate: Just about every ounce of juice that has ever been squeezed out of a wine grape is basically clear, or what we identify in a bottle or glass as "white." Wine professionals have mixed up "red" and "white" in true blind tastings (i.e., with their eyes covered, not just the bottle covered).
White is not always the lesser wine or the easier wine. But there are plenty of whites that are made for easing you in. Once you're eased in, there are whites that will raise your food up higher than it could ever go on its own. Don't cling to white, but don't shun it either. Drink it for what it is. Yes, buying an inexpensive white can be dicey. You don't want it to taste like water, and you don't want the other extreme: corn syrup. So here are half a dozen to try, each at a price that will be hard not to like.
In the 2014 Ecco Domani Pinot Grigio ($9), tropical fruit aromas co-exist with citrus flavors, walking hand-in-hand to an instant, crisp finish. A well-balanced, clean wine from northeastern Italy, this would work well as an aperitif or with light seafood.
Like the New Zealand rugby dudes who do that group dance before games, the 2014 Monkey Bay Sauvignon Blanc ($10) is not shy. It packs all of the expected grapefruit aromas and flavors of a New Zealand sauvignon blanc into one zesty, entertaining experience. It might even make you want to dance.
Also from the Southern Hemisphere but an ocean away in Chile, the 2014 Cono Sur Bicicleta Sauvignon Blanc ($9) is a little more reserved than its Kiwi cousin. Bicicleta has a fuller body and suggests subtle pear and peach rather than the no-two-ways-about-it grapefruit.
The 2014 La Vieille Ferme Blanc ($8) is a blend of white grapes from France's Rhone Valley that is made by the famous Perrin family. A lime-and-lemon-curd treat with a soft mouthfeel and stony dry finish, this wine would be great with roasted chicken or just on its own.
Hailing from Washington state, the 2013 Chateau Ste. Michelle Chardonnay ($10) is for anyone who likes some vanilla and buttery notes. The richness is not over the top, but if you want stone, steer clear. If you like medium body with enough acidity to stand up to food, buy two bottles.
The 2012 Beringer Chenin Blanc ($6) is fun because it smells like a dew-dropped prairie and, when it hits your tongue, it offers mouth-coating lime and melon. Serve this one well chilled, and take a pass if you don't like a little sweetness in your glass. Drink it with moderately spicy Asian food.
©2015 Chicago Tribune. Distributed by Tribune Content Agency, LLC.
Photo: For less than 10 bucks, you can have one of these easy-drinking white wines. (E. Jason Wambsgans/Chicago Tribune/TNS)