Ebola Virus Vaccine Developed By Bird Flu Scientist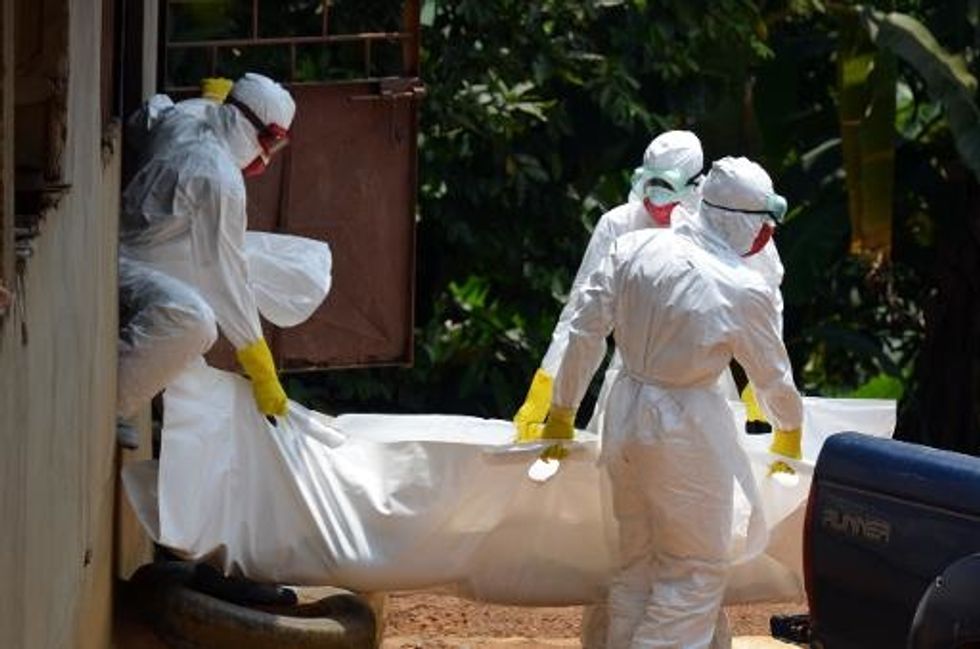 By Karen Herzog, Milwaukee Journal Sentinel (TNS)
Another vaccine has joined the race against the often fatal Ebola virus, and this one was developed by a group led by a University of Wisconsin-Madison scientist internationally known for his bird flu research.
The whole virus vaccine that Yoshihiro Kawaoka and his colleagues developed was constructed using a novel experimental platform, and it has been shown to effectively protect monkeys exposed to the Ebola virus at a top biosafety-level National Institutes of Health laboratory in Montana, according to an article published Thursday in the prominent journal Science.
This vaccine differs from other Ebola vaccines in development because, as an inactivated whole virus vaccine, it can prime the host immune system with the complete range of Ebola viral proteins and genes, which makes it more likely to trigger a robust immune response, according to a news release from UW-Madison.
"In terms of efficacy, this affords excellent protection," said Kawaoka, a professor of pathobiological sciences in the UW-Madison School of Veterinary Medicine who has been working on the Ebola vaccine for years, and also holds a faculty appointment at the University of Tokyo.
There are no proven treatments for Ebola or vaccines to prevent individuals from becoming infected. Ebola, previously known as Ebola hemorrhagic fever, is a rare and deadly disease first discovered in 1976 near the Ebola River in what is now the Democratic Republic of the Congo.
Ebola has claimed more than 10,000 lives in a current outbreak in Guinea, Liberia, and Sierra Leone. Symptoms include fever, severe headache, muscle pain, fatigue, diarrhea, vomiting, stomach pain, and unexplained bleeding or bruising.
Whole virus vaccines have long been used to successfully prevent such serious diseases as polio, hepatitis, and human papillomavirus-mediated cervical cancer.
The vaccine developed by Kawaoka's group does not yet have the backing of a manufacturer, and has not been tested in people. Human trials are expensive and complex, costing millions of dollars.
Four other Ebola vaccines in development recently advanced to the clinical trial stage in humans.
An efficacy trial for an Ebola vaccine developed by the Public Health Agency of Canada launched Wednesday in a community in Guinea where Ebola spread. About 10,000 people are expected to receive that vaccine, which reportedly has shown positive results in smaller safety trials and is backed by NewLink Genetics and Merck.
Kawaoka said the experimental platforms on which the four other vaccines were developed have drawbacks in terms of safety and delivery.
The vaccine with UW-Madison ties was constructed on an experimental platform first devised in 2008 by Peter Halfmann, a research scientist in Kawaoka's lab.
That experimental platform allows researchers to safely work with the virus because a key gene is deleted, according to the Science report describing the vaccine's development. The Ebola virus uses that gene, known as VP30, to make a protein required for it to reproduce in host cells. Like most viruses, Ebola depends on host cells to grow and become infectious.
By engineering monkey kidney cells to express the deleted VP30 protein, the virus could be safely studied in the lab and be used as a basis for devising a whole virus vaccine. The vaccine also was chemically inactivated using hydrogen peroxide, the Science report noted.
Early attempts to devise an inactivated whole virus Ebola vaccine through irradiation and the preservative formalin failed to protect monkeys exposed to the Ebola virus and were abandoned, according to Kawaoka.
The Ebola vaccine study conducted by Kawaoka's group was supported by the National Institutes of Health and Japanese Health and Labor Sciences Research Grants.
(c)2015 Milwaukee Journal Sentinel, Distributed by Tribune Content Agency, LLC
Photo: AFP Photo/Zoom Dosso