Economy Adds 217,000 Jobs In May; Unemployment Rate Holds At 6.3 Percent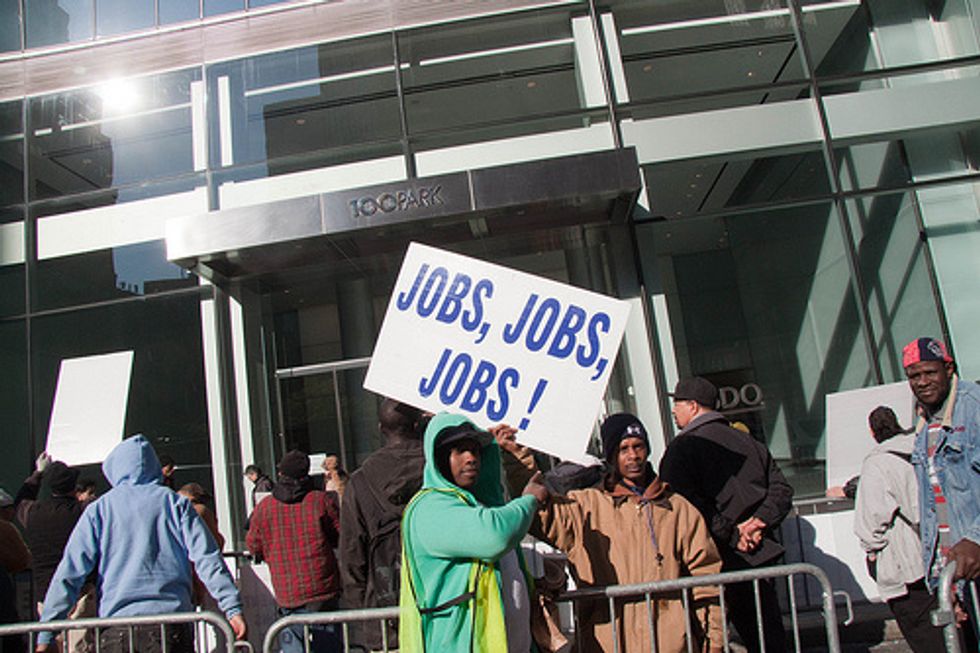 By Jim Puzzanghera, Los Angeles Times
WASHINGTON — The economy added 217,000 net new jobs in May and the unemployment rate held steady at a more than five-year low of 6.3 percent, the Labor Department said Friday.
With May's job growth, the economy reached a milestone — it has now recovered all the jobs lost during the Great Recession.
Total non-farm employment last month reached 138.463 million, surpassing the 138.365 million jobs in January 2008.
The economy lost 8.7 million jobs through February 2010, when the labor market began to slowly grow again. Still, the economy is millions of jobs short of where it should be because of population growth since then.
May's job growth was strong but unspectacular, down from 282,000 jobs added in April but roughly in line with analyst expectations. The Labor Department initially estimated April's job growth at 288,000.
The economy has averaged 197,000 net new jobs a month over the last year.
Economists had forecast that the economy added 213,000 net new jobs and that the unemployment rate would tick up to 6.4 percent.
The strongest job growth last month was in business and professional services as well as healthcare and social assistance. Both sectors added 55,000 net new jobs. Employment in restaurants and bars rose 32,000 in May.
The higher-wage manufacturing and construction industries saw little change in employment.
"The underlying hiring trend, especially in professional services, is encouraging, with more good news expected through the summer and into the autumn months," Bart van Ark, chief economist at the Conference Board, said in a statement.
"More jobs means more pay checks, lifting sentiment and resulting in still more consumer buying," he said.
The labor force participation rate held steady at 62.8 percent, the lowest level since 1978.
After a winter slowdown caused by extreme weather, the recovery has shown signs of picking up.
The economy shrank 0.1 percent from January through March, the first quarterly contraction in three years. But economists are expecting the economy to grow by as much as 4 percent in the second quarter.
Photo: Samuel Huron via Flickr