Economy Grows Faster Than Expected As GOP Threatens To Derail Recovery — Again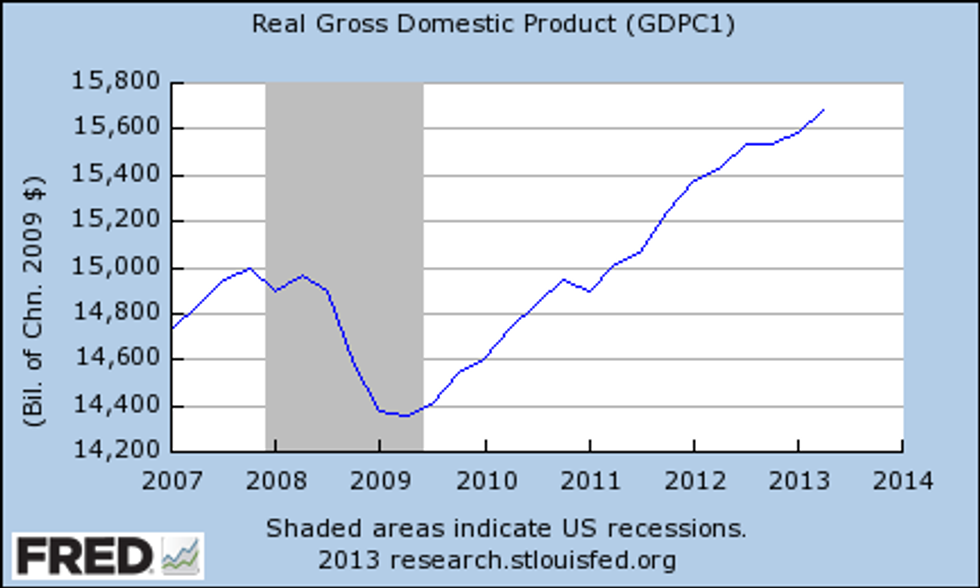 America's real gross domestic product (GDP) beat estimates to grow 2.5 percent during the second quarter of this year, according to the Bureau of Economic Analysis. Economists had expected an increase of 1.7 in the key statistic that tracks the total output of goods and services produced by labor and property in the United States.
Private sector inventory investment made up for cuts to government spending at the federal, state and local levels.
GDP is not the only indicator suggesting that the economy might be picking up steam. The four-week average of jobless claims also remained at lows not seen since before the recession began in November 2007.
This good news raises the stakes for decisions from the Federal Reserve and Congress in the next month that could derail a fragile, but growing, recovery.
Chairman Ben Bernanke has already warned investors that he expects the Federal Reserve to eventually slow down its bond purchases as the job market and economy improve. His decision on whether to begin "tapering" is expected at the September 18 meeting of the Federal Open Market Committee. Any decision that would send interest rates higher would likely trigger at least a temporary stock selloff.
Unfortunately, Bernanke has to make his decision before Congress is forced to meet two crucial deadlines.
On September 30, the government will run out of funding. Soon thereafter, sometime in October, the Treasury Department will run out of congressional authority to fulfill debts already approved by Congress as the United States hits the so-called "debt ceiling."
Senator Ted Cruz (R-TX) is leading an unpopular campaign to encourage Republicans not to vote for any resolution that funds Obamacare. As the White House has already stated that funding the president's signature legislative accomplishment is non-negotiable, this strategy would likely lead to a government shutdown that would delay soldiers' paychecks as we wind down the Afghanistan war and possibly begin a new conflict in Syria.
House Republican leadership has tried to shift the debate from funding the government to the debt limit. Earlier this week, Speaker John Boehner (R-OH) stated that any raising of the limit would require the president to agree to cuts in "mandatory" spending, which includes Medicare, Medicaid, Social Security, government pensions and Obamacare. This would lead to a repeat of 2011's crisis, which shook markets around the world, slowing economic growth.
The president has vowed to not negotiate over the debt limit, which Republican leaders voted to raise more than a dozen times as George W. Bush led America from a record surplus to a record deficit.
That the deficit is falling faster than it has in 60 years as the economy is growing is a fact that Republicans cannot bear to admit. If the government shuts down or — even worse — the U.S. government gets close to defaulting on our debt, not only will the deficit grow, but the economic gains of this year will likely evaporate.
That's why Bill Clinton told our Joe Conason that if he were president when Congress refused to raise the debt limit, he'd raise it anyway and force the courts to stop him.