What Can We Really Do About Trump? And What Is Trump Doing To Us?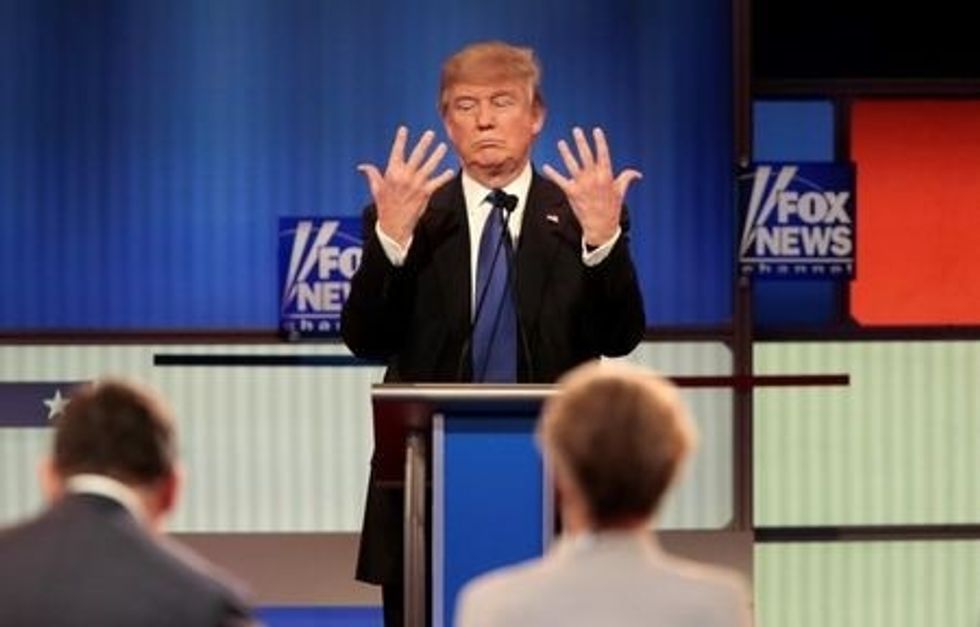 Reprinted with permission from AlterNet.
Many of us feel like we're in an unfamiliar and disorienting situation. We've never imagined, much less experienced anything remotely like the behavior and attitude of Donald Trump. In this new reality, we live in a state where our leader—the most powerful person in the world—lies consistently, is completely unreliable and cannot be trusted.
Initially, it seemed like Trump's presidency would be a bad, but short and unfinished joke. He couldn't possibly last. He would be dispensed with, either by his own self-destruction or his impeachment. But most of us have recognized by now that won't likely happen. The most conservative Congress in the last 100 years wants to impose draconian changes on our society directly inspired by Ayn Rand. For now it appears that Republicans have decided keeping Trump in place is the best strategy for achieving their goals. What's more, even if Trump's presidency ended today, Mike Pence could be even worse, as Al Franken notes.
Trump's incompetence and GOP infighting have prevented conservatives from wreaking large-scale devastation so far. But that could quickly change.
So what is to be done? We at AlterNet have concluded that a vibrant, effective political opposition requires that we grapple with what is needed, both strategically and emotionally, without illusion. It is important to make use of our anger and constantly push back. But we also need to be realistic about what works and has a decent chance of success. At the same time, we must be aware of the toll Trump may be taking on our psyches and our souls.
To that end, AlterNet is developing multiple new initiatives we hope together will provide a source of needed information for the future. One effort, the Trump Trauma Project, is launching today. More about that in a moment.
Part of the reality we face is that under the radar of many Americans, the most conservative political operators have captured huge swaths of the country for the right wing. Thanks to gerrymandering, wide-scale voter suppression, a conservative Supreme Court, and an attack style of governing that opposes anything remotely Democratic or liberal, conservatives have amassed immense power. It will be very difficult in the near future to slow down the right-wing juggernaut and win back Congress, let alone imagine anything close to the pendulum swinging back to more liberal and humane days.
In fact, that famous mythical political pendulum may not swing back this way at all. Martin Luther King Jr. famously said, "The arc of the moral universe is long, but it bends toward justice." Unfortunately, as Jeremy Sherman notes, "Maybe in the very long run, it's bending, but the time bomb of human nature may not give us that long. At present, the arc bends toward authoritarianism. Our proud sense that it can't happen here has been proven wrong. Authoritarianism can happen anywhere people are part of the equation."
That means we have to adapt to these strange, new circumstances. "The election of Donald Trump has forced the American people to learn new skills," Chauncey DeVega notes. "They now must grapple with life under a plutocratic authoritarian who has little to no respect for democracy and the rule of law. Such a situation was not supposed to be possible in America; this political dystopia is real."
It's true that getting involved, fighting back, organizing and working hard to throw out Trump and the worst of the right wing are essential for our lives and our emotional well-being. But achieving those goals will be difficult, so it's important to consider our situation in both the short and long term. We have to be hard-nosed about what can be won now, and realistic about what it will take. We also must be cognizant that joining groups and getting organized, while fantastic for some, is not always easy for others, especially those who are introverts or simply unenthusiastic about participating in groups. We all have to find our best way to resist.
Impact on Our Mental Health
There is a lot of evidence that Trump is having a deleterious impact on the mental health of many of us, causing new trauma, exacerbating existing trauma, and for many, simply taking away the joy and optimism that was part of their daily lives.
Therapists report patients experiencing panic attacks, anxiety, insomnia, and alcohol and drug abuse. Trump has been a human trigger for many women, as well as men, who have suffered sexual abuse. There is enormous fear on the part of immigrants. The racism and xenophobia that drive Trump's vision and the goals of the GOP have exacerbated fear and unease in communities of color. The tragic killings of African Americans by cops who are rarely punished is a consistent reality. Finally, there is huge anxiety felt by many millions who are justifiably afraid they will not have access to the health care they need, or the resources to age with dignity.
We have experienced political trauma before. When George W. Bush was handed the presidency by the Supreme Court, to many, it felt like a coup. Then there was the disastrous invasion of Iraq based upon false pretenses. But as one therapist explained to me, Trump is different. "Bush made people angry, but most of us didn't think he was genuinely crazy. It's hard for many not to worry that Trump is."
That is part of what triggers trauma and makes life uncomfortably unpredictable. Trump's attitude echoes difficulties from childhood, chaotic family lives, cruel and arbitrary behaviors, and the aura of violence and contempt with which many are familiar.
We also need to be aware that life under Trump for privileged, educated, middle- and upper-middle-class people is different than it is for the many millions whose lives are a daily struggle. It's true that pain is pain. People of every class can suffer trauma. But for the most vulnerable, life will only get worse as the Trump administration plows forward, while the top 20 percent will not be materially affected.
Trump Trauma Project
Today is the official launch date of AlterNet's Trump Trauma Project. The kickoff piece, written by project co-director Kali Holloway, focuses on what Trump trauma is, how it manifests and some of the ways we can start combating it. Going forward, we will be weaving together articles about effective organizing, critical media analysis and the psychological effects of our ongoing political nightmare, as a way of better seeing—and seeing a way out of—the mess we're in.
Furthermore, we are at work on an ebook, aimed to be ready in October, that will encompass some of the best wisdom and advice about how to maintain our mental health in the time of Trump. The book will collect new works and build upon many articles AlterNet has already published on staying sane, addressing trauma and being effective resisters of Trump. We have established a new vertical: Trump Trauma Project. Check out the articles already produced.
Don Hazen is the executive editor of AlterNet.
This article was made possible by the readers and supporters of AlterNet.