Education Galvanizes Voters Keen To Toss GOP Congress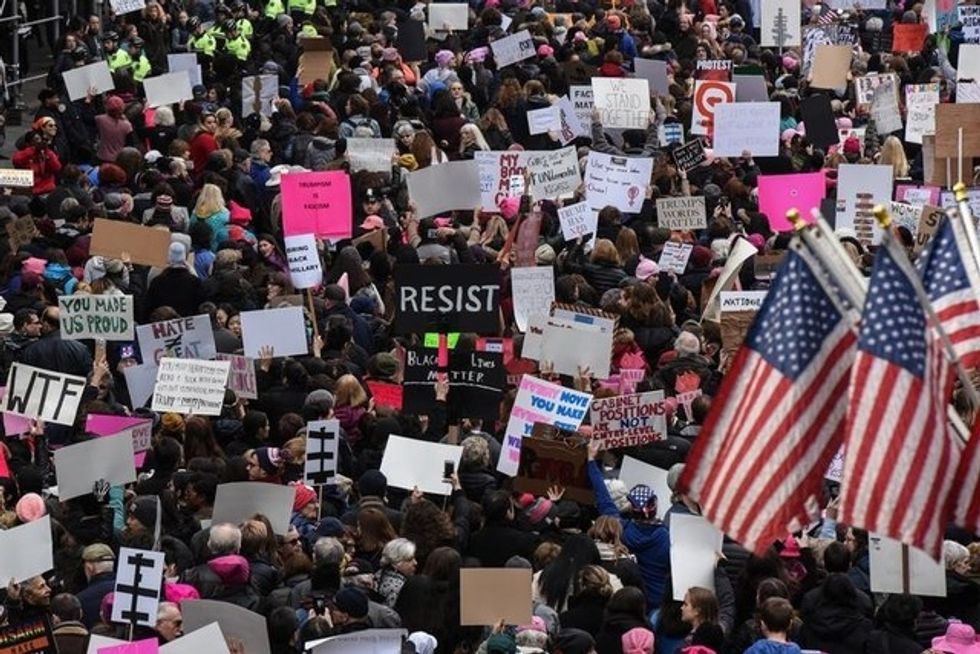 Reprinted with permission from DCReport.
If there's anything that's come out of the Trump era, it's a galvanization of activism across the country, renewed by enthusiasm, from the women's march, to the fight of teachers for fair pay. People are standing up for their beliefs and rights like we haven't seen in decades. And it is affecting ballots this mid-term season.
The latest example is the GOP runoff election held in Oklahoma on Aug. 28. The fight of state teachers there, who fought against Gov. Mary Fallin and the state's legislators who slashed education budgets by 23.6% between 2008 and 2015, reached a satisfying new stage when the teachers' fight turned into might at the ballot box, according to a New York Magazine article.
They had already won a small salary increase by going on strike, pushing the governor to pass a small increase in a fracking production tax—the smallest in the nation. But it proved the teachers could possibly win against the heavyweights, the energy billionaires, and they promised to take the rest of their fight for better educational resources all the way to the election.
They won, big time, last week after largely cleaning house in the first primary. Out of the 19 Republicans who voted against raising taxes to fund the teacher pay increases, only four survived the primaries and will be on the ballots in November.
Oklahoma isn't the only state seeing this kind of a movement. It follows West Virginia, where a Republican state Sen. Robert Karnes lost re-election after opposing his state's teacher strike for wage increases. He was defeated in the May primaries by state Delegate Bill Hamilton.
The same thing happened in the Kentucky primary in May. School teacher Travis Brenda defeated Republican House Majority Leader Jonathan Shell in the GOP primary because Shell, one of Mitch McConnell's protégés, led a push to cut teachers' pensions.
Voters' Resources

Represent.Us – A bipartisan anticorruption site with information on current laws, policies, national and local resources to help make a difference in political financing.

U.S. House of Representatives Financial Disclosure Database – Use this site to view the financial disclosure statements for Congressional members and candidates.

United States Senate Financial Disclosures – This site provides the financial reports for Senators, former Senators and candidates from January 2012 to present. Senator reports are available until six years after the Senator leaves office; candidate reports are available for one year after they run for office.
Now Gov. Scott Walker (R-Wis.) is fighting for his political life against the superintendent of schools for the state, Tony Evers, the Democratic challenger. Walker is trying to rebrand himself as the "pro-education" candidate. Nobody seems fooled, though. A recent Suffolk University poll showed Walker trailing 2 points behind Evers.
However, it's not just education activism that's giving people hope. We've seen activism on so many issues gear up since Trump's inauguration, and that's translating into voter enthusiasm.
Fox News just released a new poll asking among other questions, how interested people were in the upcoming November elections. The high total came in at a median 47% who said they were extremely interested. The news service has asked that question 28 times over the past three mid-term elections, but this result, with calls conducted Aug. 19- 21 among a random national sample of more than 1,000 registered voters, was the highest.
Across all demographics, Veterans showed the most enthusiasm at 53%, though when asked how that compared to previous congressional elections a majority said its interest registered at a similar level. The under-45 age bracket showed the lowest interest, unsurprisingly, at 41%, yet this was the only demographic among nine where the majority showed an increase in interest over previous midterm elections.
Of the total, 65% said they were certain to vote in the midterms. The group that said it is certain to vote in the upcoming election by the largest percentage was Clinton voters, at 76%. That compares to Trump voters, at 67%. And as most polls are showing, when asked if the election were held today, 49% of respondents said they would vote Democratic, compared to 38% who said they would vote Republican.
Massachusetts Primary Preview
Here are the races to watch on Tuesday:
Senate: Incumbent Sen. Elizabeth Warren (D) is expected to hold onto her seat, and has raised a hefty war chest of $31.5 million, with more than half coming from small donations. However, several Republicans and a well-funded Independent candidate are challenging her. Leading the GOP candidates are John Kingston, with just shy of $6 million raised, most of which is self-funded; Geoff Diehl, with $1.9 million; and Beth Lindstrom at 1.4 million. V. Shiva Ayyadurai, an Independent candidate, has raised nearly $5 million. He is a scientist and an entrepreneur with four degrees from MIT, known for making a controversial claim that he invented email.
7th Congressional District: Incumbent Rep. Michal Capuano (D) is up against a tough opponent in Boston City Council member Ayanna Pressley. The councilwoman served as former Sec. of State John Kerry's political director when he was a U.S. senator, and if elected, she would be the first black woman elected to Congress from Massachusetts. She was the first black woman elected to Boston's City Council in 2009. Capuano has raised $1.7 million, from a mix of large individual contributions and PACs, compared to Pressley's $890,143, mostly all of it from large individual contributions, according to Center for Responsive Politics.
3rd Congressional District: The state's only open seat falls in this district which has attracted a deep bench of Democratic candidates. Frontrunners include Dan Koh, who has raised $3 million; followed by Russ Gifford, with $2.1 million; and Lori Trahan, with $1.1 million. Two Republicans are vying for the seat, Rick Green, who has raised $810,031, and Scott Gunderson, at just over $1,000.