On This Election Day, Americans Gathering At Suffragette Gravesites
@DavidCayJ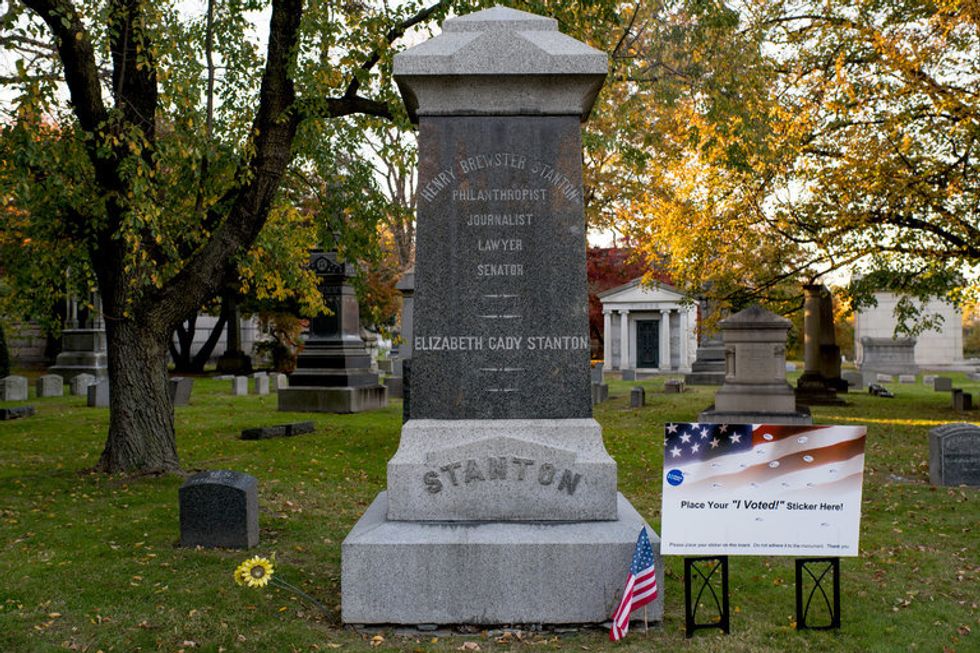 Anticipating the election of the first woman president, people have begun gathering at the gravesites of 19th Century suffragettes, including the Bronx grave of Elizabeth Cady Stanton, with bigger crowds expected to show their respects on Election Day.
Woodlawn Cemetery in the Bronx erected a board next to Stanton's gravestone where people can place "I voted" stickers. The cemetery, across the street from the end of the Lexington Avenue 4 line and the Metro North Woodlawn station, will be open until 4:30 on Tuesday, Woodlawn spokeswoman Barbara Selesky said.
Alva Vanderbilt Belmont, a suffragette who was also one of the wealthiest women in 19th Century New York, is among the others leaders in the 72-year struggle for equal voting rights for women who are buried at Woodlawn.
"It's really important that we celebrate our right to vote no matter which way it goes," said Kim Furletti, a vice president of Women of Woodlawn, a Bronx neighborhood association. She plans to visit the suffragette graves on Election Day.
In Western New York, people paid their respects by leaving flowers and small flags at the modest gravestone of Susan B. Anthony.
Rochester Mayor Lovely Warren said Mt. Hope cemetery will remain open until at least 9 on Tuesday night, so people can gather at the gravesite.
Stanton, a mother of eight, and Anthony, who never married, were the most prominent leaders to emerge from the 1848 Seneca Falls Convention on women's rights which developed into the drive for women's voting rights.
Rochester officials let Anthony register to vote in 1872. She cast a ballot in the race between President Ulysses S, Grant, who easily won a second term, and Horace Greeley, a New York newspaper publisher. She was then arrested on federal charges of illegal voting.
"It was we, the people, not we, the white male citizens, nor yet we, the male citizens; but we, the whole people, who formed this Union," Anthony said in a speech after her arrest.
"And we formed it, not to give the blessings or liberty, but to secure them; not to the half of ourselves and the half of our posterity, but to the whole people-women as well as men. And it is downright mockery to talk to women of their enjoyment of the blessings of liberty while they are denied the use of the only means of securing them provided by this democratic-republican government-the ballot."
Anthony was tried in 1873. The judge ordered the jury to find her guilty. Three elections inspectors who let Anthony vote were convicted in separate federal trials and fined $25 each. Anthony, fined the same amount, refused to pay. Federal marshals found no property at her home that could be legally seized to pay the fine.
On her 86th birthday, in 1906, Anthony gave a speech saying "failure is impossible." She died a month later, 14 years before male politicians in Congress and the state legislatures ratified the 19th Amendment, just in time for women to vote in the 1920 Presidential election.
No unusual gatherings were reported at two other graves of 19th Century suffragette leaders, including Lucy Stone who is buried near Boston.
And no events were planned at the Missoula, Mont., grave of Jeannette P. Rankin, who in 1916 became the first woman elected to Congress, or at the statute in Laramie, Wy., honoring Lousia Swain, who in 1870 became the first woman to vote in the Wyoming territory.
At Wellesley College, where Hillary Clinton graduated in 1969, alumnae will gather Election Night in a nonpartisan celebration of the first woman nominee of a major party. The event had been planned for a small space for donors to the Massachusetts women's college. So many graduates asked to attend that Wellesley moved the event to its 54,000 square foot field house, the largest open space building on campus.
On Saturday, Nov. 12, a celebration of Elizabeth Cady Stanton, on would have been her 201st birthday, will be held at the Women's Rights National Historic Park in Seneca Falls, N.Y. Events, all free, are planned Saturday from 10 in the morning until 4PM.
Kandice Watson, director of education and cultural outreach for the Oneida Nation, will speak about the world's first known democracy, the Haudenosaunee Confederacy, also known as the Iroquois Confederation, which at its peak stretched from Nantucket Island west to what is now Toledo and north into modern Ontario, Canada.
Only women voted and only man held office in this democracy, which descendants of the native peoples believe began 3,000 years ago, making it older then the democracy in ancient Athens.
After Watson's talk, historical Interpreters Dr. Melinda Grube and Nathan Richardson will engage in a dialogue to illustrate the often contentious relationship between the two Rochester residents, the leading suffragette and the runaway slave who became an abolitionist newspaper publisher.