Election Race Tightens In Israel As Polls Show Netanyahu's Party Trailing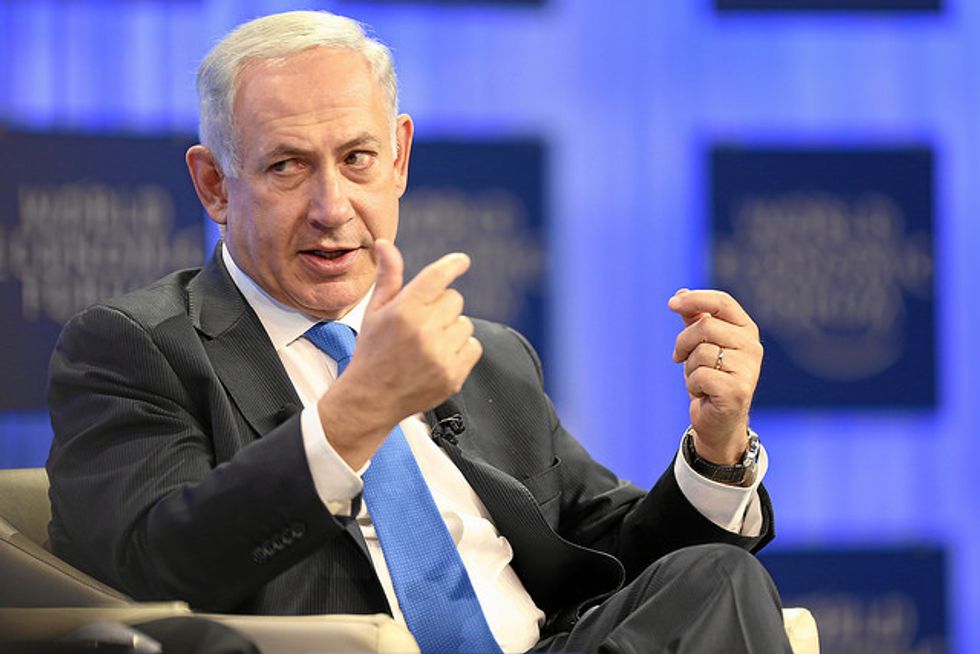 By Joel Greenberg, McClatchy Foreign Staff (TNS)
JERUSALEM — With less than a week remaining before Israel's elections, the race appears tighter than it has at any time since the start of the campaign, throwing Prime Minister Benjamin Netanyahu on the defensive.
Three public opinion polls published Tuesday and Wednesday show Netanyau's conservative Likud party lagging by margins of three to four parliamentary seats behind the center-left Zionist Union alliance.
That gives Labor party leader Isaac Herzog, who formed the Zionist Union alliance with former justice minister Tzipi Livni, a fighting chance of unseating Netanyahu, who is seeking an unprecedented fourth term in office.
Analysts caution, however, that the key to Herzog's success will be his ability to cobble together a parliamentary coalition from an unwieldy collection of smaller parties, some of which have openly rejected partnerships with one another. That test will come after the March 17 balloting.
Herzog on Tuesday said he was up to the challenge. "I've proven that I know how to bring distant people together, that I know how to make connections, and that I have the required political skills," he said.
With both Likud and the Zionist Union projected to win no more than 25 seats each in Israel's 120-member Parliament, Netanyahu and Herzog will compete to enlist enough smaller parties to form a majority in the legislature. In Israel's political system, the leader with the greatest chance of putting together a viable coalition traditionally gets the nod from the president to form a government.
While Netanyahu is seen to have a numerical edge in forming a coalition with rightist, center-right and ultra-Orthodox parties who are his natural allies, a stronger showing by the Zionist Union may give Herzog a first crack at forming a government, drawing smaller parties to him.
Recent polls suggest that momentum has shifted toward the Zionist Union, reflecting what analysts say is a desire for change among many voters, even as polls show that more Israelis consider Netanyahu more qualified than Herzog to be prime minister.
Rafi Smith, a prominent pollster, said that Likud has been losing voters to other rightist and right-of-center parties, while the Zionist Union has maintained its strength throughout the campaign.
"The Zionist Union is drawing votes while the Likud is leaking votes," Smith said. Still, he added, negative feelings toward Netanyahu had not been translated into "positive enthusiasm" for Herzog, which would catapult him into a commanding lead.
Lacking the charisma and dynamism of other politicians, Herzog, 54, a lawyer and former Cabinet minister, has worked hard to make himself a more convincing candidate to ordinary Israelis.
A scion of a prominent family, he is the son of Chaim Herzog, Israel's sixth president, the grandson of Israel's first Ashkenazi chief rabbi, and the nephew of Abba Eban, who as ambassador to the United Nations was considered the country's most eloquent orator.
The release of the latest poll numbers have set off alarms in the Likud.
Yisrael Katz, a party leader and a minister in Netanyahu's outgoing Cabinet, acknowledged Wednesday in an interview on Army Radio that "there is definitely a real concern, to be frank," about the slide in support. A text message to Likud supporters warned that the party was in real danger of losing the election.
Netanyahu has ramped up the pace of his campaign appearances in recent days, visiting Jerusalem's raucous Mahane Yehuda market, a traditional Likud bastion, and exhorting backers at party meetings to get out the vote.
The prime minister also has sharpened his rhetoric in an effort to draw conservative voters drifting to other rightist parties. In a Likud campaign message, he promised that "there will be no withdrawals" from the occupied West Bank and "no concessions" to the Palestinians. He later lashed out at what he called "a huge effort, worldwide, to topple the Likud government," an apparent reference to support by foreign contributors for the campaign to unseat him.
Herzog retorted on Israel Radio that a rattled Netanyahu "is feeling pressured and shooting in all directions, making false accusations."
"I will replace him," he said, "and I will form the next government."
___
Greenberg is a McClatchy special correspondent.
Photo: World Economic Forum via Flickr