Elijah Cummings Slams Darrell Issa, Declares IRS Case 'Solved'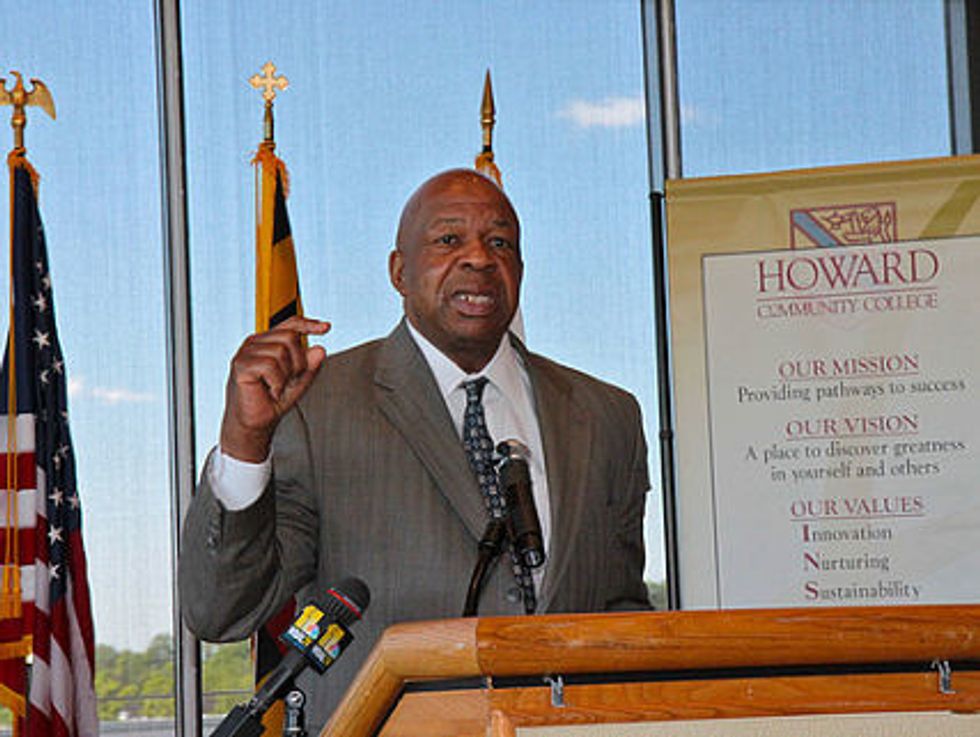 Representative Elijah Cummings (D-MD), the ranking Democrat on the House Committee on Oversight and Government Reform, has declared the Internal Revenue Service scandal "solved" after revealing that a self-described "conservative Republican" IRS manager made the decision to target Tea Party groups seeking tax-exempt status without any input from the White House.
On Sunday, Congressman Cummings released a letter to House Oversight Committee chairman Darrell Issa (R-CA), containing excerpts of the interview with the unnamed IRS manager. While Cummings acknowledges that "This memo is not comprehensive," he writes that "it includes many critical facts you have not made public."
Among many other excerpts from the interview, Cummings' letter shows that the witness testified that he was not "aware of any political motivations behind the screening, centralizing, and development of Tea Party cases," and that he did not have "any reason to believe that anyone in the White House was involved in the decision to screen Tea Party cases."
During a Sunday morning interview, Cummings told CNN's Candy Crowley that the excerpts should draw Issa's investigation to a close, and urged the chairman to release the full transcripts of the interview.
"He is a conservative Republican working for the IRS. I think this interview and these statements go a long way to what's showing that the White House was not involved in this," Cummings said.
"Based upon everything I've seen, the case is solved," Cummings continued. "And if it were me, I would wrap this case up and move on, to be frank with you."
Representative Issa released a statement Sunday blasting Cummings' call to close the investigation.
"The American public wants to know why targeting occurred and who was involved," Issa said. "The testimony excerpts Ranking Member Cummings revealed today did not provide anything enlightening or contradict other witness accounts. The only thing Ranking Member Cummings left clear in his comments today is that if it were up to him the investigation would be closed."
Cummings' letter also took personal aim at Issa, who has repeatedly accused the Obama administration of ordering the IRS to target the president's political enemies, but failed to offer any evidence proving the explosive charge. Several Republicans have worried that the GOP would suffer a backlash if it became overzealous in its investigations into the Obama "scandals." With his letter, Cummings seems to be trying to provoke such a response.
Citing Issa's unsubstantiated allegations regarding the White House's involvement in Operation Fast and Furious and the supposed cover-up following the Benghazi attack, Cummings slammed the California congressman's hyper-partisan approach to governance.
"Your actions over the past three years do not reflect a responsible, bipartisan approach to investigations, and the Committee's credibility has been damaged as a result," Cummings writes. "Your approach in all of these cases has been to accuse first, and then go in search of evidence to back up your claims."
The Maryland congressman's view is reportedly shared by several members of Issa's own party. After Issa referred to White House Press Secretary Jay Carney as a "paid liar," Politcoreported that several top Republicans began urging him to tone down his attacks.
"He has made this personal," a senior Republican told Politico. "He's added an unnecessary element to the news cycle."
Still, don't expect Issa to moderate himself. This week, Issa is reviewing more documents in his seemingly never-ending examination of the administration's talking points following the Benghazi attack.
Photo: ElijahECummings via Flickr.com