Elizabeth Warren Rips NRA And GOP For 'Keeping The Game Rigged'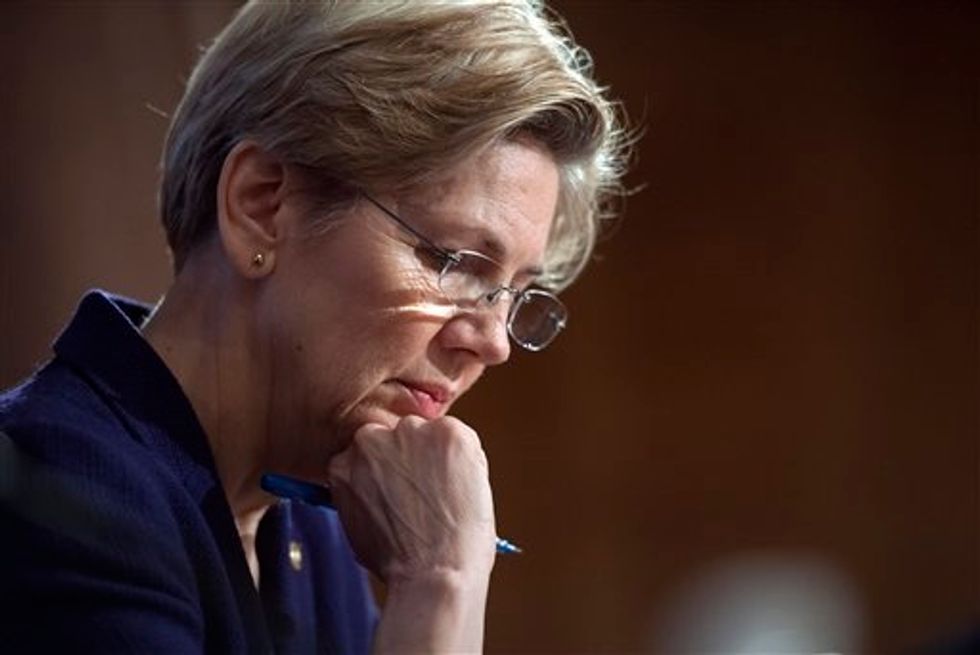 Senator Elizabeth Warren (D-MA) used her speech at the Consumer Federation of America Thursday to make a wide-ranging argument defending the role of government and ripping Republicans and the National Rifle Association for intentionally keeping the American public in the dark.
After calling out the NRA's "armies of lobbyists [that] are fighting to rig the system so that the public remains in the dark," the senior senator from Massachusetts attacked the organization's efforts to stop public research into gun violence.
"If as many people were dying of a mysterious disease as innocent bystanders are dying from firearms, a cure would be our top priority," Warren said. "But we don't even have good data on gun violence. Why? Because the NRA and the gun industry lobby made it their goal to prevent any serious effort to document the violence."
Her defense of the Consumer Financial Protection Bureau (CFPB), which she first conceived and helped create as part of the Dodd-Frank financial reforms, was especially pointed.
"This agency is about making consumer credit clear — no more hiding tricks and traps in a thicket of fine print. It is about letting consumers see the deal — and not worrying about the things they can't see," Warren said.
Senator Warren discussed the creation of the CFPB in a 2010 speech at the Consumer Federation of America that you can watch here.
Republicans have praised the work of CFPB director Richard Cordray, who President Obama installed via recess appointment after the GOP blocked his nomination. But they are blocking him again because they are bent on increasing congressional oversight of the bureau, while weakening its power.
"Blocking Rich Cordray is about keeping the game rigged, keeping the game rigged so that consumers remain in the dark — and a few bad actors can rake in big profits," Warren said.
Republicans are basically working to void a federal law simply because they don't like it. And by abusing the filibuster, they'll likely be effective.
Senator Warren called out this unprecedented obstruction at Cordray's nomination hearing:
What I want to know is why every banking regulator since the Civil War has been funded outside the Appropriations process, but unlike the consumer agency, no one in the United States Senate has held up confirmation of their directors demanding that that agency or those agencies be redesigned.
Visit NBCNews.com for breaking news, world news, and news about the economy
AP Photo/Cliff Owen