Emily's List Is Ready For Hillary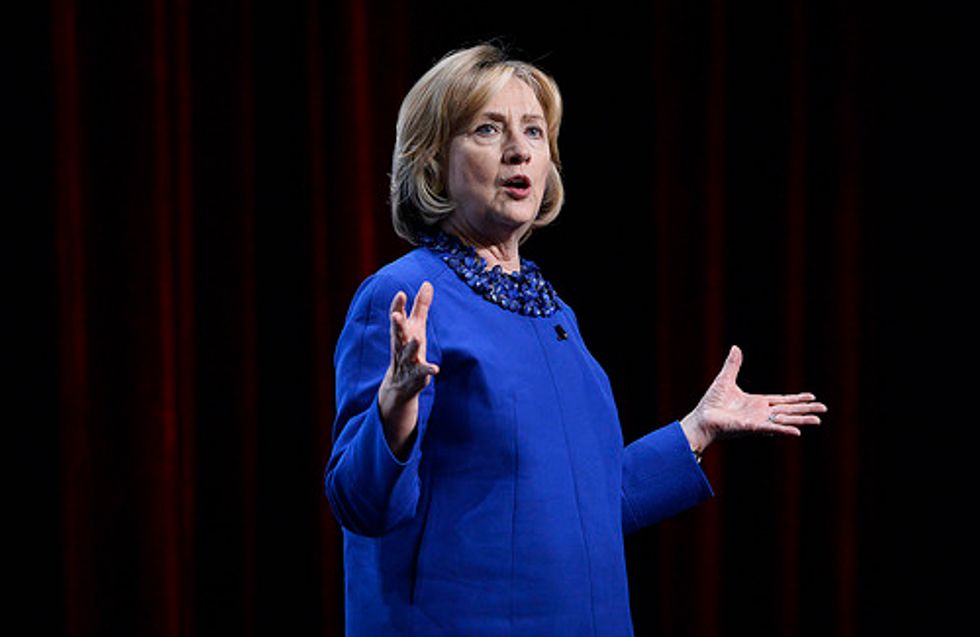 By Jennifer Epstein, Bloomberg News (TNS)
Emily's List hasn't yet endorsed Hillary Clinton in the 2016 presidential race, but that's just a formality. The PAC, founded in 1985, has helped Democratic women reach every level of elected office short of the White House. Now the group is focusing its resources on the one goal that has eluded it.
Since soon after President Barack Obama won a second term, Emily's List has been preparing for Clinton to run, convening conversations about electing a woman president, and commissioning polling on Americans' views. But the groundwork goes back even further, to the group's founding three decades ago to support Democratic women running for Senate and to the years it's spent advocating for women in politics.
On Tuesday, Clinton will return the favor,delivering the keynote speech at the group's 30th anniversary gala in Washington as she prepares to embark on what people close to her are not shying away from calling an historic campaign. Bookending the significance of her second shot at the presidency, she'll be introduced by Maryland Senator Barbara Mikulski, the longest-serving woman in congressional history.
"She has a message and we have a mission that are both clearly attuned to what this country seems to be needing right now: more women's voices speaking for women and families," said Emily's List communications director Jess McIntosh. "Not on behalf of special interests. Not the ego-driven Washington dysfunction that we've seen."
Back in early 2013, when Clinton's 2016 campaign seemed not as certain as it does in March 2015, Emily's List launched its Madam President initiative with the goal of supporting a Democratic woman in the 2016 race. While the group mentioned then-Homeland Security Secretary Janet Napolitano and Senator Kirsten Gillibrand as possible candidates, Clinton was the top target.
"Let's be clear: they did that for Hillary," said Democratic strategist Maria Cardona, a senior adviser to Clinton's 2008 campaign.
Emily's List president Stephanie Schriock almost said as much."I have to say there is one name that seems to be getting mentioned more than others," she told reporters nearly two years ago at the launch of Madam President. "We do not know if Hillary is going to run, but we are hopeful that she may."
Emily's List commissioned polling — conducted by one of the firms that has since signed on to work for Clinton — to make its point, finding that 86 percent of voters in nine battleground states said they believed the United States was ready to elect a woman president, while 72 percent said it was likely that a woman would be elected in 2016. Other polls have found the support to be not quite as strong — especially among Republicans, as it's become clear that Clinton is the woman most likely to get to the presidency first — but there's nonetheless evidence that public opinion has become more supportive of electing a woman just since Clinton's first attempt in 2008.
Emily's List is by no means a newcomer to the Hillary Clinton bandwagon.
Clinton drew 1,000 women to the Washington Hilton — the same place where she'll speak Tuesday — in the spring of 1996 for what the New York Times described as an Emily's List-organized "pep rally to bolster her spirits" amid the strains of the Whitewater scandal.
It endorsed Clinton's first presidential bid on the same day that she announced the creation of an exploratory committee and backed Clinton in her 2000 Senate campaign. "And our members were fans of hers long before that," McIntosh said.
The group's staff is also deeply entangled with Clinton.
Schriock was often discussed as a possible campaign manager before Clinton decided to go with Robby Mook. Instead, she'll stay at Emily's List and manage the group's interactions with the campaign, a role clarified last week when she left the board of Priorities USA, the super-PAC that aims to be the largest outside group supporting Clinton. Denise Feriozzi,who is heading up independent expenditures as Emily's List's political director, will take Schriock's place on the board.
While Feriozzi won't be directly working with the Clinton team to avoid running afoul of campaign-finance laws, she has deep connections in the Clinton network and is steeped in its values, since she worked for the 2008 campaign in Iowa, Nevada, Ohio, and Wisconsin. Executive director Jess O'Connell knows Hillaryland well, too — she was national director of operations for Clinton in 2007 and 2008.
Emily's List founder Ellen Malcolm was a national co-chair of Clinton's 2008 campaign and hasn't shied away from supporting the 2016 bid, throwing her support behind Ready for Hillary two years ago. "I've seen — we've all seen — how smart, tough, resilient and caring Hillary is. I've been ready for Hillary to be president for decades," she said then.
There are no official ties between Emily's List and Ready for Hillary, but the two organizations have, along with American Bridge and Priorities USA, made up much of the organized effort to prepare for Clinton to run. Ready for Hillary will dissolve once Clinton announces her candidacy and, at that point, much of the organization will be absorbed within Emily's List.
"We want to make sure the assets built by Hillary's supporters, such as a robust social media presence, are not lost when Ready for Hillary shuts down," spokesman Seth Bringman said. The group plans to cease operations as soon as Clinton enters the race.
While a decision hasn't been finalized, the group is considering transferring its social media accounts — including a Facebook page with almost 2.2 million likes and a Twitter account with 143,000 followers — to Emily's List. It also aims to go through the complex legal process of transferring its e-mail list of more than 3 million to the official Clinton apparatus.
"Emily's List shares our grassroots approach and our goal of making history in 2016, so transferring our social media accounts to them would make perfect sense," Bringman said.
In the meantime, Ready for Hillary is continuing to organize and fundraise, in part by seizing on Clinton's speech to Emily's List. It's bought tables at Tuesday night's gala and has asked members to organize house parties to watch the speech. The group is also hosting a pre-speech call featuring former Michigan Governor Jennifer Granholm, the co-chair of Priorities USA.
Photo: Canada2020 via Flickr