Emotional Modi Pledges To Serve India Ahead Of Swearing-In
@AFP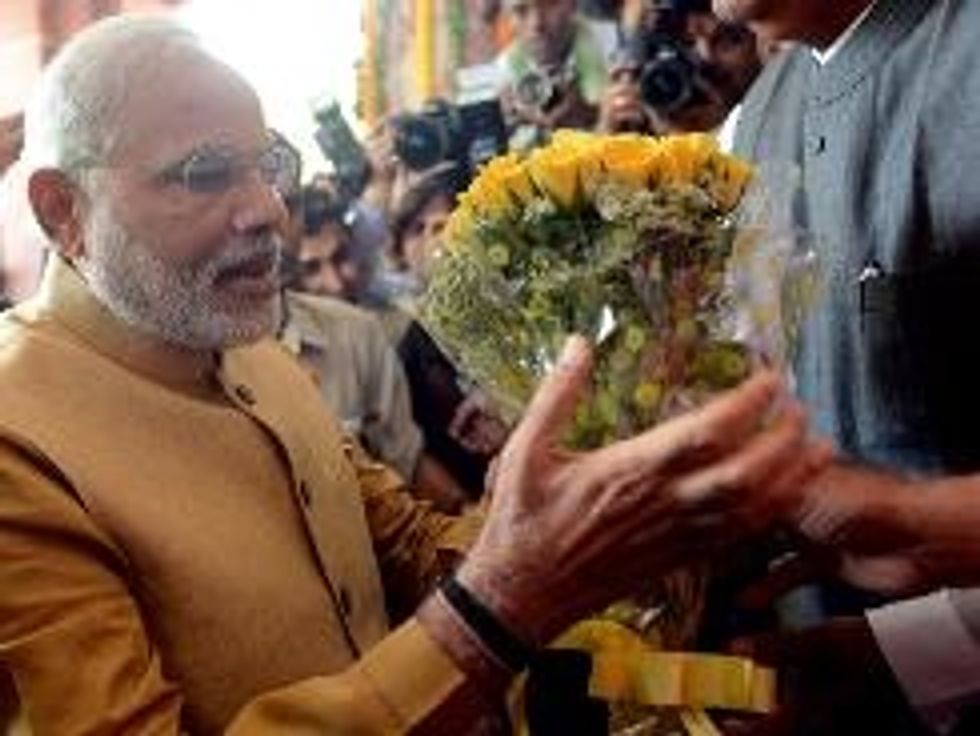 New Delhi (AFP) – India's prime minister-elect Narendra Modi choked back tears Tuesday and promised to try to live up to expectations as he made his first visit to parliament since his sweeping election victory.
The 63-year-old leader bowed and kissed the steps of the building as he entered for a meeting of his Hindu nationalist Bharatiya Janata Party (BJP) and its allies, later announcing that he would take the oath as prime minister on May 26th.
Speaking in the central hall of parliament, Modi was briefly overcome in a rare public display of emotion by the hardliner known to his supporters as the "Lion of Gujarat."
Other BJP figures could be seen weeping.
"I said this earlier and I say it again: that 125 crore (1.25 billion) Indians' hopes and aspirations are embedded in this temple of democracy," he said, later recalling his humble origins as the son of a tea seller.
He said "the common man has got renewed self-confidence and faith in democracy" after the victory last Friday by the BJP, which won the first majority by a single party since 1984.
"For rural areas, farmers, dalits (low castes), weak and the pained, this government is for them. To meet their aspirations and hopes, this is our responsibility because our weakest, poorest have sent us here," he said.
Modi broke down, having to pause and ask for a glass of water, while referring to his former mentor L.K. Advani and promising to serve the BJP and India as his "mother."
"I will try to fulfill all your expectations, I won't let you down," he said after being voted as the leader in parliament of the right-wing National Democratic Alliance which includes the BJP and allies.
Modi, chief minister of the western state of Gujarat since 2001, has been locked in talks since Sunday about the composition of his cabinet, which will be sworn in by President Pranab Mukherjee next Monday.
As behind-the-scenes lobbying continued for berths in his administration, Modi urged colleagues to show discipline and commit themselves to work hard for the good of the nation.
"This joy, celebration will continue but this marks the beginning of the era of responsibility," he said.
After a brief meeting with Mukherjee, Modi is expected to travel on Tuesday to Gujarat where he will resign after 13 years in power as state leader.
The BJP, elected on promises to revive the economy, is expected to steer India sharply to the right after a decade in power by the left-leaning Congress party, which has dominated India since independence in 1947.
No party other than Congress has ever before had a majority in India.
The Indian Express newspaper reported Tuesday that Modi's office had already written to senior bureaucrats asking them to prepare presentations to explain their work and any problems they had encountered.
The new government is expected to focus initially on trying to remove bottlenecks that have seen many industrial and infrastructure projects stalled for lack of clearances.
The make-up of the new cabinet remains shrouded in secrecy, but reports suggest lawyer and senior BJP leader Arun Jaitley is the frontrunner for the finance portfolio, while BJP president Rajnath Singh could get the home ministry.
"Any individual, if he has dedicated his life to the country, it is but natural for him to become emotional," senior BJP figure Smriti Irani told AFP after Modi's speech.
"I have seen his softer side before so I was not surprised," she added.
While Modi prepared for government, the defeated Congress party held a meeting late Monday to rake over its electoral humiliation.
Leaders Sonia and Rahul Gandhi offered to resign but party colleagues refused to accept their departures, saying they still had faith in the political family that has provided three of India's prime ministers.
Sonia, the 67-year-old Congress president, entrusted election campaigning for the first time to her son and party vice president Rahul. But his lackluster performance failed to impress voters.
Congress slumped to its worst-ever result, winning just 44 seats — about a quarter of its tally at the 2009 election when it secured a second term.
©afp.com / Raveendran