Such Empty Thoughts And Prayers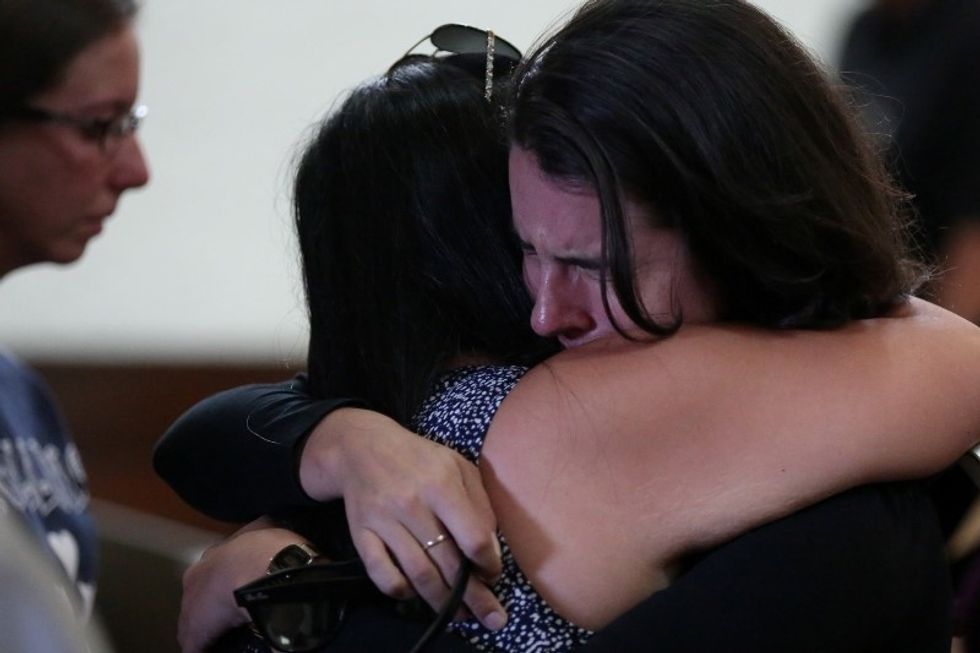 Reprinted with permission from Creators.
No matter how great one's faith in God, after yet another massacre of innocent people, it's impossible to believe that prayer alone is going to save us from ourselves.
We're living and grieving this essential truth, no matter how many times we try to tell ourselves and anyone who will listen that with God, all things are possible. The older I get the more that sounds like blame, not credit. I've always thought of God as a partner who expects us to do our part, which involves a whole lot more than singing, chanting or fingering the rosary and then thanking him for listening.
God alone will fix this? We know better, if for no other reason than we know too many fellow humans. One massacre after another and one day-to-day senseless murder at a time have laid it out for us in the starkest of terms. "Thoughts and prayers" are not enough to change the hearts and minds of those determined to harm innocent people.
It is especially galling when elected officials who tether their careers to the National Rifle Association predictably offer their "thoughts and prayers" to cast themselves as Christians in talks with God whenever gunmen render another patch of America into a war zone. I don't believe in hell, but I confess to low moments of hoping that if it does exist, there's reserved seating for the likes of them.
My intention here is not to mock people of faith. The phrase "practicing Christian" was made for people like me — if by "practicing," we mean clinging to the hope that we're stumbling in the right direction. My mother's faith was sturdier. She was a born-again Christian who, long before it was a bumper sticker, insisted that God loves everybody, no exceptions. The bumper sticker on her Dodge Dart assured everyone braking for sudden stops behind her that her boss was a Jewish carpenter. She was that church lady.
We just passed the 18th anniversary of my mother's death, at age 62. That's just two years older than I am now, and you can imagine how that's playing with my head, but anyway. A conversation I had with my mother just weeks before she died has most likely done more to fuel my faith than any sermon I've ever endured. She was a hospice home care worker full of wondrous stories about other people's last days. Still, this time, she was facing the end of her own life, and I wondered whether she was afraid to die.
She shook her head and smiled at my puzzled face. "I know things you don't know yet, honey," she said, grabbing my hands with both of hers. "It's not your time."
I don't know what she knew, but the look on her face was a lesson in grace.
I don't judge those millions of Americans who, feeling helpless right now, are offering their prayers for others. In this current political climate, it is easy to feel small and pointless. As I tried to explain to a fellow journalist in a Facebook thread yesterday, offering our prayers is a way to acknowledge others' pain, a way to say "I see you." It is an attempt to abide, to maybe help someone feel a little less alone.
There is no doubt in my mind that if my mother were alive, she would be offering up a steady stream of prayers for the dead and wounded victims of the Las Vegas massacre and for those who love them.
I am just as certain that my mother would have no patience for those cowards in Congress. She probably wouldn't call them that, because she was not a fan of name-calling. But she would be full of opinions and a willingness to share them with those men and women who claim to love Jesus but won't even try to limit the number of deadly and oh-so profitable weapons sold in this country.
Faith is a duty, she once told me, not a hobby.
She had her ways, my mother.
Connie Schultz is a Pulitzer Prize-winning columnist and professional in residence at Kent State University's school of journalism. She is the author of two books, including "…and His Lovely Wife," which chronicled the successful race of her husband, Sherrod Brown, for the U.S. Senate. To find out more about Connie Schultz (con.schultz@yahoo.com) and read her past columns, please visit the Creators Syndicate webpage at www.creators.com.