End The Boy Scout Bullying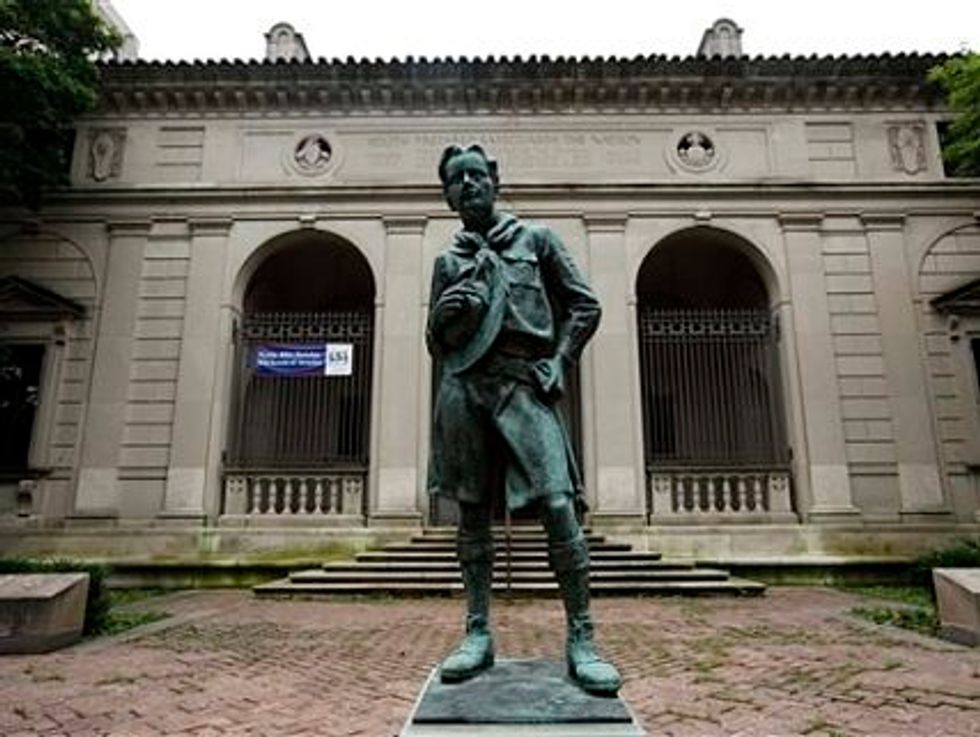 There was a time, many years ago, when the Boy Scouts of America took a courageous stand in the face of bigotry.
For years, the Scouts had awarded a badge of honor bearing a swastika. It was called the Thanks Badge, meant to reward kindness. For centuries, the swastika was known only as an ancient symbol of well-being.
Then, in 1933, Adolf Hitler co-opted the swastika, declaring it the official Nazi symbol. The next year, the Boys Scouts dropped the swastika from their badge. In 1936, the Scouts announced that anyone who had been awarded the old badge could swap it for the new one.
I first wrote about this in 2002, praising the Scouts' willingness to change, in contrast to those Americans who still insisted on displaying the Confederate flag, forever a symbol of one of the ugliest periods in U.S. history.
How I wish the Boy Scouts of America's leadership of today could summon the same courage, the same commitment to justice.
Two years ago, under public pressure, the BSA assembled a committee of 11 "volunteers and professional leaders" to examine its policy of barring open gay Scouts and gay or lesbian adults from serving as leaders. In July of this year, the Scouts' executive committee announced that this committee had affirmed this practice of discrimination.
The Scouts refused to disclose details about the process or the names of those who served on the committee. Think of it as the Boy Scouts version of a super PAC: You can promote bigotry, without fear of anyone's knowing your name.
In a news release, BSA insisted that its policy to exclude gay boys and adults "reflects the beliefs and perspectives" of the organization.
"While a majority of our membership agrees with our policy, we fully understand that no single policy will accommodate the many diverse views among our membership or society," said then-Chief Scout Executive Bob Mazzuca, who has since retired.
The Girl Scouts, the Boys & Girls Clubs of America, the Four-H Club and even the U.S. military now forbid discrimination based on sexual orientation. The Boy Scouts seemed to think that those who don't agree with the policy would nevertheless defer to its stop-secret panel of prejudice.
The BSA's hope, it appears, was that the pesky discontents would take their protests elsewhere.
And that's exactly what is happening.
Last week, Intel, the Boy Scouts' largest corporate donor — reportedly $700,000 in 2010 alone — announced that it will not contribute to the BSA as long as it continues to discriminate based on sexual orientation.
In a statement released to ThinkProgress, Intel's chief diversity officer, Rosalind Hudnell, said:
"Due to significant growth in the number of organizations funded, earlier this year we revisited our policies associated with the program, and applied new rigor that requires any organization to confirm that it adheres to Intel's anti-discrimination policy in order to receive funding."
This week, the United Way of Greater Cleveland announced that it's pulling $100,000 in funding for the Scouts for the same reason.
"I think they view their policy as one of protection," United Way of Greater Cleveland Chairman of the Board Paul Clark told The Plain Dealer. "I think the premise of the protection idea is that anyone who is homosexual is a pedophile. I abhor that. I think it's indefensible."
I support the United Way of Greater Cleveland's decision, but it is hard to feel celebratory, as the money would have funded a program for about 1,600 inner-city youths. That's who the Boy Scouts of America are willing to abandon, unless they can raise the funds elsewhere, to preserve the right to discriminate.
This issue is personal to me — and not just because I have a lot of gay friends and have heard too many sad stories of childhoods full of loneliness and ostracism.
I'm married to an Eagle Scout. One of his prized possessions is the framed photo of him at age 16, in full uniform and shaking the hand of a fellow Eagle Scout, then-Sen. John Glenn. One night, before we were married, he sat down with his sash of badges and described what he had done to earn every single one of them.
This Boy Scouts policy is a form of bullying, and it's causing so much harm.
It injures gay males who want to join but are excluded because of something they can't change about themselves.
It hurts funding, robbing innocent children of the chance to discover the best parts of themselves.
And it betrays the men who believed that being a Boy Scout was the highest calling of their young lives.
Connie Schultz is a Pulitzer Prize-winning columnist and an essayist for Parade magazine. She is the author of two books, including "…and His Lovely Wife," which chronicled the successful race of her husband, Sherrod Brown, for the U.S. Senate. To find out more about Connie Schultz (con.schultz@yahoo.com) and read her past columns, please visit the Creators Syndicate Web page at www.creators.com.
Photo credit: AP/Matt Rourke, File