Endangered Devin Nunes Down 27 Points Since 2016 Race
@EricBoehlert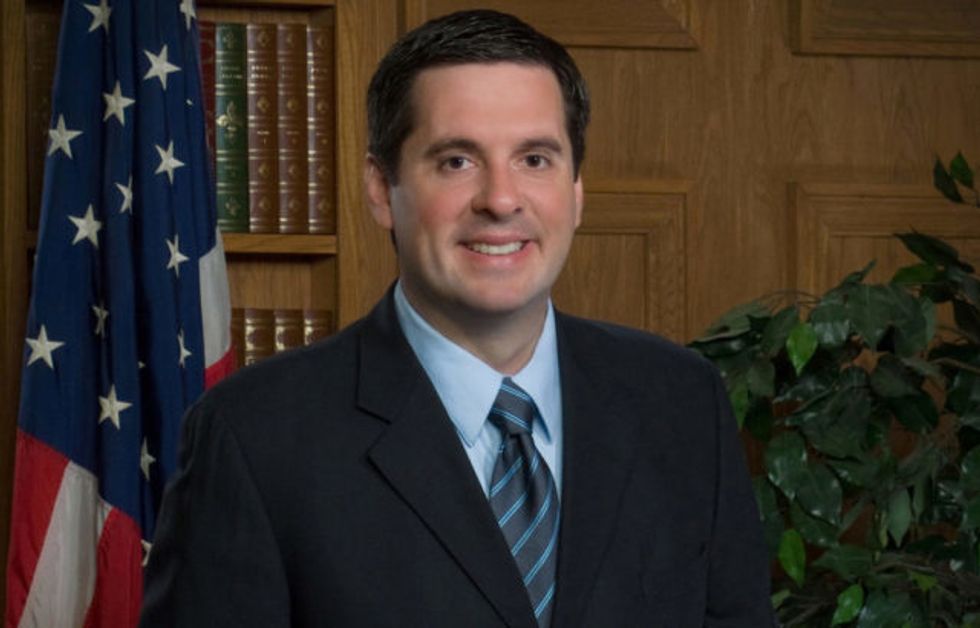 Reprinted with permission from Shareblue.
All across the country, House Republicans in traditionally very safe districts suddenly find themselves scrambling to survive in the age of Trump. And now Rep. Devin Nunes (R-CA), who easily won re-election by 35 points in 2016, is down to just an eight-point lead over his Democratic challenger, Andrew Janz.
In a new Public Policy Polling survey, paid for by Democratic political action committee End Citizens United, 49 percent of voters support Nunes, compared to 41 percent who support Janz.
Typically, an eight-point advantage is a comfortable margin. But compared to 2016, this means Nunes' level of support has already plummeted by an astonishing 27 points in less than two years.
And given the massive scale of the campaign his challenger is running, Nunes' support could easily drop even further in the more than four months between now and November.
Janz, a violent crimes prosecutor, has raised about four times more cash than all of Nunes' previous Democratic challengers between 2002 and 2016 put together, according to the Fresno Bee.
Those seven previous challenges only raised $650,000 between them — but Janz's campaign war chest is an amazing $2.5 million. That might be the most of any House challenger in the country this election cycle, Janz campaign manager Heather Greven told the Fresno Bee.
Politico reported last week that Janz raised more online in May ($461,000) than any other Democratic challenger for a House seat.
Janz's campaign says the Democrat raised $1 million in online donations during the months of April, May and June, with an average individual donation of $28 during that period.
Granted, Janz is going to need it all to knock off Nunes, who is on pace to raise well over $6 million this campaign cycle.
But in 2014, Nunes won re-election by 44 points. Today, his lead has shrunk to single digits. His seat is by no means safe.
What's more, this race is taking place as a groundswell of Democratic activism in California looks poised to send Trump a message in November.
Nunes is fighting for his political life after promoting baseless conspiracy theories to defend Trump during the House Intelligence Committee's Russia investigation.
Since then, Nunes has found himself at the center of a massive backlash — even though he represents a Fresno Valley district in California that votes overwhelmingly Republican.
Nunes' hometown newspaper recently slammed the congressman, calling his relentlessly pro-Trump behavior "nothing short of embarrassing."
"He certainly isn't representing his Central Valley constituents or Californians, who care much more about health care, jobs and, yes, protecting Dreamers than about the latest conspiracy theory," the editorial warned. "Instead, he's doing dirty work for House Republican leaders trying to protect President Donald Trump in the Russia investigation."
No wonder Nunes is having so much trouble in such a deeply red district.