Endorse This: Susan Sarandon Is 'More Afraid' Of Clinton Than Trump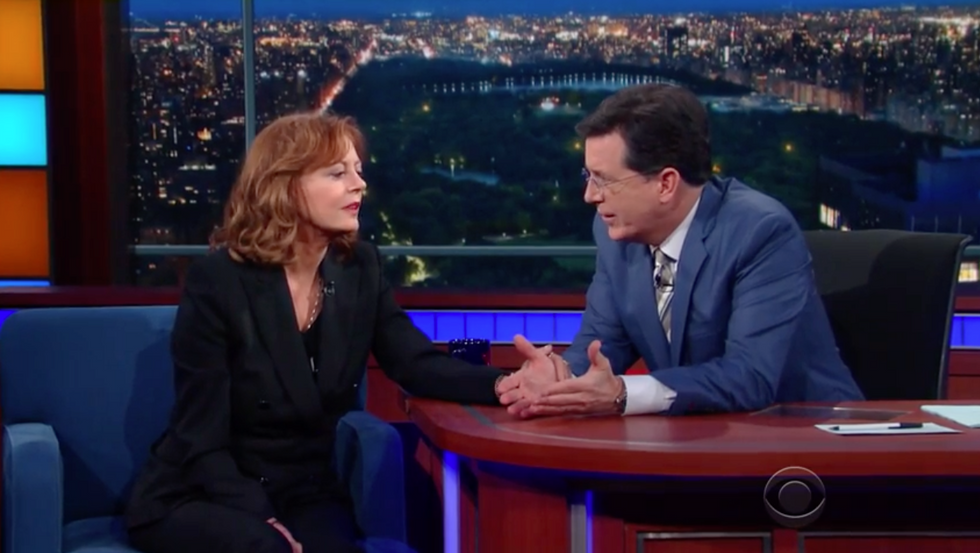 In an interview a few weeks ago with MSNBC's Chris Hayes, actress and activist Susan Sarandon ruffled more than a few feathers by asserting that "some people feel that Donald Trump will bring the revolution immediately, if he gets in. Then things will really, you know, explode."
Sarandon said later that the ensuing media frenzy took her words out of context, but regardless of if she meant that Donald Trump's ideas were compatible with Bernie Sanders's "political revolution" — she doesn't sound like much of a Trump fan — the damage was done: Sarandon became the face of the #BernieOrBust movement, which claims as a foundational principle that Hillary Clinton just isn't acceptable as the Democratic nominee.
Yesterday, in an interview with Stephen Colbert, Sarandon continued to ride the line between condoning Trump and vowing never to support the Clinton campaign.
"How can I go back with her? I don't trust her," Sarandon said of Clinton's support of the $15 minimum wage law in New York. Clinton supports a $12 federal minimum wage, and higher minimums at the state and local level where voters want them.
"I'm more afraid of, actually, Hillary Clinton's war record and her hawkishness than I am of building a wall," Sarandon said later, after Colbert asked about her interview with Hayes.
"But that doesn't mean that I would vote for Trump."
Maybe not, and maybe Sarandon is still genuine when she says that she believes Sanders will win the Democratic nomination.
But the systematic downplaying of the seriousness of Donald Trump's proposals — especially by celebrities like Sarandon, who won't face Trump's "">deportation force," a very real proposal which we must assume he will really employ — doesn't reflect well on her or the #BernieOrBust movement.