Endorse This: Donald Trump Makes His ISIS Debut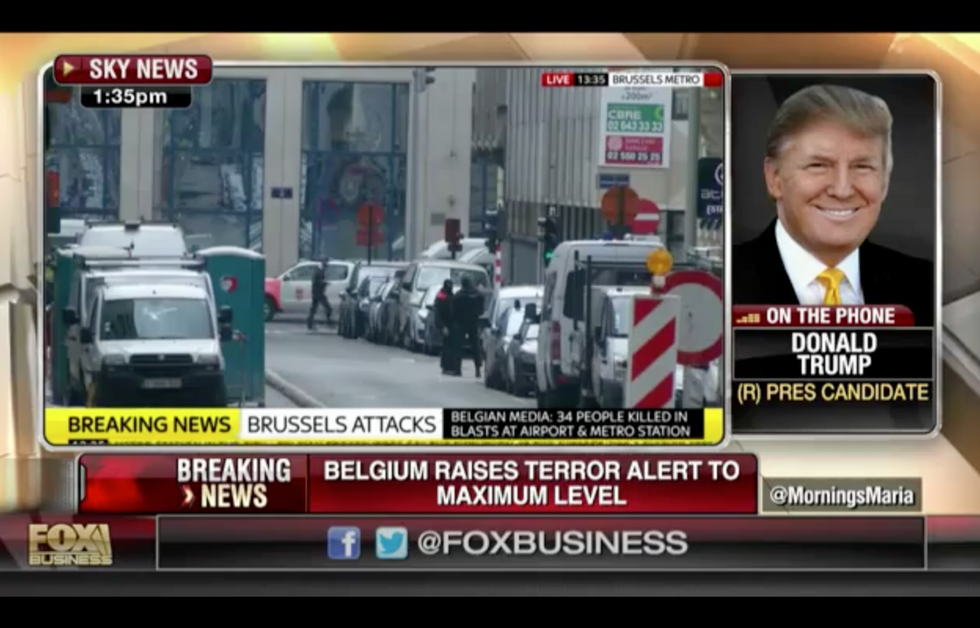 A few months ago, the media went a bit overboard with their hunch that Donald Trump's rhetoric was feeding into ISIS's propaganda machine. Even Hillary Clinton parroted the claim, despite the lack of any video evidence. It is true, though, that Trump was featured in a video for al Qaeda affiliate Al Shebab in January.
In a new video, which Mother Jonesreports allegedly comes from the pro-ISIS Al-Battar Media Foundation, burning rubble flashes across the screen as recordings of several voices, including Donald Trump calling in for an interview on Fox Business, play in the background.
"Brussels was one of the great cities — one of the most beautiful cities of the world 20 years ago — and safe," Trump says. "And now it's a horror show — an absolute horror show."
I won't post the entire video here. If you really want to see it, you can find the full thing online. Yahoo excerpted Donald Trump's feature in the ad:
It's fascinating that, of all of Trump's outrageous statements, this is the one that made its way onto an ISIS video. Where's all the rhetoric about banning Muslims from entering the U.S., or "bombing the shit out of" the extremist group?
Actually, the audio used in the propaganda video is pretty typical of what ISIS uses in recruiting. The group advertises that it's in an eschatological war with the West, and that their attacks on major European cities are part of a larger battle that will end with the Armageddon.
When Donald Trump says that Brussels is now "an absolute horror show," he's saying just what ISIS wants: not that they're a radical group under intense bombing from America and allies, quickly losing strength and increasingly unpopular with potential recruits; but rather that they're winning this war. If Brussels is a horror show, as this video conveys, then the war against the West is succeeding.
Republicans often mock President Obama's downplaying of ISIS as a weakness of his, but in reality, he's sticking to the script that counterterrorism analysts recommend: that this group must and will be destroyed, but we can't play into their narrative to do it.