Fox Anchor's Advice To Trump On Hard Questions: "Dodge It!"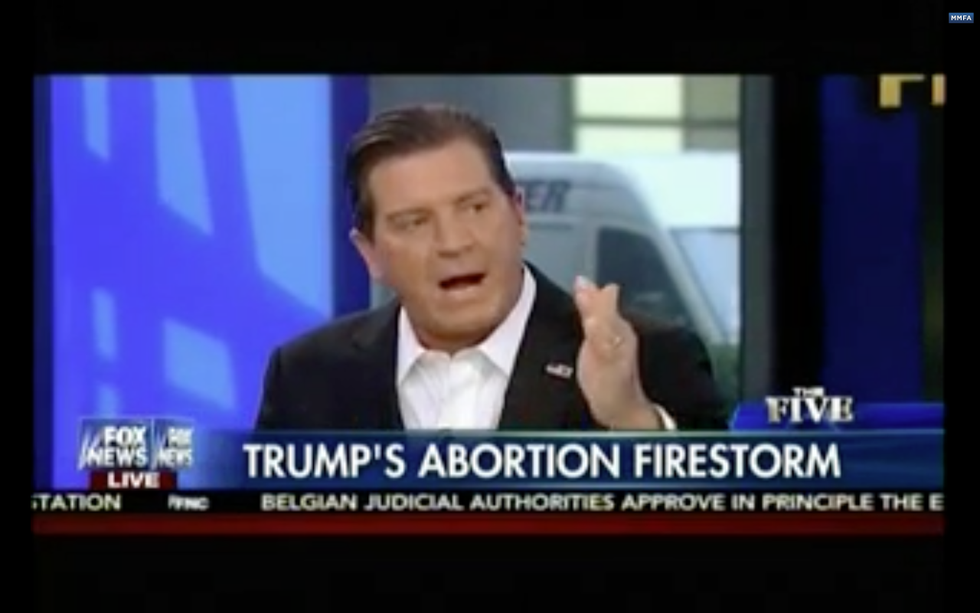 Donald Trump's horrific answer Wednesday to Chris Matthews's question on whether women should be "punished" for having illegal abortions is perhaps the strongest evidence yet, for the conspiratorially-minded, that Trump is a liberal saboteur of the conservative movement.
While mainstream pro-lifers have always said that abortion providers should be penalized for performing illegal abortions, their policies' impacts fall squarely on women, by restricting a healthcare option that should be free and legal nationwide.
It seems as though Trump's lack of any real knowledge on the pro-life position sent him through some mental time warp, back to his pro-choice days:
"People in certain parts of the Republican Party, and conservative Republicans, would say 'yes, they should be punished.'"
Exactly! Thanks for clarifying, Donald. The pro-life movement has been trying to punish women — successfully, much of the time — for wanting full control of their bodies.
The policy of punishing abortion providers — sometimes violently, though vigilante justice and terrorism — is the result of decades of paternalism from pro-life conservatives, who have said women are as much "victims" of their abortion rights as unborn fetuses. The pro-life movement has done some incredible gymnastics over the years to avoid threatening millions of people with murder charges.
Thankfully, Trump set the record straight.
After the likely Republican presidential nominee defamed the enormous pro-life constituency in his party — albeit by telling the truth — his fellow conservatives had a simple message for him: shut up!
Mike Huckabee said "it's clear he had not thought through his answer." Dr. Ben Carson, who endorsed Trump a few weeks ago, parroted the party line: women "are already being punished," somehow, for having abortions.
Fox's Eric Bolling took a simpler approach: Next time, "Dodge it." He continued: "I wouldn't answer a question on gay marriage, abortion, or… what was the third one? Contraception!"
Go ahead, Donald, just ignore all that stuff. Surely it won't hurt your already dismal record with half the country.
Video courtesy Media Matters.