Melania Trump Praises Her 'Kind,' 'Smart' Husband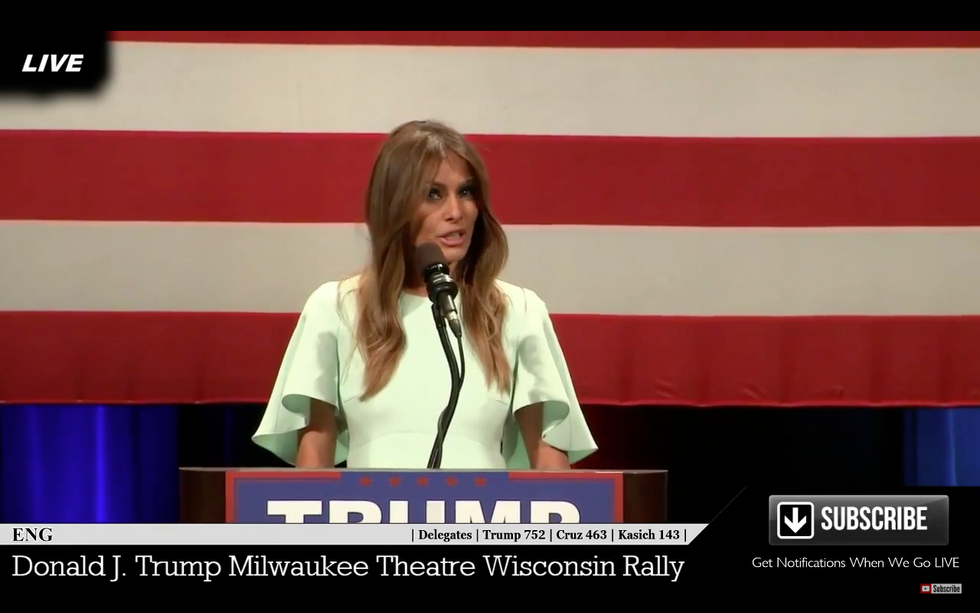 After Donald Trump's recent mea culpa — predictably recited days after posting an unflattering picture of Heidi Cruz, Ted Cruz's wife, on Twitter — he figured it was time to go soft.
With a WSJ/NBC News poll pointing out that 47 percent of Republican female primary voters say, roughly, "hell no" to orange ogre, Trump seemingly wanted to make an effort to prove that "women love" him.
So Melania Trump, Donald's third wife and a former model from Slovenia, came on stage at a Wisconsin rally this morning, where Trump was campaigning for this afternoon's primary, and delivered an alternate history.
Donald Trump is "kind," "smart," "tough," "a great communicator," "a great negotiator," and "a great leader." The best.
Note that she didn't say "handsome." Perhaps that's too far even for her.
Screenshot of Melania Trump speaking at a Wisconsin rally Entertainment News Gaming/YouTube