Endorse This: Obama: Unlike Putin, I Don't Edit Journalists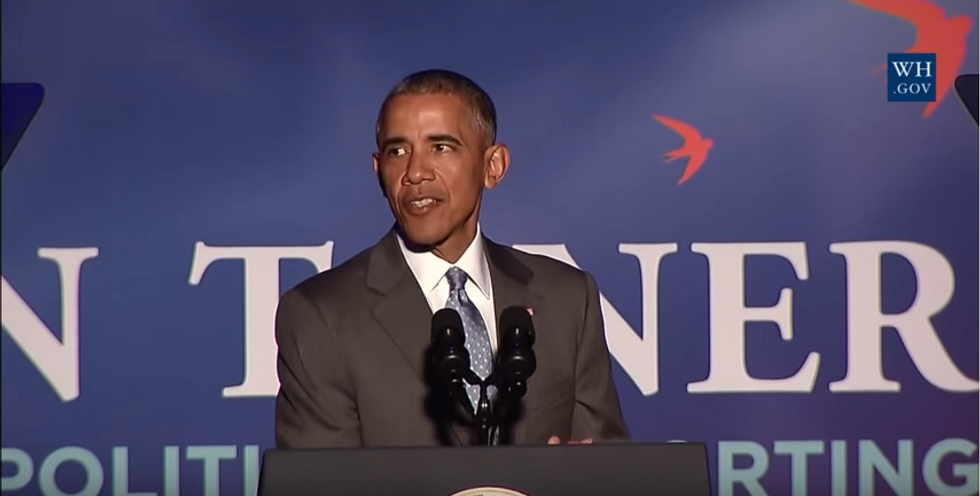 President Obama gave a speech at Syracuse University yesterday at an award ceremony honoring political journalists. He shared one particular interaction with a certain Russian head of state who disagreed with some of Obama's comments in the current Atlanticcover story on the president's views. (Video is at 46:23).
Well, Obama dryly noted, "Unlike you, Vladimir, I don't get to edit the piece before it's published."
American media has come under special scrutiny recently. They breathlessly covered the rise of Donald Trump's loony presidential bid, though they haven't spent much time at all on his plan to limit the freedom of the press if elected. During President Obama's visit to Cuba last month, he prompted president Raul Castro — who rarely takes questions from journalists — to respond to a question from Andrea Mitchell.
Obama lamented the coarseness of the political culture and the financial pressures under which news organizations operate. "I spend a lot of time reflecting on how this system, how this crazy notion of self-government works; how can we make it work. And this is as important to making it work as anything — people getting information that they can trust, and that has substance and evidence and facts and truth behind it."
The president is a well-known obsessive of America's media culture. In a recent interview with Bill Simmons, former Obama speechwriter Jon Favreau said "the media ecosystem and how people think is very interesting to him."
Video (speech starts at 20:13), Transcript.

Screenshot: The White House/YouTube via Syracuse University