Endorse This: Okay, Don't Vote For Rubio!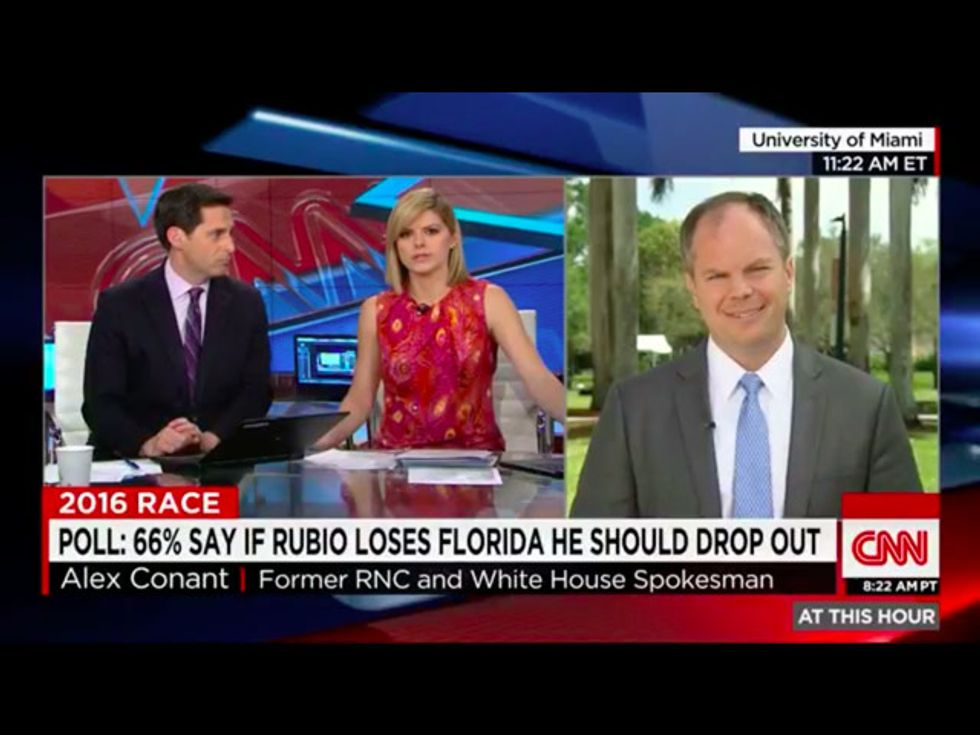 What's the best/funniest/most ridiculous video you've seen today? Tweet @nationalmemo with the hashtag #EndorseThis and we may use it in our next newsletter!
The decline of the Marco Rubio campaign hit an even newer low Friday morning, when spokesman Alex Conant called upon supporters of other candidates to vote for Rubio in Florida — and for supporters of Rubio to not vote for him in Ohio.
This all begs an important question: With Republicans now embarking on an elaborate plan to deny Trump a majority of delegates by targeting him with different opponents across various states, will this actually be too complicated — not to mention degrading to the candidates themselves — for the voters to buy into it?
CNN co-host John Berman asked: "Just to be clear, because you're calling on Kasich and Cruz voters in Florida to vote for Marco Rubio — you can do something about Rubio voters in Ohio. Will you right now tell supporters of Marco Rubio in Ohio to vote for John Kasich?"
"Yeah — I'm just stating the obvious," Conant said. "If you are a Republican primary voter in Ohio, and you want to defeat Donald Trump, your best chance in Ohio is John Kasich — because John Kasich is the sitting governor, he's very close to Donald Trump in some of the polls there.
He then continued, with an attempt to make the constructive pitch: "The same is true here in Florida, where if you want to defeat Donald Trump here in Florida, where there's 99 delegates at stake, you need to vote for Marco Rubio, because he's the only one with a mathematical shot — and if you look at the polls and the early voting, a very good shot, of beating Donald Trump here."
(Note: Given the actual polls in Florida, it's not even clear that Rubio has much of a shot in his home state — but granted, it is still better than anybody else's.)
At this point, it seemed like co-host Kate Bolduan could scarcely believe what she was hearing: "So Alex, your answer to John — that Rubio supporters in Ohio should vote for John Kasich — your answer is yes?"
"Yeah, my answer is, John Kasich is the one candidate in Ohio that can beat Donald Trump," Conant confirmed. "That's stating the obvious. So if you're a Republican primary voter in Ohio, and you don't want Donald Trump to be the nominee, John Kasich is your best best. If you're a Republican primary voter here in Florida, and you don't want Donald Trump to be your nominee, Marco Rubio is your best bet. That is indisputable — everybody would say that."
That's right: Vote for me here — not even for me to win, but in order to stop an electoral majority for someone else — and don't vote for me in some other places. This is the newest "Please clap" moment of campaign pitches.
Video viaAt This Hour/CNN.
Get More to Endorse Delivered to Your Inbox