Endorse This: Rudy Doesn't Want To Say Trump Is Lying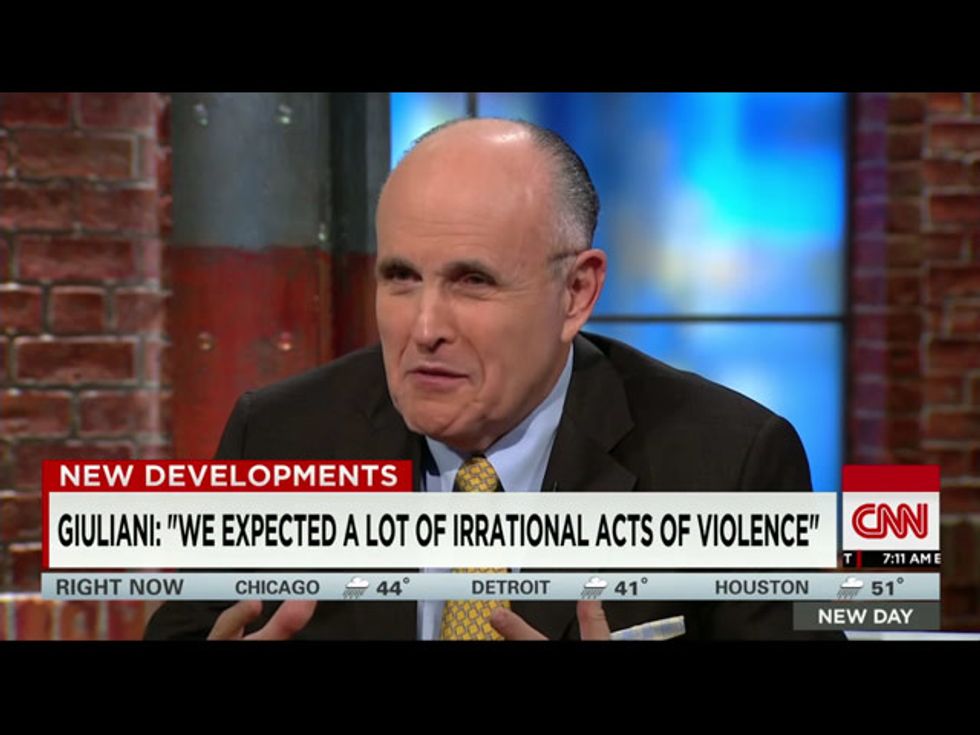 Watch as Rudy Giuliani debunks Donald Trump's claim that thousands of Muslims celebrated on 9/11 — but simultaneously refuses to actually call Trump a liar.
In an interview Tuesday morning, Rudy said that the city indeed looked into reports of people celebrating on 9/11 — and found some scattered cases totaling perhaps "10, 12 — 30, 40" people.
But here's the thing: Despite providing this little dose of truth, Giuliani still won't directly say that Trump is lying about there having been massive parties.
"Well I think what he's doing is exaggerating," Rudy said, with a hint of a chuckle. "Right? People were celebrating, he's right about that… I didn't see any evidence of thousands — nor have I seen it since then — of thousands of people celebrating."
"I don't think it happened. He keeps saying it did. I don't want to say he's not telling the truth about it."
But why won't Rudy say that, asked CNN host Alisyn Camerota?
"Because let him deal with it. Let him explain to people, let him show the evidence of it."
It's notable that even Rudy points out that if this were true, and that Trump saw it on TV, there would be tape of it somewhere — but he still can't bring himself to settle the question and say that Trump is totally wrong.
And speaking of evidence, some research by MSNBC's Steve Kornacki even casts doubt on the key example of celebration that Rudy cited — and it might just have been a straight anti-Muslim hate crime.
Video via CNN.
Get More to Endorse Delivered to Your Inbox
[sailthru_widget fields="email,ZipCode" sailthru_list="Endorse This Sign Up"]